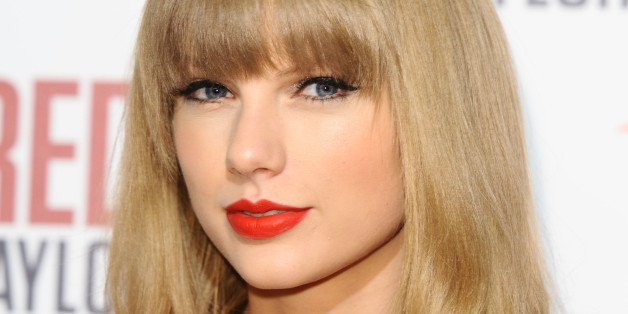 It's been seven weeks and I can't stop listening to it -- her breathy voice, the catchy hook, that intense chorus. You got that James Dean, daydream look in your eye/ and I got that red lip, classic thing that you like. Despite all my efforts to ignore her, Taylor Swift and her song "Style" have wormed their way into my psyche. I listen to the song too much for my own good. Whenever it comes on the radio, I instantly blast the volume. I run to it, I dance to it, it loops in my mind even when it's no longer audible.
This is the power of pop music, and more specifically, the Taylor Swift brand of pop music. It's sexy, it's fun, and it's undeniably addictive even if you're trying to avoid it like the plague, which I have been. For much of Swift's career, I quietly criticized her unyielding penchant for writing about self-destructive relationships that somehow she was never responsible for. I admired how she wrote honestly about her life, but as the years went by, I began to want more from her not just as a pop star, but as a public figure with the ability to inspire young women. If she was still writing about her actual life, I wanted her to try and dissect her unhealthy dating patterns -- and put that into her music -- instead of continually point the finger at another person.
I don't know when I started wanting so much out of my female pop stars, but I do. On one hand, Swift's artistic process is to write about heartbreak, and she makes money off it, so why change that? Plenty of female musicians before her have used their heartbreak to write similar songs. On the other hand, I feel those messages have never had such a huge audience for so long. The world watches Swift's every move whether she likes it or not, and the majority of her fans are women. When I started to realize how massive Swift's reach was, how many girls would pledge their lives for her, how many other female icons she's got in her corner, it made me think more closely about the words that echoed in between each undeniably catchy beat.
The feminist movement is about choice, and ultimately, Swift's songs don't make it sound like she has many. If Swift's music is a reflection of her real life, her audience, which is mostly young women, is left to understand that all her woes are externally inflicted, instead of partially created by Swift herself. Many women find themselves in emotionally turbulent situations or drawn to the wrong man a few times, but as the years go by, most of us learn that as grown women we are responsible for who we bring into our lives and our beds.
There's beauty in the catharsis of an angry breakup song or two, but when an entire career is based on the assumption that every man she's ever dated is wrong, it seems less therapeutic and more antiquated, sending the message that it's okay not to take stock of your life and figure out what you really want, but instead date emotionally unavailable men and take on a woe-is-me attitude when they abandon you. Then, when another powerful woman (ahem, Katy Perry) dates ones of these men after you, that it's acceptable to form a gigantic girl gang full of famous females and write a song about how you have "Bad Blood" with the woman in question. When Swift wails "bandaids don't fix bullet holes," she sounds more like the 15-year-old section of her fan-base than the grown woman she is.
Everyone's a critic, and at the end of the day, Swift is the one with billions of dollars and the power to say whatever she wants. She's the one that could convert even the harshest opponent into someone who sings along to her music at full blast day in and day out. But she's more than a musician: she's a female icon. And with that power comes an amazing opportunity to put "grown woman" pop music at the forefront of our culture. To let us shake our hips to something empowering, healing, and worth repeating -- since we know it'll be playing on a loop anyway. If the persona Swift has created for herself is continuously falling for the wrong guy, isn't it time she grew up and let her fans hear a message that centers around taking ownership of their choices and gaining more wisdom and independence?
Maybe that's the problem with our pop stars, particularly the female ones. We glorify them just to tear them apart, expecting them to be the perfect representation of our own personal brand of feminism. Still, it makes me crave more female artists with a bolder, mature message. Luckily, we have Queen Bey to fill that void. Unlike Swift, Beyoncé left her James Dean daydream days behind her when she was still a girl, and we are reminded of this on the track "Grown Woman." She waxes poetic about being young and dreaming of the life that lay before her, but assures us now she is in control of her life and the choices she makes: I remember being young and so brave, I knew what I needed / I was spending all my nights and days laid back day dreaming / Look at me I'm a big girl now said I'm gon' do something / Told the world I would paint this town, now betcha I run this. "I'm a grown woman," she sings. "I can do whatever I want."
Image via Shutterstock