When Joe Kanter was diagnosed with prostate cancer 20 years ago, he was shocked to discover that no scientific data was available to show which treatment worked best for patients like him.
Kanter, now 90, learned that most doctors' recommendations since Babylonian times were based on anecdotal evidence from doctors' and patients' own relatively limited observations and experiences.
Using the acumen gained from 50 years' experience as a successful businessman, Kanter found the best treatment and doctors to fight and beat his prostate cancer. Then he set himself a new goal: to achieve a standardized system of electronic health records in the United States, then globally.
Once that's achieved, patients and doctors will be able to access the data on every disease, and how each patient was treated, to see which treatment worked best, taking into consideration patient age and other illnesses. The data will be stored using a patient number, so anonymity is assured.
"We know that 400,000 people die needlessly in America because of misdiagnosis and medical errors. Standardized electronic health records will help prevent that," Kanter said.
Kanter invested $10 million of his own money to establish The Joseph H. Kanter Family Foundation to make his dream of a standardized system of electronic health records a reality.
Realizing this needed to be a bipartisan mission with both political parties working together, Kanter soon convinced Republican Senators Bob Dole and Bill Frist and Democrat Senator George Mitchell to get involved.
Former Senate Majority Leader Bob Dole (R-KS), himself a prostate cancer survivor, said, "It would have been nice at the time to have an outcomes database and review it with a doctor who could say, 'Well, we've done this, this, this, and this seems to be the most successful.' "
The Government did hand out $30 billion to doctors and hospitals to implement electronic records. The problem is that they weren't standardized and some 30 different systems are in operation, so it's not possible for all doctors to access all the information.
It became clear to Kanter that the Government couldn't implement a standardized system without help from private enterprise. "My foundation is working with a company that says it can come up with a standardized system of electronic health records within five months," said Kanter.
Kanter believes he'll live long enough to see standardization a reality. A keen tennis player, Kanter still plays four times a week at L.A.'s Hillcrest County Club and works full-time running his foundation.
In 2012, Kanter was a member of the USA Senior Tennis Team invited to play in a tournament during the French Open. He was in the over-80 section, but they couldn't find anyone in the world to play against him, so Kanter, then aged 88, was declared champion without even lifting his new racket.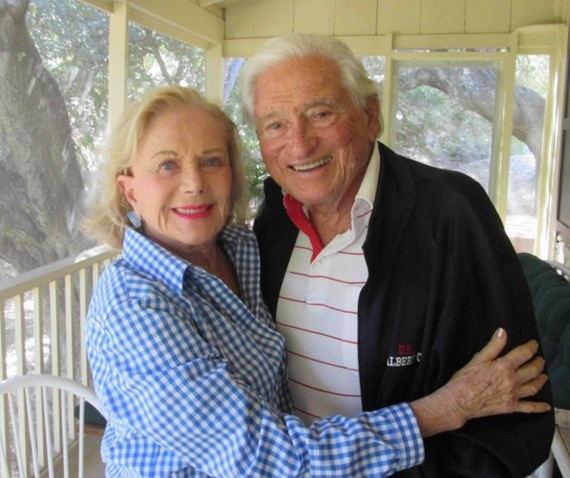 Earlier this year, Joe Kanter and his wife of 61 years, Nancy, 86, flew to Washington D.C. where he was presented with the American Jewish Heritage Lifetime Achievement Award at the Capitol Building in recognition of his philanthropy.
The Kanters' recipe for a long, healthy life is moderation in all things, a good diet and regular exercise. And standardized electronic health records could go a long way toward longer lives for everyone.