What kind of disaster are you imagining? A shooter? A tornado?
Based on long experience and training, my first thought is not a manmade or natural disaster, but a homegrown "school-made disaster" - a school environmental problem affecting children's health, attendance, and learning, ignored for too long. In fact, my office has been hearing about illnesses and injuries associated with school conditions for nearly 20 years: chemical hazards, fires, moldy classrooms, lack of ventilation, misuse of pesticides and disinfectants, and more.
Sadly, these largely avoidable problems happen a lot, but are rarely acknowledged until they become a disaster. In fact, US EPA's America's Children and the Environment report cites the need to close the data gap on children's risks and suspected exposures at schools. Worse, while children outnumber K-12 school personnel by eight to one, only personnel can access occupational health services. Kids can't; and even school nurses may not tell parents why their child is sick at school.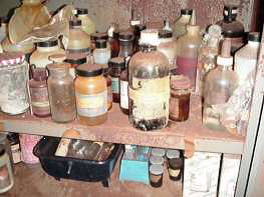 As a result, our inbox gets queries and reports such as: "Can you stop my school from requiring my child to clean up the moldy library? My college-track daughter was so sick from chemical fumes that she switched to voc-ed in another building. My son can do his papers quickly at home, but the school is so hot and stuffy he can't think."
What we know and US EPA knows is that schools can prevent these everyday problems from becoming big disasters for kids and their families. This summer, we and our many partners across the country are promoting new tools for parents and schools.
First, to reduce chemical exposures at school, parents can buy nontoxic school supplies. Schools can do the same: buy products that reduce chemical hazards indoors, such as certified green cleaning products, safer disinfectants, and green-rated technology products, interior paints and furnishings.
Second, parents need to know what to look for when they visit school: Tips for Tours has captioned pictures to help identify school facility features needing improvement. Schools need to be ready, too: elected and appointed officials can use Tips for Tours or an in-depth checklist that addresses the basics of indoor air quality, chemical management, and safer pest control.
Are you ready to prevent a disaster? Share this blog (or the new toolkit) with your parent association, local schools, and Education Department.