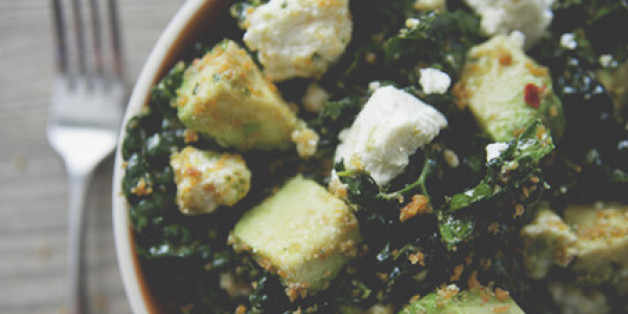 This salad is all about balance. Tender kale with creamy feta and avocados and a touch of crunchy breadcrumbs, all with a bright and spicy herbaceous vinaigrette. It's quick to whip up, and absolutely delicious. Enjoy!
INGREDIENTS
For 2 to 4 (whether it's a side salad or main course)
1 bunch kale, ribs removed and chopped into 1/2 inch wide strips
1 block feta, cut into 1/2 inch cubes
2 ripe avocados, cut into 1/2 inch cubes
1/4 cup bread crumbs, toasted
INGREDIENTS (DRESSING)
1/2 teaspoon ground coriander
1/2 teaspoon freshly ground pepper
1/4 teaspoon dried hot red pepper flakes
1/2 teaspoon kosher salt
1 teaspoon paprika
1/4 cup parsley leaves
3 tablespoons fresh cilantro leaves
2 tablespoons lemon juice
2 tablespoons olive oil
1 garlic clove, minced
1 teaspoon harissa paste
DIRECTIONS
Blend the dressing ingredients together in a food processor or blender. Pour over the kale, in a bowl, and massage the kale with your fingers for 5 minutes or until the kale has wilted slightly and is tender. Add the feta, avocado, and bread crumbs, and very lightly toss. Enjoy!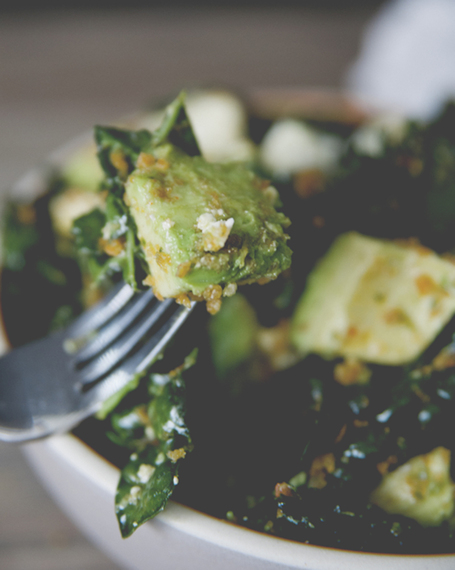 For more recipes like this one, check out my blog The Kitchy Kitchen.