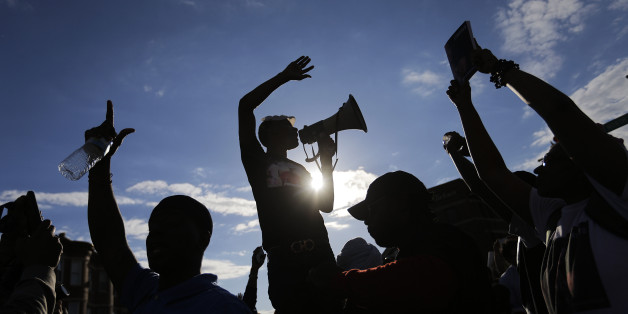 "[H]ow many ears must one man have
Before he can hear people cry?
Yes, and how many deaths will it take till he knows
That too many people have died?
The answer, my friend, is blowing in the wind.
The answer is blowing in the wind."
--Bob Dylan, "Blowin' in the Wind"
In a previous blog post on the escalating tensions between African-American communities and police, I suggested that mistrust and anger among African Americans may have reached a tipping point. Reacting to the demonstrations following the death of Freddie Gray, which occurred while he was in the custody of Baltimore police, I said that those demonstrations were Baltimore's African-American community shouting, in effect, "Enough! Enough! Enough!" Like news anchor Howard Beale in the Oscar-winning movie Network, African-American communities in Baltimore and nationwide were essentially saying, "We're mad as hell, and we're not going to take this anymore!"
On March 15, 1965, in a speech to a special joint session of Congress following acts of police brutality against African Americans seeking to walk peacefully across the Edmund Pettus Bridge to register to vote in Selma, Alabama, President Lyndon B. Johnson said:
At times history and fate meet at a single time in a single place to shape a turning point in man's unending search for freedom. So it was at Lexington and Concord. So it was a century ago at Appomattox. So it was last week in Selma, Alabama.
Later in the speech President Johnson asserted, "There is no Negro problem. There is no Southern problem. There is no Northern problem. There is only an American problem."
A May 4 article in The New York Times Magazine, "'Our Demand Is Simple: Stop Killing Us': How a group of black social media activists built the nation's first 21st-century civil rights movement," provides an excellent in-depth look at the development of the protest movement against the ongoing deaths of unarmed black men at the hands of police. The article reports:
Since Aug. 9, 2014, when Officer Darren Wilson of the Ferguson Police Department shot and killed Michael Brown, ... activists have built the most formidable American protest movement of the 21st century to date. Their innovation has been to marry the strengths of social media -- the swift, morally blunt consensus that can be created by hashtags; the personal connection that a charismatic online persona can make with followers; the broad networks that allow for the easy distribution of documentary photos and videos -- with an effort to quickly mobilize protests in each new city where a police shooting occurs.
On May 5, in an op-ed titled "The road through Baltimore," The Baltimore Sun's editorial board wrote:
[S]omeone needs to go to the heart of the issue -- the manner in which cities like Baltimore are saddled with a seemingly inescapable cycle of concentrated poverty, racism, drug addiction, crime, poor educational outcomes and despair.
They went on the write:
Addressing police brutality directed at poor minority neighborhoods is crucial, but it is but one symptom of this gross inequity. This city's biggest problem is a lack of upward mobility, and no amount of prosecution of police or the addition of body cameras is going to change that underlying malady.
It's ironic that when I think about all those who have publicly appealed to the conscience of our nation to act over the past 50 years, other than my beloved Dr. Martin Luther King Jr., I immediately think of two Jewish civil-rights leaders. One is Rabbi Joachim Prinz, the president of the American Jewish Congress, which was one of the organizations that sponsored the March on Washington for Jobs and Freedom on Aug. 28, 1963. I have written about this in earlier blog posts, but it's worth repeating. He spoke immediately before Dr. King delivered his celebrated "I Have a Dream" speech. Among other things he said:
America must not become a nation of onlookers. America must not remain silent. Not merely black America but all of America. It must speak up and act, from the president down to the humblest of us, and not for the sake of the Negro, not for the sake of the black community, but for the sake of the image, the idea and the aspiration of America itself.
The other Jewish civil-rights leader who comes to mind is Rabbi Abraham Joshua Heschel. On June 16, 1963, he sent a telegram to President John F. Kennedy regarding an urgent meeting of civil-rights and religious leaders that the president was planning to convene at the White House. The telegram read:
I LOOK FORWARD TO PRIVILEGE OF BEING PRESENT AT MEETING TOMORROW FOUR PM LIKELIHOOD EXISTS THAT NEGRO PROBLEM WILL BE LIKE THEWEATHER . EVERYBODY TALKS ABOUT IT BUT NO BODY DOES ANYTHING ABOUT IT. PLEASE DEMAND OF RELIGIOUS LEADERS PERSONAL INVOLVEMENT NOT JUST SOLEMN DECLARATION. WE FORFEIT RIGHT TO WORSHIP GOD AS LONG AS WE CONTINUE TO HUMILIATENEGROES. CHURCH SYNAGOGUE HAVE FAILED, THEY MUST R EPENT . ASK OF RELIGIOUS LEADERS TO CALL FOR NATIONAL REPENTANCE AND PERSONAL SACRIFICE. LET RELIGIOUS LEADERS DONATE ONE MONTH S SALARY TOWARD FUND FOR NEGRO HOUSING AND EDUCATION. I PROPOSE THAT YOU MR PRESIDENT DECLARE STATE OF MORAL EMERGENCY . A MARSHALLPLAN FOR AID TO NEGROES IS BECOMING A NECESSITY . THE HOUR CALLS FOR HIGH MORAL GRANDEUR AND SPIRITUAL AUDACITY
Someone must issue a moral call to arms to reclaim the banner of decency, moral outrage, and nonviolence to save our children. Yes, young black men are our children.
So, to paraphrase Bob Dylan, how many more deaths will it take before our nation knows that far too many innocent black men have died because police are so quick to use deadly force against them? How many more statements do we need from President Obama, the Justice Department, various civil-rights leaders, etc.?
No more comments are needed from talking heads on the various cable news networks, bloggers, or social-media users. Enough has already been said and written. The new activists driving our first 21st-century civil-rights movement have said it all: "Stop killing us!"
Political leaders can write and talk all they want about income inequality, joblessness, the failure of early-childhood education, gun violence in our communities, etc. But, meanwhile, someone or something has got to stop police from killing our young black men, and not tomorrow or the next day but right now, as you're reading this blog post!