Sofrito is quintessentially the most important ingredient in Latin cooking. We use it to season, to marinade, to give everything that Latin zing. Just like Italians have tomato sauce Latinos have their sofrito. It is the foundation used to flavor everything under the sun. I have noticed that the most prevalent type of sofrito in the United States is what Puerto Ricans call recaito. You could pretty much find it in any grocery store that sells Goya products. This is not the only type of sofrito available though. Many other Latin American countries create their own type of sofrito to which they add spices that are native to their regions. I know Colombians call it hogao or guiso and it's made by sautéing diced scallions with chopped tomatoes in oil. We also add a touch of azafrán or saffron for coloring. On the other hand Puerto Ricans don't saute their sofrito in oil but bring the ingredients together in a blender and preserve in the refrigerator.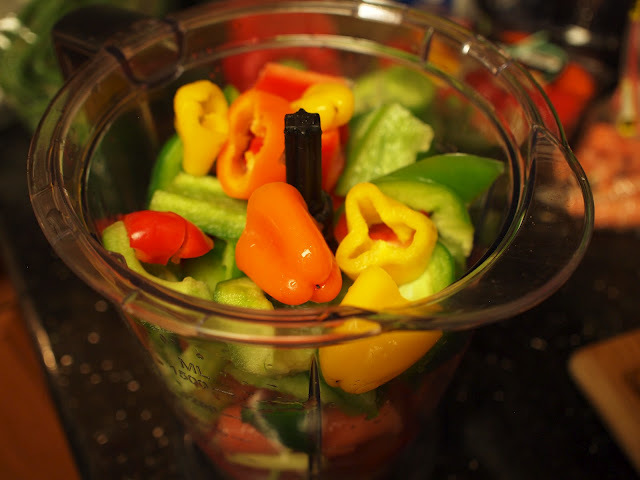 I've already demonstrated how to make Colombian guiso in my post about Tofu Perico, so this is my attempt at making a version of the Puerto Rican recaito but with a twist. Lately I've been obsessed with kale, so I decided to add kale to my version so that it incorporates all of the healthy vitamins and nutrients that kale boasts. I can tell you right now that you won't even notice a difference. To me it was excellent! If not kale, you could also add beets if you want or maybe swish chard. Just be careful how much you add. Too much kale and it might be too bitter, just like too many onions might be too overwhelming. I also added a stem of celery and a carrot to make it that much healthier. What I forgot to add was some heat! In the future I'm going to try adding a bit of jalapeño or some other type of hot pepper.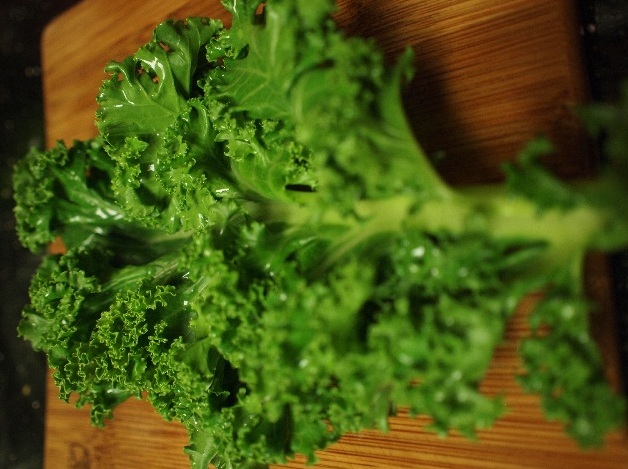 I really hope you enjoy making this version or your own version of sofrito with whatever ingredients you have on hand. It's really always about making it your own and doing the best with what you already have.
Don't forget to check out my blog Tofu con Sazón
Buen Provecho! =)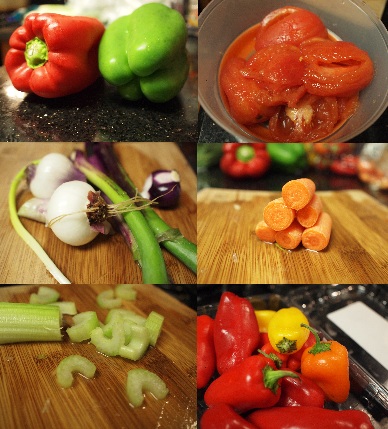 Ingredients
1 half green bell pepper and 1 half red bell pepper seeded and chopped
5 small sweet peppers of various colors seeded and chopped
5 small plum tomatoes, skins removed
2 small yellow onions cut into quarters
5 scallions chopped in half
3 heads of roasted garlic or regular garlic
One stem of celery chopped
One carrot chopped
A sprig of mint (could use some other herb like cilantro)
One large leaf of kale
A dash of extra virgin olive oil
Sea salt and pepper to taste
Directions
This is the easiest recipe, you just dump all of the ingredients into a blender and you are done. Just make sure you coarsely chop all of the ingredients before putting in the blender.
If everything doesn't fit in the blender try doing a portion of the ingredients and then gradually adding everything until everything is blended together.
To preserve the sofrito simply leave the small portion you are going to use right away in a container in the refrigerator. You can store smaller ready to use portions in the freezer. Another way to preserve them in the freezer is to store the sofrito in an ice cube tray. You can take out as many sofrito cubes as you want whenever you are ready to use them.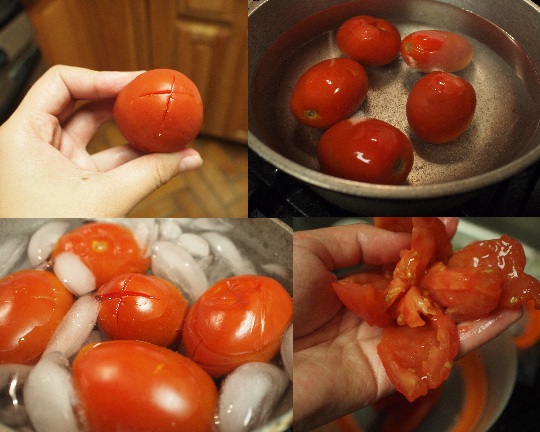 TIP - To remove the tomato skins simply cut a small cross on the bottom and drop on boiling water. Leave them for a minute or so and then drop them in a bath of ice. You can peel the skin right away, remove the seeds and then add to the blender along with the rest of the ingredients.