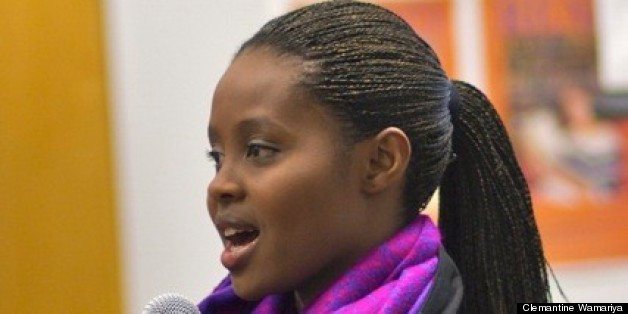 I am truly grateful for the challenges and experiences that have shaped my life and where I am today. Just a few years ago, my sister and I were homeless refugees, moving from country to country, and today, as a Yale graduate, I am honored to be invited to this discussion of The Third Metric at The Huffington Post.
My experiences have shown me that when an opportunity bigger than you comes along and you feel unprepared and doubtful, it is important to permit those emotions and let that energy drive you and inspire you to move forward. Feeling nervous and doubtful is actually a call for you to examine the opportunity and embrace it. The challenges that you will face in this grand opportunity will help you grow, enabling you to gain knowledge and perspective that will only open more doors for you down the road.
For example, Claire, my older sister, refused to settle for less. She thought that we were too good to live as refugees. She thought we were too good to beg. While in the refugee camps, rather than wait in line to receive our monthly portion, she walked for miles to go to work for our food. Her drive inspired me to always think big and to never assume that things would be handed to me. I want to work for what I want. I constantly aim to do bigger things that I perceive to be unattainable, including taking classes that I think will kill me -- metaphorically, that is! The ultimate lesson I want to share is this: No matter where you come from, never settle for what is "expected" of you. Aim higher and achieve far beyond everyone's expectations. While there are no easy roads, it is all about the time and effort that you invest in yourself. The more challenging the work, the richer the knowledge and experiences.
There is a common saying, "You'll meet two kinds of people in life, the ones who tear you down, and the ones who build you up, and in the end, you'll thank them both."
I wish to modify this expression to say that in life you will face challenges, the ones that tear you down and the ones that lift you up. In the end, you will be grateful, because they allowed you to gain knowledge, strength and perspective. I always welcome those opportunities. To the young girl who fails to see opportunities around her: Awaken the intellectual curiosity within you. Go on, search for those opportunities and chase after them! Because when you are curious and in "search mode," you will meet a lot of people and learn, and when you find opportunities, you will be exhilarated rather than overwhelmed.
Labels and classifications of any type are not law, nor are they written in stone. Its up to us to be aware of this and confront it and break through it by doing things that shock and surprise people, because they thought we could never achieve at that level.
Never allow other people to classify you based on your past and current circumstances, where you were born, your experiences, your gender or your race. Life, above all, will throw you several challenges. Take them in stride, overcome them and remember to always be grateful for everything.
This post is part of a series produced by The Huffington Post in conjunction with our women's conference, "The Third Metric: Redefining Success Beyond Money & Power" which will take place in New York on June 6, 2013. To read all of the posts in the series and learn more about the conference, click here. Join the conversation on Twitter #ThirdMetric.