Long layovers in boring airports....we've all been there. Whether it's because your trip was planned that way or because of a delay, almost all of us have had to spend multiple hours waiting in some boring airport for our next flight.
Some find a quiet corner and hope for some free wi-fi to get some work done or to catch up on Netflix. Others walk around aimlessly, grab an overpriced meal, then continue on zombie-like down the miles of hallways. Other's find their way to a bar and sip watered-down drinks, eat mediocre food and spend a few minutes talking to other travelers as they shuffle in and out. It's almost too much to bear just talking about it.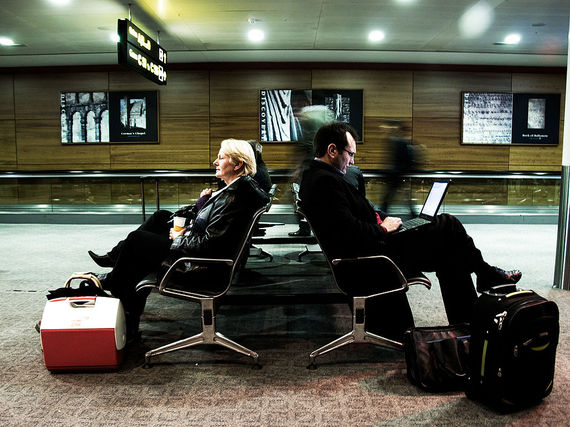 Photo Courtesy of Michal Osmenda (Creative Commons Attribution)
Today we hope to change how you spend those long layovers. Our goal is to break you out of the that old routine and get you exploring some of the great bars, pubs, taverns and dives located within minutes of the airport, all while getting you back in time to make your flight.
In this first article in a multi-part series covering major airports across the U.S., we're going to spend our layover in classy San Diego.
While San Diego's airport isn't huge it is relatively new, modern and nice -- unless you're in the commuter terminal, which is neither huge, modern or nice. But like a lot of airports around the country, spending 4 or more hours in it can be summed up with words like boring, mundane and insipid.
Instead of ticking away the hours in the terminal, head to one of the great bars located just minutes from the airport.
4-6 Hours in the San Diego Airport? Head to Aero Club Bar.
Aero Club Bar was founded in 1947 by Maryann Prophet who opened the place so she and her pilot friends would have somewhere to hang out at, share a few drinks and talk about their flying adventures. Though it has changed hands numerous times over the course of the last 50 plus years, today it maintains its 1940s era charm where stepping into the place feels like a trip back in time. The bar features over 900 whiskeys (yes 900, that isn't a typo), a seasonal bar menu and bartenders that know their whiskeys and how to carry on a conversation. Below is a brief video about the bar and a few helpful bits of information.
Aero Club Bar
3365 Indian St.
San Diego, CA 92103
Hours: Daily, 2:00pm - 2:00am
Food: No
What to Drink: Whiskey, ask the bartender to help you select one or try one of their seasonal whiskey based cocktails.
Getting There: It is about a $10 (w/tip) cab ride from the airport or a 35 minute walk (it is San Diego, the weather is almost always nice if you want to walk.)
6+ Hours In San Diego? Make your way to the Waterfront Bar.
If you have more than 6 hours then we recommend making your stand at the Waterfront Bar and Grill. Founded by two close friends in 1933 on the heels of the great mistake known as prohibition, it started out as a small enterprise but quickly grew into a favorite among the local fishermen. Today it resides in the hip and trendy Little Italy area of downtown and the fisherman have been replaced with local businessmen, lawyers, college students and service men and women. That doesn't mean it has lost its charm though, quite the contrary, the bar and the crowd make this one of the coolest places in the city to grab a drink and meal.
The Waterfront Bar and Grill
2044 Kettner Blvd
San Diego, CA 92101
Hours: Daily, 6:00 am - 2:00 am
Food: Yes, they serve made from scratch breakfast, lunch and dinners (we loved the fish and chips).
What to Drink: The owner's favorite, the Purple Hooter is pretty tasty!! They also have quite a few beers on tap as well as specialize in products from Ballast Point, a local distillery.
We truly hope you'll take our advice during those long layovers and get out there to see some of the great bars within minutes of the airport--they're truly gems, and are each destinations in and of themselves.
Tips: Use your airlines app on your smart phone to stay updated on your flights status. Also flightaware is handy in seeing where your flight/airplane is located in real time.
Up next.....Chicago.