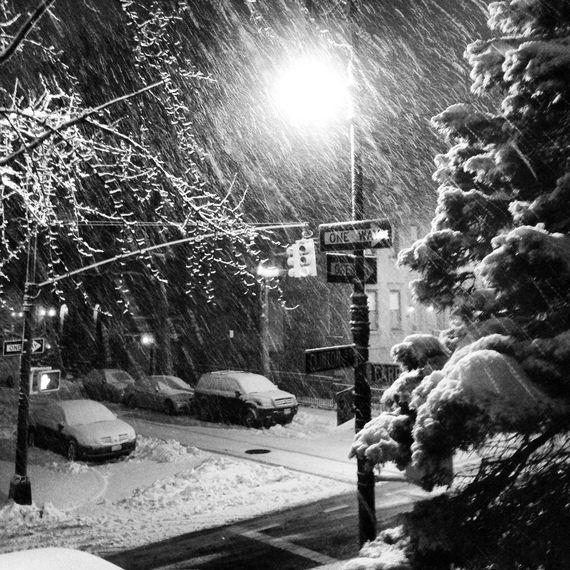 I was glued to cable news and weather websites on January 26 as winter storm Juno threatened to blast New York City with up to two feet of snow. Storm buzz was actually beginning to distract me at work. The group chatter both live and online was all about whether or not people could get home before things got too sketchy outside. I'll admit I was doing my part to recruit others into my own tent of excitement surrounding the potential blizzard. Yes, I was caught up in the drama of it all, but who could blame me considering the screaming headlines.
Epic. Historic. The likes of which we've never seen. These were the words used by our governor, the mayor and TV reporters. School systems were getting closed, state workers sent home at three, and then talk of diminished subway service: for New Yorkers, that's the ultimate sign that the city might be headed for a temporary shutdown.
For me though, despite being in the city for almost 25 years, I'm an Alabama native. Snow still holds an almost exotic appeal for me. In truth, the prospect of being snowed in, and capturing all the images on my Instagram, had me more excited than afraid.
But around 3 p.m., when most people appeared to be leaving work to go home, there was a slight sense of worry on the streets. Goodbyes could be heard on random corners as downtown commuters wished each other safety and luck getting home. Express bus commuters from outlying areas lined up half way around entire blocks. Then, the rumble of the first of many plows for the storm rolled down Broadway right near city hall. For my commute to Brooklyn, the A train at 3:30 p.m. was as crowded as it normally is during the morning rush. Nonetheless, I made it home and ran to buy milk, red wine and peanut butter, my more important staple.
Cozy at Home Watching the Coverage
That night, the stars of cable news's extreme weather coverage amped up prime time with talk of hurricane force winds, extreme cold, and potential whiteout conditions - followed up by warnings to not go outside.
I was watching it all on big cozy couch at my friend's apartment directly above my place in Carroll Gardens. He was in the kitchen cooking a pork and beef sauce pasta dish. Unlike me, he's a native of snow country, born and raised in Cleveland. After about an hour of hearing reporters shout that the wind had picked up in Midtown, watching another pick snow off the ground and describe it as wet, followed by yet another reporter driving around the city and jumping out into the middle of a deserted Times Square, he yelled: "I can't listen to this stupid crap anymore, for the love of God it's going to snow, pick out a movie!"
We settled on Tinker Tailor Soldier Spy.
The Impact on a City's Psyche
By now, everyone in New York City knows that the worst of the storm named Juno passed the city by, saving its more lethal blows for Eastern Long Island and parts of New England.
Weirdly disappointed, yet embarrassed by my own arousal over snow, I began to wonder what impact the pre-blizzard media coverage might have on the collective psyche of the city? Further, should our local leaders take what some might see as drastic action in order to help keep us safe in extreme weather that may or may not actually happen? And, since this storm wasn't near catastrophic, was there a potentially dangerous boy who cried wolf effect?
Psychologist Dr. Gail Gross told me that media coverage of potential extreme weather can in fact have a profound effect on a city's collective psyche.
"The impact of potential danger puts the collective into flight or fight mode as we psychologically prepare for extreme weather," Dr. Gross said. "When you dial into this paradigm the impact of a 24-7 media cycle, there is an acceleration of both anxiety and stress in the collective."
And with many people, that anxiety and stress is far more severe than the eager anticipation I felt as I surrendered to the cable and weather channel storm coverage the night I watched the coverage in Brooklyn.
Lynette Whiteman, executive director for Caregiver Volunteers of Central New Jersey - a nonprofit that works with homebound elderly and disabled people in Ocean County - reminded me that the people she works with are unable to get to the store for their "bread and milk," unlike the line of people I saw waiting in line at Trader Joe's in Brooklyn, the Sunday night before the storm.
One 85-year-old-woman called and left a message on the organization's message center and said she didn't need anything in particular, Whiteman told me, she just wanted the organization to know that she is was in her house all alone. She has no close relatives and was panicked that she was going to be stranded.
"I understand about warning the public, but the effect it all has on very vulnerable people is often not thought of," said Whiteman.
The Deeper Cause of the Anxiety
The truth is, any kind of unpredictable or uncontrollable external event, including potentially dramatic weather, is likely to impact the public's psyche, according to Dr. Richard Goedkoop, a recently retired communication professor at La Salle University who taught broadcasting as well as Ethics of Journalism.
Goedkoop pointed to the Ebola scare in the United States a few months ago, when media coverage created near-panic conditions in cities such where patients were being treated.
"People prefer having control over their environment", Goedkoop said. "We all want to survive, and possible 'monster' storms, with potentially crippling snow and near-hurricane strength winds, cast a doubt on how we will live through such an event."
News media and weather forecasters are supposed to "survey" this environment for us, he said, but despite being a world of specialization, there are many things that we cannot do for ourselves, and predicting the impact of a storm in the future just so happens to be one of them.
"The large majority of television news personnel and weather-casters do their best to give an accurate prediction. But they also know that their audiences may tune in longer or for the next forecast if the information given has a degree of ambiguity to it," Goedkoop. "Sometimes this ambiguity is real but sometimes it is massaged. Eyeballs and viewers equal advertising revenue and the audience that wants certainty may well tune for the next forecast."
But has the massaging gotten too shrill for the public to handle? Or are we just surrendering our minds to stupidity?
Don't Believe the Hype?
"The media's incessant weather-hyping is quickly approaching the line between entertainment and outright tortious actions," said lawyer and TV personality Elura Nanos.
She told me that the world at large, and media outlets in particular, are well-aware that the coverage has an immediate and dramatic effect on the public's actions prior to, and during, a weather event.
"To date, we've been lucky enough that the only ill effects of over-dramatized reporting has been empty supermarket shelves and perhaps lines at the gas pump," said Nanos.
But Dr. Andrew Schroeder, the research director for the private humanitarian organization Direct Relief, said extreme weather events aren't disasters until they interact with people.
Their severity is determined as much by a population's ability to react and bounce back as by the disaster's magnitude, he said, and while storm coverage often focuses on an event's magnitude, the event's impact on specific populations is often overlooked. As a result, people don't know who's safe and who's not, and policymakers lack actionable info.
"Media coverage does a pretty good job of drawing attention to the impact of physical events, but tends to focus too much on the photogenic qualities of those events -- the sensational aspects of storms, earthquakes, fires, etc., " said Dr. Schroeder
He said what's needed in order to improve understanding by the public is more regular and careful reporting on how and why certain people have been more adversely affected than others in these events. That sort of reporting can also motivate, in the best cases, more careful preparation by leaders in advance of disaster events.
The Happy Medium
Perhaps someplace, there's a happy medium in the ways these events get reported to the public.
Brenda Garton-Sjoberg was a television news anchor and reporter for more than 20 years. Her most recent TV job was at a Massachusetts NBC affiliate where she reported on numerous snow storms. For the past 11 years, she's been a full-time faculty member in the Department of Communication at Western New England University.
She said no, forecasts aren't always correct, but given the choice of being under-prepared verses over for an impending storm, the media's role has never been more important.
"I watched the coverage all night going back and forth to my local stations, CNN, NECN and The Weather Channel. I was also checking live reports from Rhode Island and Conn., where my two sons are in college," said Garton-Sjoberg.
And, while New York City was spared the worst of Juno's impact, Garton-Sjoberg's Massachusetts was not. As she points out, there were few if any casualties directly attributable to the storm in her state. That's due in part to the fact that so many people took the warnings seriously and stayed home, she said.
Garton-Sjoberg also said it's important to remember disasters such as The Great Northeastern Blizzard of February 6, 1978.
According to the website The Blizzard of 78, it was "safe to say that by the time February 6th, 1978 came along, New Englanders had been pretty-well trained to not pay much attention to the weathermen."
There were weathermen saying somewhere in the range of 10 or 12 inches and CBS's Harvey Leonard went on the air at 7:30 a.m. telling Bostonians that "we are going to get hit hard," but no one was suggesting that New Englanders should stay home and not go to work.
By the time the storm broke up on February 7, 1978, around 100 were dead, 4,500 were injured and damage was estimated at $1.88 billion in 2010 dollars.
Garton-Sjoberg said the high number of casualties was due in part to a lack of news coverage and vital information getting reported too late
Still, she acknowledged that today, we have a 24/7 news cycle and yes, reporters have to fill air time - and "it makes for interesting television, watching reporters trying to stand up during a live shot with blowing wind and snow in their faces."
But, she also agreed that, as a result, some people won't take warnings seriously in the future, and that could be a costly mistake.
"Perhaps more attention should be placed on the (meteorological ) computer models," she said. "Rather than the messengers."