The Artist, this century's newly iconic and now Oscar-nominated black-and-white silent movie, is a cautionary tale about not embracing innovation.
The story, set right before and after the depression, centers on George Valentin (Oscar-nominated Jean Dujardin), a silent film star. Valentin's popularity, which is huge, is eclipsed only by the massive size of his ego. When his studio embraces talkies, he denigrates the new technological advances and leaves the business. If pride comes before a fall, Valentin stumbles big time.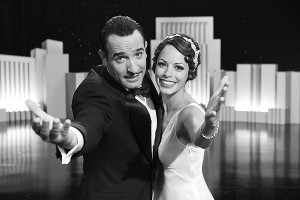 Can Peppy Miller (Oscar-nominated Bérénice Bejo) -- the charming female ingenue who climbs the studio ladder to achieve leading-lady status -- help bring him back from the abyss?
It's easy to point fingers at poor George. He's the CEO of his own life -- a legend in his own time who did just fine with the old ways -- who's too full of himself to see the value of embracing a more encompassing movie-going experience.
Eighty years later, the challenge of companies embracing innovation is just as timely as it was pre-depression. "You're given a choice between doing something new that has risk associated with it, and doing something you know has worked in the past which has propelled you to a peak," says David A. Owens, professor of the practice of management at Vanderbilt University who has an expertise in innovation. "And no one can nail down for you that, in fact, this new way is going to work."
Not surprisingly, the world of commerce is rife with companies that -- because they had no "proof" about the new way's success -- looked the other way. Remember Kodak? One of their people built a digital camera but they couldn't shake their belief that digital would ever displace film, Owens says.
"Often the fact that chief executives can't quantify this new thing becomes an excuse for their not doing the thing they're most afraid of embracing," says Owens, author of Creative People Must Be Stopped: 6 Ways We Kill Innovation (Without Even Trying).
Another factor that keeps more traditionally bound top managers from seizing innovation is the fear of losing their legacy. After all, just like The Artist's Valentin, messing with the decision-making process that got you to the top is a sort of admission that your modus operandi is no longer valid.
Age has nothing to do with this stuck-in-the-mud stance.
"I work with many young owners of start-ups who are frustrated that their funders can't see the value of going in a certain direction," says Owens. "But the younger person doesn't see that he's just buying risk, and that the funders wants to manage that risk because it's what they know how to do."
When this type of stalemate occurs, Owens suggests that reframing the issue can work wonders. "See the opportunity not as giving up something you had, but as a way to add something new," he says.
For example, one company might say, "If we invest in a certain technology, we'll keep up with the competition," says Owens. Another company, making the same investment, might say, "We'll jump four blocks ahead the competition." "It's all how you frame it."
Owens will often run tests, too. "They're fast, cheap and they deliver good information to see which way is actually better," he says. "But it happens that some people don't want to believe tests results that go against preconceived notions, either."
The Artist's Valentin's saving grace was undoubtedly Peppy. Coming onto the scene just as silent movies were about to disappear, Peppy was not so heavily invested in holding on the past. "Somehow she reframed Valentin's options for him, and made him more comfortable with the risks. She framed embracing talkies not as a loss, but as a gain."