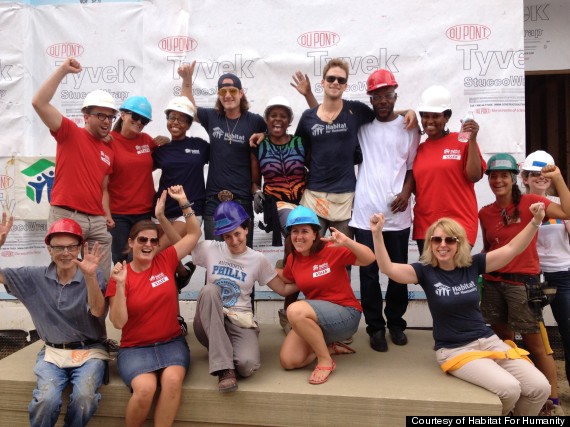 Through its "Dirt Campaign" with Habitat for Humanity, Florida Georgia Line (top center in navy t-shirts and sunglasses) recently worked alongside a Philadelphia family constructing their Habitat house.
Partnership is at the heart of Habitat for Humanity's mission. We are blessed with strong, dedicated partners, ranging from individuals bringing hearts and hands to our mission, to corporations underwriting programs and funding construction on a global scale to help us build our vision of a world where everyone has a decent place to live.
Through partnerships, Habitat for Humanity has built or repaired more than 800,000 houses, serving more than 4 million people worldwide. At its core, this was all done by one person helping another. Habitat's most recent partnership puts superstar duo Florida Georgia Line 's Brian Kelley and Tyler Hubbard building alongside Habitat partner families at some stops on their concert tour. The project is called the "Dirt Campaign," and it's being organized through the fundraising platform Omaze. This three-way partnership connects FGL's very dedicated fan base with our mission and puts FGL's Brian Kelley and Tyler Hubbard building alongside Habitat partner families at some stops on their concert tour.
During their tour stop in Philadelphia, Kelley and Hubbard joined future homeowners Rhonda and Roberto in working on a Habitat home for their family of five. Expecting to move into their new home upon its completion in December, Rhonda and Roberto have completed the 350 required hours of sweat equity constructing their home and the homes of others. Yet, the couple continues to volunteer on other Habitat homes in their neighborhood, donating their extra sweat-equity hours to Habitat Philadelphia partner families who will soon become their neighbors.
Across the country in Colorado, future Habitat homeowners Mon and Lila met Kelley and Hubbard at the construction site of several townhouses in the Habitat for Humanity of Metro Denver neighborhood where their family of four will live. Kelley and Hubbard worked with volunteers to install windows on one of the townhouse units.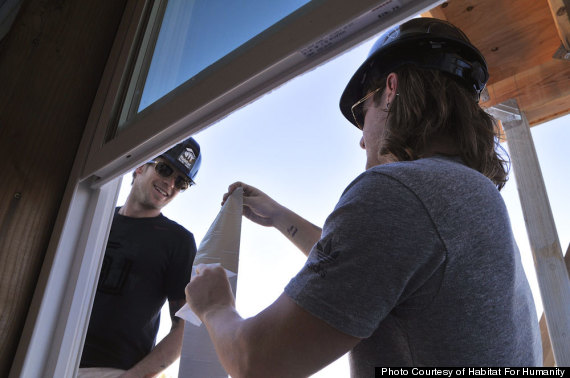 Extending well beyond the dirt of Habitat for Humanity sites, the campaign provides FGL fans the chance win a four-day cruise from Miami, Florida, to Nassau and Great Stirrup Cay, in the Bahamas with the duo themselves. At the time they enter, FGL fans can also make a donation to Habitat For Humanity.
Through this partnership of volunteerism, inspiration and technology, Florida Georgia Line and Omaze are helping Habitat drive its mission forward to partner with even more low-income families interested in building their homes and futures.
For more information and to participate in the "Dirt Campaign," click here.
Habitat For Humanity is a partner of Cisco CSR. Cisco sponsors The Huffington Post's ImpactX section.