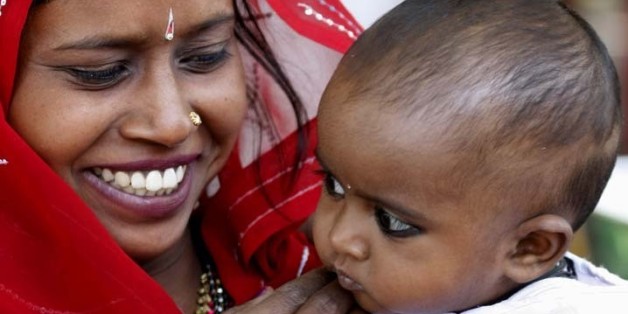 Last month, I traveled to the slums of Mumbai, and sat among young women whose stories will forever change my life.
I met Rehka, a young woman who knew so little about the child growing within her that she did not realize when her time had come. She stayed home. She waited. When her baby stopped moving, she traveled to the hospital where she was told that her child, long overdue, had died. She returned home, empty.
Rehka and the other women I met were pregnant, or had just given birth. They had been raised in a culture that tends to put the needs of women last. Maternity had once been a mystery to them. But, thanks to an initiative prenatal education program program, remarkable changes are unfolding and it all begins with a phone.
BabyCenter, is an organization that has parlayed nearly two decades of expertise as the number one pregnancy and parenting digital resource for underserved families. More than three years ago, we created global partnerships with organizations such as Mobile Alliance for Maternal Action (MAMA) -- a private public partnership founded by USAID; our parent company, Johnson & Johnson; the United Nations Foundation and more recently Facebook's Internet.org. Our plan involves using mobile phones to deliver health content via optimized text and/or audio messages to pregnant women and young mothers. Our reach extends to India, Africa, Asia Pacific, Latin America, and other countries with large low-income populations. Our mission is to speak to those who don't have easy access to care or information. Your baby can now hear your voice, a recorded voice tells the women each time they answer the call from MAMA Your body needs fresh food. You are four months pregnant now. Your baby is kicking.
Motherhood is a universal journey, and that access to good information is a universal right. We believe that small shifts in understanding can perpetuate great shifts toward healthy behaviors. The women we serve don't have to live in a world in which 800 women die each day due to complications related to pregnancy and childbirth, most of which are preventable.
In Mumbai, I meet the women whose lives we hope to change with our new mHealth program called mMitra (mitra = friend in Hindi) -- launched by MAMA last month -- that delivers voice calls to expecting and new mothers living in Mumbai slums.
Rehka won't find herself in another situation like her first pregnancy. She's due to have another child. She knows what to expect thanks to the mMitra messages that ring through on her phone. Your baby can suck and swallow now. Your baby is moving down into your pelvis ready to be born. She'll know when she's in labor and she'll be prepared.
Pooja is another woman in Mumbai who is expecting her first child. Twice each week, Pooja answers her phone and listens as a voice explains just what the baby growing within her needs. Her husband is a rickshaw driver. He works 14 hours a day. He is exhausted, but he's also eager to keep his family healthy. An orange bought at a market helps, he's learned, from listening to mMitra. So do green vegetables. He's making sure Pooja has what she needs, then stopping, at the end of the long day, to hear about his child: Your baby's skeleton has begun to develop. There is hair on its eyebrows and head. This makes them smile.
In my travels through Mumbai, I met women whose families gave them personal access to a family phone so they can hear the voice of mMitra.
I listened to the mothers of these women as well who wished that mMitra had been part of their own young motherhood. "We are learning so much," one woman's mother-in-law said, "from listening. We are setting food aside and making our daughters-in-law rest." This change is profound since traditionally women are the last to eat at a family meal, and if there is not enough food, they go without.