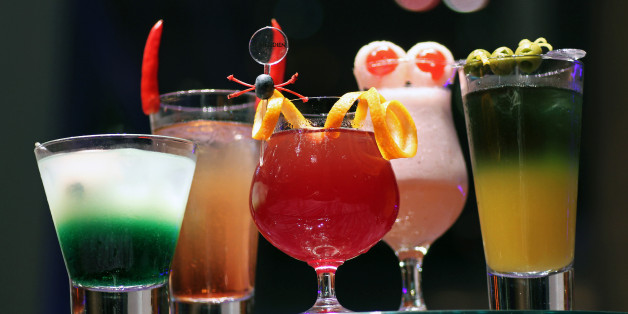 Mix up some delight with the fright this Halloween, and hoose a cocktail that best suits your mood: 10 feet under, dead, almost dead, living dead, walking dead or alive and kickin'. Go ahead, pick your poison!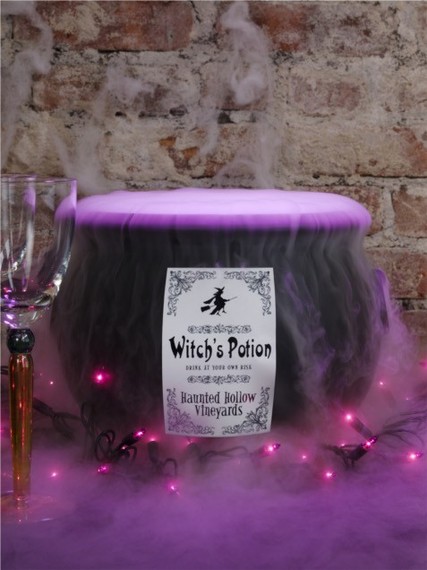 Photo by Jack Deutsch
Witches' Potion
All eyes will be on your table when you serve this bubbling cauldron of purple Witches' Potion. The secret is in the smoke created from dry ice. (Note: please wear gloves and handle carefully!)
8 oz. Malibu Black Rum
8 oz. light rum
4 oz. crème de banane
4 oz. blackberry brandy
24 oz. cranberry juice
24 oz. pineapple juice
2 oz. grenadine
6 cups ice cubes
Combine all ingredients in a punch bowl and mix well. Serves 8.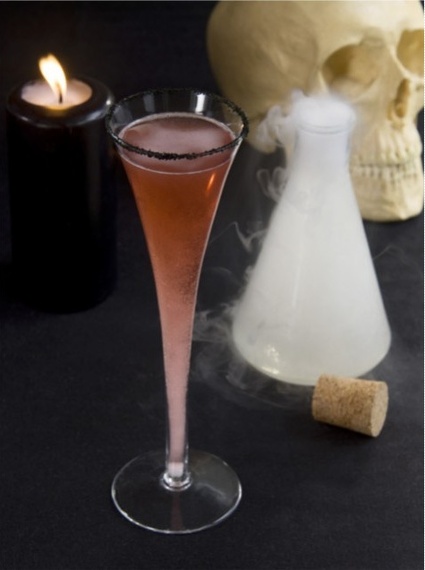 Photo by Jack Deutsch
The Vampire's Hemogoblin
Sure to delight all your blood-thirsty friends. Black rims add an mysterious touch.
2 cups ice
8 oz. St-Germain liqueur
4 oz. acai berry juice
4 oz. Skinny Girl Bare Naked vodka
Juice of 1 lime, freshly squeezed
1 bottle Moet & Chandon champagne, chilled
In a small pitcher filled with ice, mix together St-Germain, acai berry juice, vodka, and lime juice. Strain about 1-½ oz. to fill the bottom third of each champagne flutes. Rim the glass with black sugar (easy to make with black food coloring and sugar if you can find it in your local store). Top with champagne. Serves 4.
Adapted from Show Stopper from The Stylish Girl's Guide to Fabulous Cocktails by Colleen Mullaney.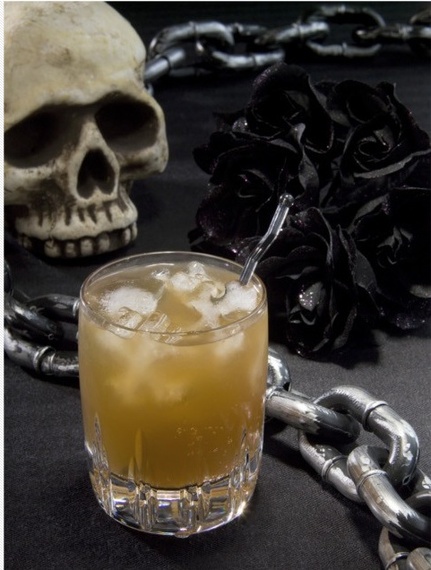 Photo by Jack Deutsch
Dark and Stormy
The perfect potion for All Hollow's Eve. Ginger beer and dark rum blend together for a killer good brew!
1 cup ice
8 oz. Malibu Black rum
Two 8 oz. bottles of ginger beer
Pour rum evenly among four glasses, fill with ice, and top with
ginger beer. Serves 4.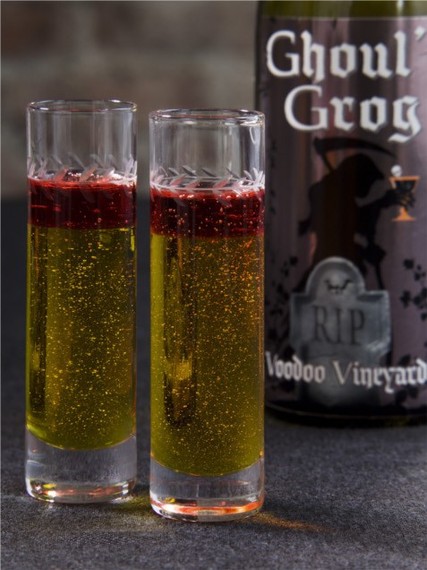 Photo by Jack Deutsch
Ghouls' Grog
Get ready to rattle some skulls and bones with a few of these old-school gelatin shots. One taste and you'll be screaming for more.
1 3-oz. pkg. lemon flavored gelatin
1 3-oz. pkg. cherry flavored gelatin
8 oz. Casamigos tequila
8 oz. peach liqueur
Mix lemon gelatin with one cup of boiling water and 8 oz. of tequila. Pour mixture into shot glasses until each is ¾ full. Mix cherry-flavored gelatin with one cup of boiling water and 8 ounces of peach liqueur. Top off each shot glass with the cherry mixture. Can also switch the order, with the cherry on the bottom of the shots topped with lemon gelatin. Chill shots until just before serving. Serves 4.