You don't need fireworks to show your patriotic colors this weekend. At my house, cool drinks add just the right splash to our annual party. I love the long holiday weekends, and especially the 4th when the kids are done with school and ready to let summer really begin. Independence Day is all about family, friends, and neighbors getting together to celebrate country pride. So get hosting this 4th of July and create your own Classic All-American Bash!
It's easy... No need for formal invites. Ask friends you see in the next few days or make a few quick calls. Then, mix up some chilled cocktails, set out an easy buffet, add a few fun projects for the kids, and you'll be off and running in Star-Spangled style.
This year I'm seeing stars!
To add sparkle to my outdoor space, I'm adding star shaped lights in my shrubs lining the patio and red, white and blue paper lanterns hung in bunches from the trees and umbrellas to cast a soft glow and help light up the night. (Check www.pearlrivertrading.com or your local party supply store). Set a stylish table with bunches of garden flowers (my favorites are hydrangeas and zinnias) in low glass containers, and add hurricanes with pillar candles to illuminate your tabletop.
Set up a self-serve bar, with big ice-filled galvanized bins of sparkling waters and sodas, and drinks dispensers filled with lemonade for the little ones and Nantucket Lemonade for the adults! This frees you up as the host, allowing for more time to enjoy your party, and isn't that what summer entertaining is all about?
Serve the meal buffet style, so guests can help themselves whenever they want, and will feel instantly at ease. Keep the menu simple, and transportable to the patio, park, beach or wherever you might be going. Some of my favorites are marinated flank steak, which can be grilled and sliced ahead of time. I put out a basket of French rolls for a "grab and go" steak sandwich. Paired with potato salad and a simple mixed green salad with hearts of palm and fresh corn makes for an easy, fresh from the farmstand meal.

Desserts should be simple, have guests bring cookies or brownies, or pick up a trayful at your local market. I baked these star shaped sugar cookies and covered painted stripes of frosting with sprinkles in patriotic hues for a delish and colorful dessert, how easy is that?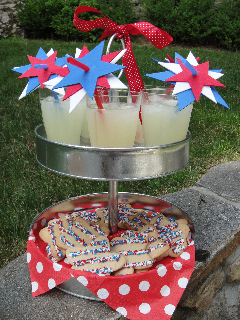 Keep the little ones happy with foamy pinwheels that are perfect for any parade or patriotic bike ride. Set up a little crafting table and watch them go!! These have clothespin bases for easy clipping to bike baskets or wagons, or backpacks. For a hand held pinwheel, simply use a lollipop stick.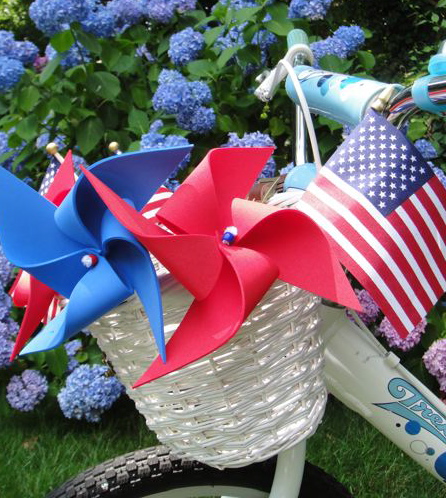 I hope these ideas inspire you to wave your flag high and enjoy the holiday.
Not hosting this year? No problem, bring a big batch of my delicious Nantucket Lemonade -- just mix it up in a drinks dispenser... you'll be a star!!
For more great ideas, recipes, and craft how-to's visit www.colleenmullaney.com. Cheers!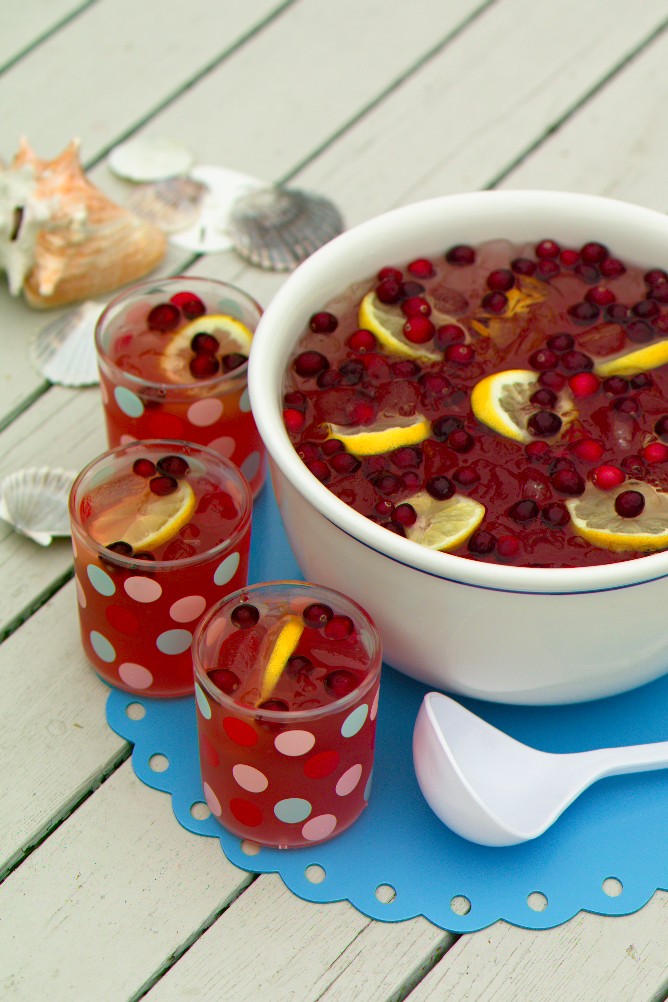 Nantucket Lemonade
Serves 12
5 cups lemonade
2 cups cranberry juice
¼ cup lime juice
3 cups vodka
2 cups ginger ale
4 cups ice cubes
Frozen cranberries and lemon wheels to garnish
Combine the lemonade, cranberry juice, lime juice, and vodka in the punch bowl and mix well. Add the ice cubes, pour on ginger ale, add the frozen cranberries and lemon wheels and serve.
Tip: For a picnic or harbor cruise, mix the punch directly in a small insulated cooler for instant and easy transportability.
Easy Fourth of July Menu
• Nantucket Lemonade
• Marinated Flank Steak
• Potato Salad
• Mixed green salad
• Starry Striped Sugar Cookies
• All-American Lemonade
Kids Crafts
• Foamy Pinwheels