Live from South Africa, it's FIFA World Cup!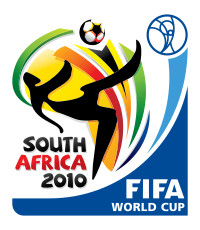 Whether you're a true fan or just a soccer spectator, this summer's festival of footwork is sure to thrill fans across the globe as 32 teams compete for international stardom and soccer's highest honor -- the 2010 FIFA World Cup.
Held once every four years, the World Cup is considered to be one of the globe's biggest and best sporting events. It all starts with the Opening Ceremony on June 11th, and caps off four weeks later with the championship match.
It's loaded with celebrity punch from Shakira - who'll be singing the official song "Waka Waka" -- to the myriad of VIP fans in the stand and stars on the field. Joining Shakira at the all-star Opening Concert lineup is Alicia Keys, the Black Eyed Peas and John Legend. South Africa's own legend, the honorable Nelson Mandela is slated to make a rare appearance at the championship game on July 11 to cheer on the victors.
On the field, all USA eyes (especially mine!) will be on Midfielder, Landon Donovan, the LA Galaxy teammate of UK's, David Beckham, as their teams take the field against each other for a historic match-up of USA vs. England this weekend. Off the field, it's all about WAG watching, Wives and Girlfriends of players, a fashion spectacle as they vie for the best in soccer style.
Sadly for the Brits, Victoria "Posh" Beckham and women everywhere, Becks will be sidelined with a torn Achilles tendon, breaking his streak as the first English player to compete in four straight World Cups. Still, the stakes are high on this game. Don't miss it -- Saturday, June 12 at 2:30 P.M. (EST) on ABC.
Over 700 million worldwide are expected to tune-in to watch the Quest for the Cup. Whatever your team, it's time to party!
While South Africa is hosting for the first time this summer, the US is working hard to get the votes to hold the 2018 or 2022 Cup. Look for a who's who of backers leading the delegation, including Brad Pitt, Former President Bill Clinton, Mia Hamm and comedian Drew Carey. Maybe this star-studded line-up will kick it up a notch and find the World Cup on U.S. soil. What a score that would be!

My English friends started waving their Union Jack several weeks ago and invited us all over for afternoon cocktails. You can bet your Betsy Ross our red, white and blue will be flying high too. The Pimm's will be flowing with every score. How Posh, indeed!
Warm weather makes for perfect watching from the patio, so invite some friends over, hoist your favorite country's flag, follow these easy steps and you'll have yourself a rocking World Cup party in no time flat.
Serve up some festive cocktails -- Pimm's or Champagne. Set out some easy to prepare snacks -- my favorite sausage rolls (an English mainstay, below) and all-American chicken wings are sure-fire crowd pleasers. Play some festive world music, Youssou N'Dour, AR. Rahman, or other favorites downloaded from iTunes, until the fans get going with their own vocals. Sit back, watch the strikers and may the best country win!
Pimm's Cup
This traditional English summertime drink with deep, complex flavors is perfect for soccer games and backyard parties alike. An old British standard, Pimm's is a gin-based spirit made with aromatic herbs and is making increasing waves in the States. Serve this in big batches so you, as the host, don't miss a goal! This tasty recipe is from my book, Punch. No matter your country, you can be sure to find a signature cocktail in my global guide to cocktails, It's 5 O'Clock Somewhere.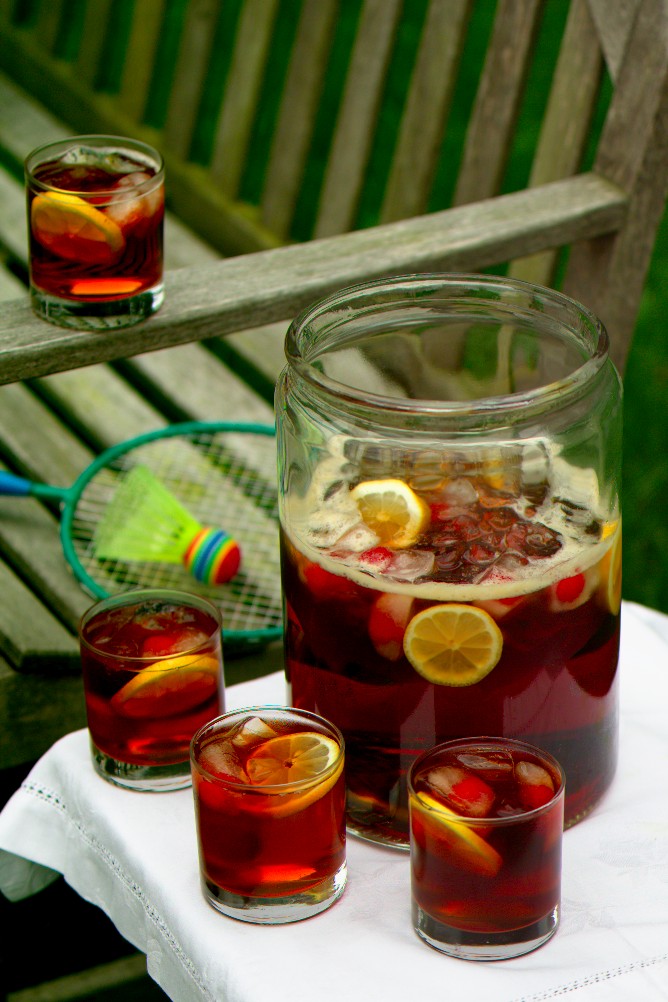 Serves 10

Drinks dispenser or punch bowl and glasses for serving
3 cups Pimm's
3 cups chilled ginger ale
3 cups lemon-lime soda
4 cups ice cubes
Lemon slices and maraschino cherries for garnish

Combine the liquid ingredients in the drinks dispenser and mix well. Add the ice cubes. Garnish with lemon slices and serve.


Sausage Rolls

These easy sausages wrapped in puffed pastry are perfect for a grab and go snack. Add mashed potatoes and gravy and you'll have an easy to serve variation of the classic Bangers and Mash.

1 medium yellow onion
2 tsp. olive oil
2 tsp. soy sauce
24 oz. sausage meat
3 eggs
24 oz. puffed pastry

Preheat oven to 400 degrees. Chop onion and sauté in oil until soft, about 5 minutes.
In a large bowl mix sausage, 2 eggs, onion and soy sauce until well blended. On a lightly floured surface, roll puffed pastry sheet to a 12 x12 inch square. Cut in half, shape sausage into rolls and place on top of each pastry piece. Roll sausage in pastry. Cut into 1-1/2" pieces. Place rolls on cookie sheet and bake in oven for 20 minutes or until golden brown. Serve.

Schedule of Games: http://www.fifa.com/worldcup/matches/index.html