I like to think of Boston University as one big kaleidoscope. BU students are such different people with completely different backgrounds who come together and form a strange yet amazing concoction that is the student body. Maybe this is a little sentimental of me, but looking back on these four (less than) perfect years of my life, I've realized that diversity is something that is really important to me; luckily, I was able to find it at BU. Regardless of this being quite a large school in an even larger metropolitan area, students tend to find several little niches they can nicely place themselves in and enjoy the company of other unique people.
Living in a big city comes with its ups and downs; I personally enjoy the forward-thinking community of fashionmongers who come together with their admirers in an effort to share ideas and inspire each other. When I think about Boston and fashion, I often talk about Newbury Street, which is only a 20-minute walk away from the core of our campus, as being the ultimate people-watching location for any fashion-lover. I find myself drawn to all the different men and women this shopping area attracts, as well as their clothes and where they get them. It's a never-ending cycle of comers and goers, both locals and out-of-towners, who parade up and down "Newbs" and its adjacent streets in search of the perfect outfit or delicious bistro.
I focus on Newbury St., but fashion really oozes into every corner of this city and spills onto our campus, making its way into all of its nooks and crannies. Allston, for example, is an unexpected catwalk for grungier individuals in search of a PBR or a punk-rock basement show (or both). I love seeing what people can come up with by raiding the racks at Urban Renewals and Goodwill; Mackelmore taught us to never underestimate a good thrift sore. It's pretty impressive that in a neighborhood most Bostonites find dirty and drab, there are such interesting people that can actually dress so well... but I digress.
This fashionista is the perfect mix between Newbury-chic and a young, 20-something college student, proving that these aren't mutually exclusive. Skinny jeans and ankle boots seem to be winter favorites this season, both on our campus and off. The studded leather gloves are a great way to add a little something to the outfit; it's always important to mix things up a little bit and keep it interesting. My biggest winter fashion pet peeve is people that give in to the mercy of the cold weather and give up their desire to actually be fashionable. This point brings me to this fashionista's coat, which is absolutely the perfect winter coat. It's thick and warm so you can decide whether or not you want to layer underneath it. It's not just your regular pea coat; it has a wonderful fur collar, which allows you to get rid of your scarf too. Now you don't have to take five minutes to undress every time you enter a building. Probably the best thing this fashionista is wearing is her smile. Maybe that's cheesy of me to say but you can't be an eye-catching if you don't have confidence. That, boys and girls, is your finest accessory.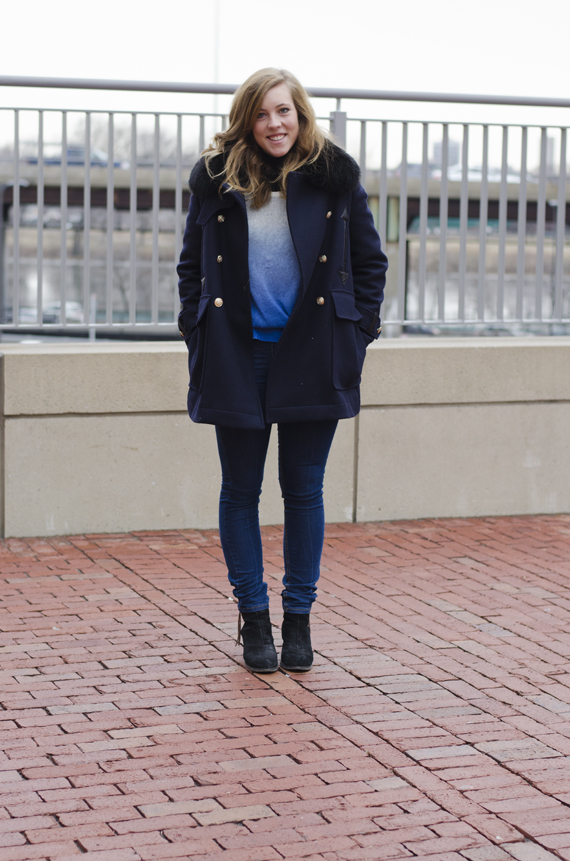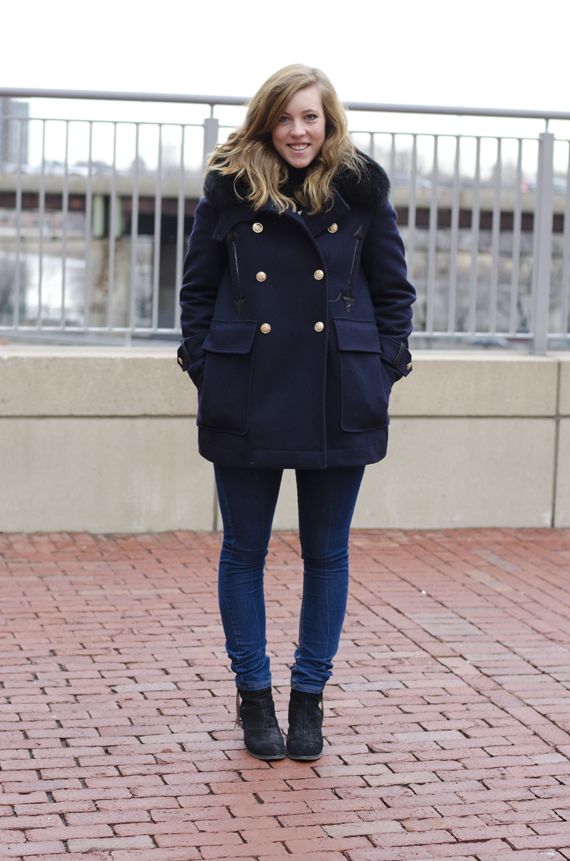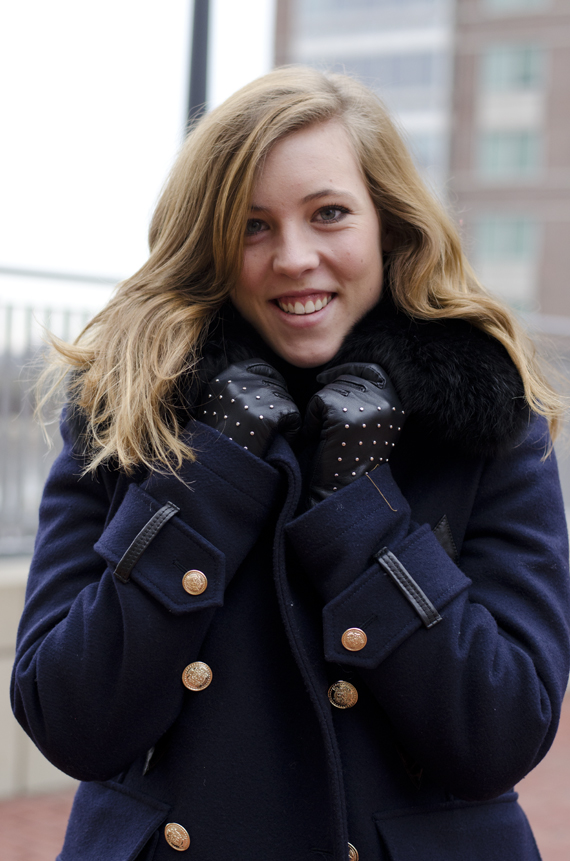 Maya is a senior at Boston University, finishing her degree in photojournalism. She's been heavily involved with WTBU, the student-run radio station, since get freshman year and has photographed many concerts.
Maya hopes to work in fashion journalism and/or photography after graduation.
For more information check out CollegeFashionista.com, Facebook and Twitter.