One of the best phrases I hear at Brown is the question, "How would you describe the typical Brown student?" followed by the answer, "There is none!" Despite this gag-worthy cliché, I must admit that it applies to the styles I see on Brown's campus. Our student body hails from places as faraway as Singapore and as close as New Jersey. Each student brings unique sense of style that is hard to categorize. At times I will see leopard-print Michael Kors bags dangling from the shoulders of my classmates; I have also watched friends gleefully describe their expeditions to Savers to find the perfect grandpa sweater.
Our student body is not our only strength. Providence, despite being a small city, does not lack for creativity. It is packed with a bustling arts scene, driven in part by our next-door neighbor, the Rhode Island School of Design. We have amazing outdoor concerts in the summer and delicious restaurants year-round. The main drag on College Hill, Thayer Street, is filled with antique shops, secondhand stores and boutiques such as Berk's Shoes, where it is easy to find kooky sunglasses and cheap ballet flats. On top of this, our location between Boston and New York City allows us to access these cities any time we would like to hop on public transit.
The only downside to living in Providence is the weather. While the summers are lovely, the school year is filled with rainy days until December, when the rain turns to snow and icy-cold temperatures hit. Warm, sunshine-filled days are a rare treat, and on those days, students flock to green spaces to frolic and throw frisbees and soak up as much Vitamin D as possible.
This past week was particularly brutal, as a nasty cold front hit New England, leaving Brown students to cope with ice and single-digit temps. Because I have a strong aversion to the cold, I tried to stay inside, dashing to class only when armed with a scarf, mittens and my cherished Alaska hat. Despite the weather, I was delightfully surprised to find peers who managed to exhibit their personal styles in the bitter cold. Bright coats, patterned jeans and colorful tights -- somehow they maintained a normal body temperature in trendy clothes.
This Fashionista is a wonderful example of one such devoted fashion lover. I have learned that one of the easiest ways to preserve style in the winter is to invest in an eye-catching coat. This is the piece that will be seen regularly as you shuffle between buildings, so a colorful peacoat, or in this case, a long fuchsia coat with a high collar, is a great way to enhance a basic skinny jeans-tucked-into-boots combo that will keep your legs toasty.
This combination also proves that it is not necessary to have a long-sleeved coat to stay warm. I have been hesitant to try coat trends like the cape for fear of chilly forearms. It turns out that long, studded leather gloves can be both a shield from the weather as well as a statement piece. Letting her patterned collar and pastel sweater spill out the edges of her coat also adds a bit of warmth and extra color to the outfit.
So perhaps there is a typical Brown student style after all -- one that is resilient and adaptable to any type of weather. We can dress up a basic pair of jeans for precious warm days with a crop top and sandals, or tuck it into riding boots with a bold jacket when the worst of January hits. Despite the coldest Providence days I can remember since being at Brown, this Fashionista proved that we do not have to sacrifice style, even in frigid temperatures.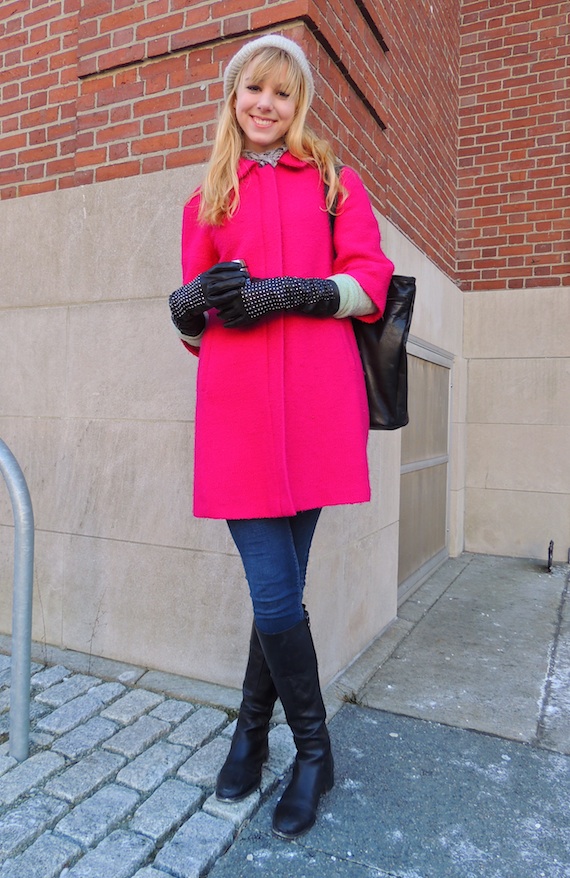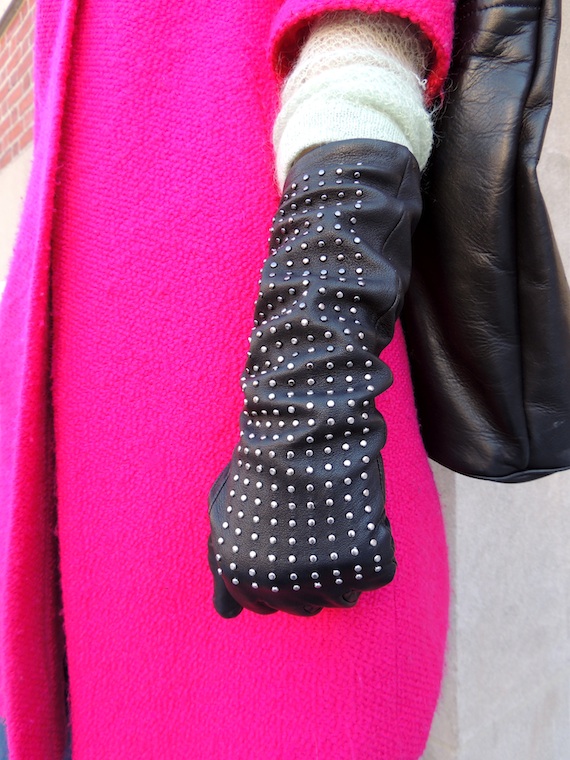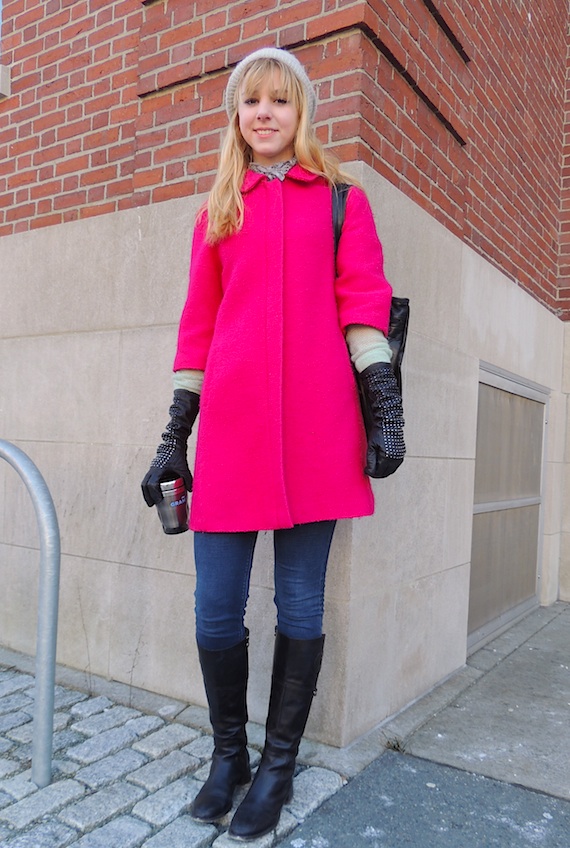 By: Elaine Kuckertz
Elaine Kuckertz is an artist and distance runner at Brown who loves to write about fashion, drink hot coffee and scour Pinterest. This time of year, you can find her snuggled up with a pile of blankets, commiserating with her roommates about the cold while laughing at cat memes.