CollegeFashionista Style Gurus from The Fashion Institute of Technology are lucky to attend a truly a one-of-a-kind college. Based in the heart of one of the most beautiful cities in the world, New York City, FIT consists of roughly 10,000 students hoping to become the world's next top designers, business owners or artists. The Fashion Institute of Technology is a place that is filled with dedicated, talented and motivated students who worked incredibly hard and stood out among thousands of applicants to receive that FIT acceptance letter in the mail.
Although there are thousands of students with different majors and different interests, hopes and dreams, we all share one love: fashion. Whether it's designing the clothing, writing about the clothing or running the businesses that sell, make or advertise the clothing we all have this unexplainable passion for garments and putting them together to make each and every one of us stand out and be unique and individual.
FIT students are anything but basic. They're the people wearing the newest trends off the runway, running the top fashion blogs on the Internet and adding their own touches to every outfit they put together. On a typical day on the FIT campus, located smack in the middle of Chelsea, you will see a range of students from hundreds of countries all over the world, tall or short, brown hair, red hair, pink hair or sporting anything else that is out there and that most other college students wouldn't dare try out.
This particular Fashionista showed off her originality when she stepped out onto the cobblestone streets of Soho in New York. She sported the ever-so-fashionable jacket over the shoulder trend that many New Yorkers have been rocking around the city. She also shows off perfectly how many New Yorkers dress -- in black, leather and fur. These three trends have been huge in New York City as many New Yorkers love to look sleek and professional since we live in a city full of working professionals and entrepreneurs of all ages.
This sleek, leather BB Dakota skirt was paired perfectly with her H&M textured white shirt. This Fashionista topped her garments off perfectly with this colorful Rebecca Minkoff purse and over-the-shoulder jacket she purchased from Crossroads Trading. This outfit wouldn't be complete without her splurge-worthy Jeffrey Campbell heels. The perfect cherry on top of this outfit was her amazing fur hat that she recently purchased at C/Fan. It can be very effortless to get this Fashionista's look. Topshop has an array of amazing leather skirts and black heels. You can find a textured top or a great bag similar to her's at Forever 21. Marshalls has an amazing selection of designer coats similar to this Fashionista's at a discounted price (perfect for us college students).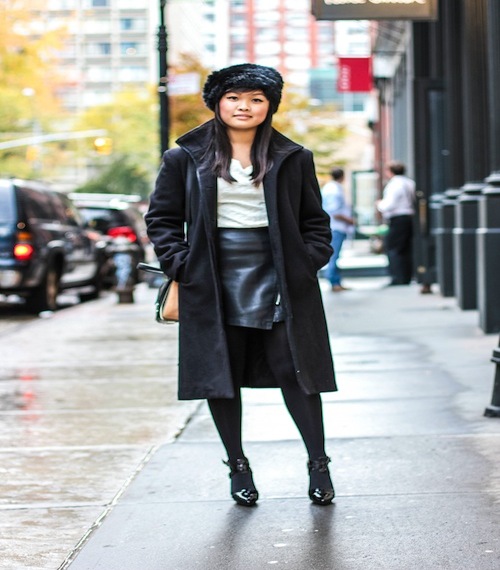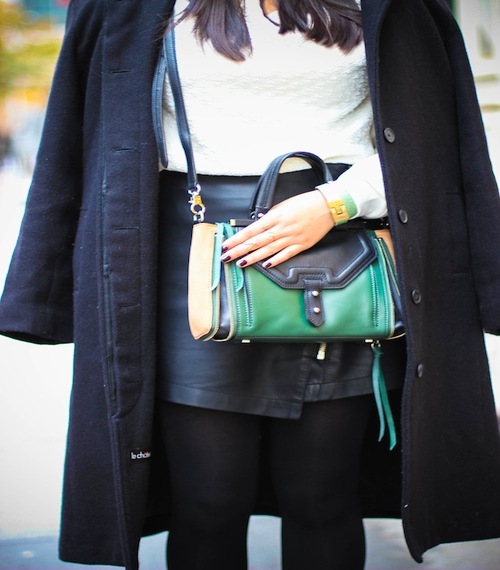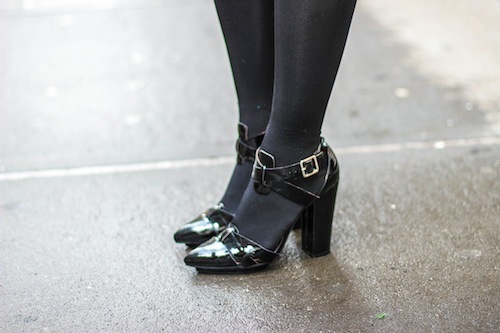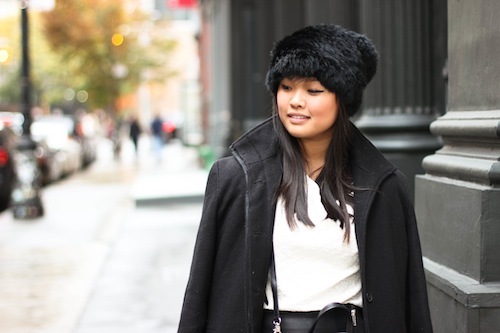 Kristen Bousquet is a sophomore majoring in Advertising and Marketing Communications at the Fashion Institute of Technology in New York City. When Kristen isn't interning at Cosmopolitan or CollegeFashionista, she runs a small photography business, Bousquet Photography. After graduating, Kristen hopes to be the newest name on the masthead at a major fashion magazine based in NYC.