When many think of Indiana University, they think Bobby Knight, Little 500, The Kelley School of Business, Greek life and so much more. IU, being considered a public school with Ivy League quality, has some of the most unique students in the country. While about half of IU's students are from Indiana, there are students from the other 49 states, as well as students from 165 foreign nations. You're bound to see and experience it all, and that's what makes my job as a Style Guru such a rewarding experience.
We are fortunate enough to experience all four seasons in Hoosier nation. I don't think there is anything more breathtaking than the fall time in Bloomington. Campus gets set on fire with the vibrant changing of leaves. It's hard not to stop and really look around and appreciate going to school at such a beautiful place. The same goes for spring, so many flowers to get us out of our winter depression and sick with spring fever. IU isn't voted one of the most beautiful campuses in the world for no reason!
IU has a style much like most of the Midwestern colleges. The average guy loves his collared button-downs, salmon pants and Sperry's, and the ladies love their leggings, combat boots and chambray tops. But, when you're least expecting it, you'll spot someone who rocks a look that leaves you feeling grateful you happened to be carrying your camera on that particular day.
That is exactly how I viewed this Fashionista. I have always been a fan of photographing and writing about different dresses, and her fall-time attire was exception. I viewed this as the perfect outfit for a day of classes, or a night out to dinner.
I loved the bright floral pattern of her dress. She displays the perfect combination of dark and colorful that gives her look a fun feel while still keeping it appropriate for the season. Her long cardigan is just right for those days when the weather isn't quite cold enough for a coat but you need a little extra something to block that crisp air. Nothing feels better slipping into during those colder months than that perfect cardigan or oversized sweater. They look good with just about anything too!
She effortlessly tied together the remainder of her outfit with a pair of classic black tights and a fabulous pair of ankle boots. For a look similar to hers, I would check out Nordstrom or Forever 21. Both stores are popular amongst IU's fashion scene, and both have gorgeous options at a college-affordable price. For a cardigan, take a look at LOFT. It's the perfect store for those classy additions to boost any outfit. Last but not least, for an edgy pair of boots like she is rocking, I would definitely recommend something from Urban Outfitters. You can always find a one of a kind item there that will be sure to leave a lasting impression.
From high fashion to candy stripes, Hoosiers have their own unique style that makes this college town everything it is.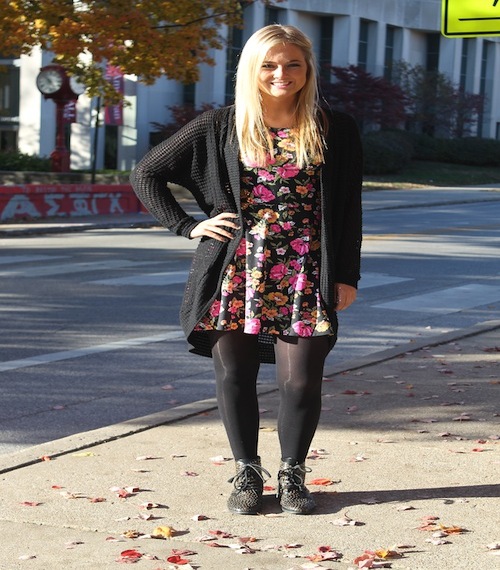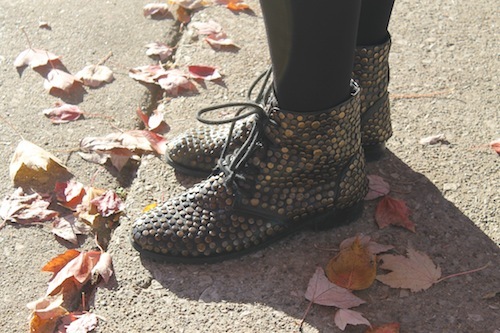 Sydney is a junior at Indiana University majoring in journalism and minoring in apparel merchandising. When she isn't writing for College Fashionista, you can find her hanging with girlfriends, watching IU basketball, drinking iced coffee, and listening to One Direction. She hopes to one day turn her favorite hobby into a career as a fashion journalist.