Misericordia University may be one of the smallest schools on the East Coast, or even the U.S., but that doesn't mean we're low on style or fashion knowledge. The tiny campus is located just moments from Scranton, PA, home of The Office, as well as minutes from two other four-year institutions, King's College and Wilkes University in Wilkes-Barre, PA. It's great that in a small town area there are three different major universities to pull style inspiration from. While King's and Wilkes are located in more of a city environment, MU students draw inspiration from city and rural life.
The Back Mountain campus is home to a number of different students in all sorts of fields of study. It's great to see how different majors display their fashion sense. For example, the majority of Fashionistas in health science majors love displaying their style through their accessories. Since they are stuck in scrubs or uniforms for their classes and clinical sessions they like to spruce up their shoes, bags and watches to show off their fashionable flair. Other students with majors like business, accounting and communications, are able to show off their unique pieces through their internships or part-time jobs, whether they be on or off campus. This Fashionista was headed to one of her two accounting classes of the day with work at Banana Republic Factory Store later and knew how to brace the winter temperatures as well as show off her stylish pieces.
Attending school in the Northeast means one thing to most Fashionistas in the winter time -- freezing -- and this year is certainly no exception. The frigid temperatures and snow covered sidewalks this season leave some Fashionistas/os unsure of how to alter their dress code. For this accounting major though, it was no sweat. She knew to choose her trusty pair of BCBG boots instead of opting for flats. While Misericordia is a small campus and it's quick to get from building to building, it's more enjoyable when Fashionistas don't have to worry about their toes turning blue.
She played up her winter weather accessories, planning to look stylish even if the weather isn't ideal. She chose her new LOFT beanie with a statement bow (a must in my book) and her white and black scarf complemented the hat. A go-to for this Fashionista when out and about for a winter day is her black DKNY parka. She says it goes with most of the items in her wardrobe so she knew it was a good purchase. She even suggests other MU Fashionistas go out and snag one similar for the bitter winter days that remain.
There isn't just one sense of style in the Back Mountain campus. Some Fashionistas go for the preppy vibe while others are strictly hipster or modern and some even opt for a vintage look. This allows for all types of fashion to shine and for Fashionistas to learn from other stylish students around them. No matter what type of style this Fashionista labels herself as, she is rocking the perfect winter weather ensemble for a long day on, or off campus.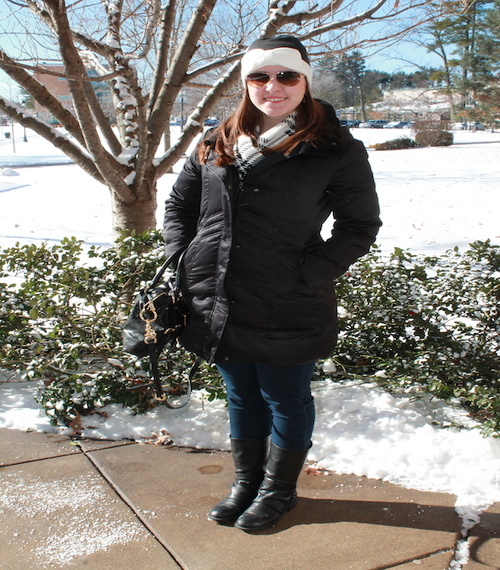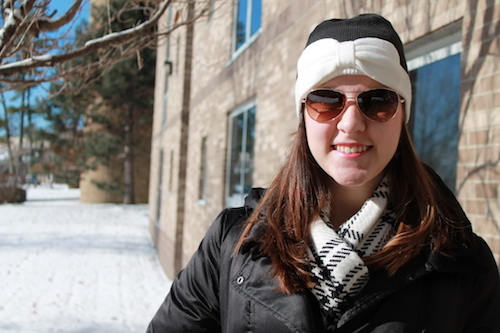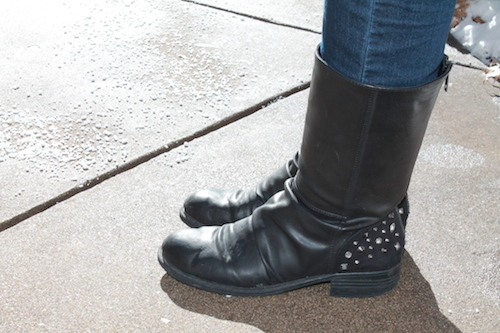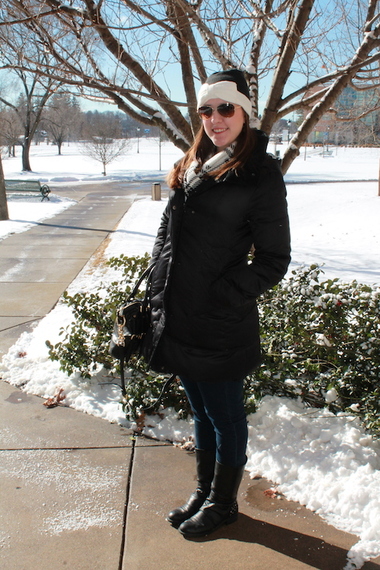 Ellen Hoffman is a senior studying Communications at Misericordia University in Dallas, PA. She is the Editor-in-Chief of the student-run, on-campus newspaper, The Highlander and works with other media outlets on campus. She is a TV and magazine junkie and enjoys spending her spare time going to the gym and hanging out with her friends and family. She hopes to someday land a job doing what she loves as a fashion journalist.