Pablo Picasso once said, "Everything you can imagine is real." This is what the students at NYU are thinking when they face their closets each morning. Going to school in one of the most diverse, artistic and inspirational cities in the world makes quite the impact on the wardrobes of those who inhabit these streets and absorb their vitality. With around 20,000 undergrads and 50,000 students total, this University has painted the Greenwich Village area with style and innovation.
Students at this university are from all over the world, and they bring their own stylistic influences to mix and match with their peers. I always pack my New England staples, from pearls and oxford shirts to pastels and Frye boots. My outfits blend these favorites with looks taken from LA, Shanghai, Texas and just about every corner of the globe. Not only do we have a campus of creative students but also a city that breathes originality. In reference to the "NYU look," Picasso could've summarized it perfectly. Everything you can imagine is real.
I attend the Tisch School of the Arts at NYU as a photography major. Although our school is filled with unique and interesting people, we admittedly do have a certain look that many of us adopt throughout the week. It is drawn partially from the classic New Yorker staples and also from our generation's influx of "hipster" style and attitude. This Fashionisto is a perfect example of what I mean. For decades, the artistic population of New York has favored looks that are black, leather and effortlessly cool. To start building the outfit, this Fashionisto puts on a pair of straight, skinny jeans. To top everything off, he rocks a great leather jacket from Black River. He begins and ends with New Yorker staples, a sure sign that he'll be regarded as a trendy local. He then incorporates other pieces that typical NYU students are wearing. Pairs of black Dr. Martens can be seen all over campus. They go with everything and are ideal for trudging through city snow this time of year. A lot of students like opting for bold colors and patterns and wear them with everything regardless. This only adds to the excitement that is NYU street style.

A paisley collared shirt from Topman adds a touch of originality. This Fashionisto keeps the look sensible and suitable for any occasion by choosing a fun pattern in muted colors. The textured oatmeal sweater from American Apparel matches perfectly and provides an added layer of warmth. Combining prints, fabrics and textures gives his outfit more substance. This Fashionisto is from San Francisco, but he has no problem fitting right in on the NYU campus. He looks great, and this type of outfit is the closest one can come to the generalization of our school's style. The awesome cheetah print backpack only enhances his sense of fun and originality.
I am highlighting this look for its ability to balance a casual college feel and a sense of young artistic professionalism. With internships and interviews popping up on every avenue in Manhattan, we have to be ready for an impromptu meeting and portfolio review at a moment's notice. With a day-to-day wardrobe like this one, our NYU Fashionisto should have no problem landing his next incredible opportunity.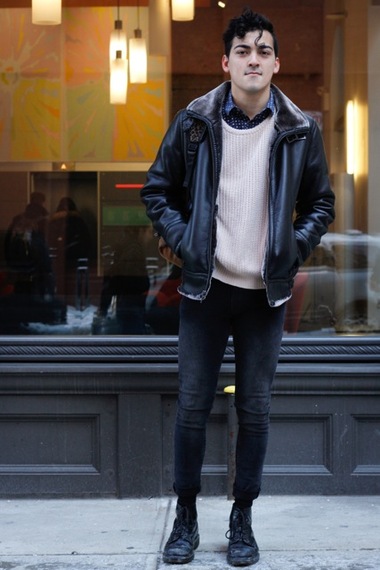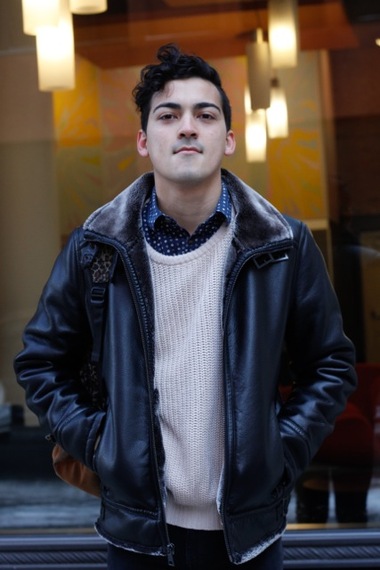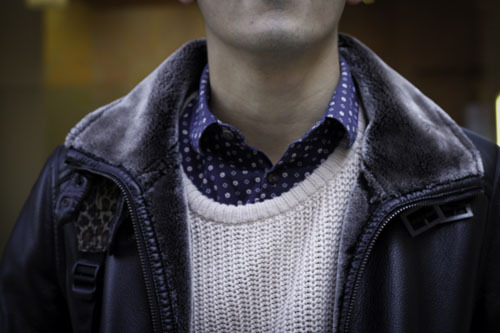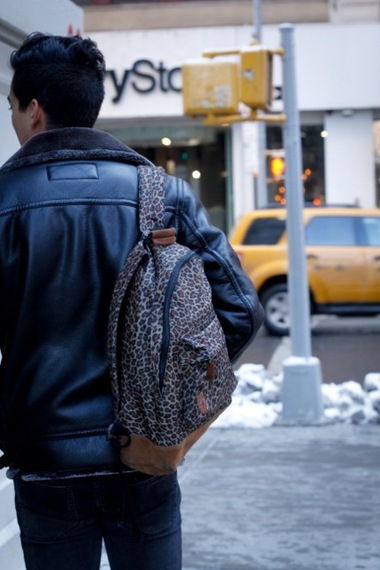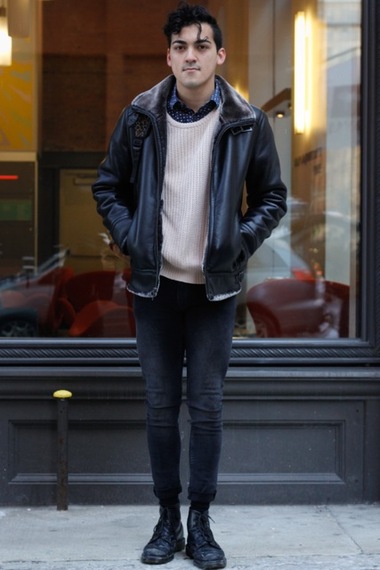 Sarah Anderson is a junior at the Tisch School of the Arts at NYU, majoring in Photography and Imaging with a minor in the Business of Entertainment, Media and Technology. In addition to being a Style Guru for CollegeFashionista, Sarah works as a web design intern for Vassi Media. She loves the ocean, has an insatiable sense of wanderlust and lives for a great kickboxing class. Follow her on Instagram at @smileforsarah.