Washington D.C. is a place where people come to work hard and play hard. It's a city full of life, culture, history, power and, my personal favorite, fashion. It's a home away from home for over 10,000 undergraduate students at The George Washington University, who come from across the country as well as from around the world, to make a splash in our nation's capitol- whether it be one policy change or one killer outfit at a time.
As I have learned in my two years at GWU, DC harbors more than just politics and big business; in fact, it's home to a rapidly growing fashion community. Yes, it's true; there is more to this amazing city than the pant suits and ties you see on the Hill. This city has a fashion sense as diverse as it's population, and the students at GWU are no exception. Coming from entirely different backgrounds, each student brings something new to the table. From hipster to preppy, sporty to feminine and grunge to high-fashion, you can find it all on our Foggy Bottom campus.
The thing that makes our style, as a university, unique is that it's constantly changing. You see GWU students wear multiple hats; we're students, but we're also interns, employees, bloggers, political activists, photographers, artists, athletes, actors, dancers and so, so much more. We're here working hard to make our dreams come true in our respective fields; however, being a fashionista or a fashionisto is something we can be and always will be regardless of our career choices.
The typical GW student's style is anything but typical. Most college students, who eat, sleep and breathe their university's gear, would be appalled that reppin' GW from head to toe isn't exactly the norm here. In fact, walking around campus is like watching a runway show; each passerby is more fabulous than the last rocking outfits that not only make you stare, but inspire you to be even more fashionable the next day.
It's fair to say that regardless of the season, students at GW find ways to stay stylish, but as the cherry blossoms start to bloom our entire student population is awakened. DC livens up and students are ready for some fun. Between walking around the monuments, shopping in Georgetown, going for a ride on the Potomac, or enjoying the view at the POV lounge rooftop, GWU students are ready to live up to their title as "D.C.'s finest and most fabulous" once Spring arrives.
DC has become the home to many of Generation Y's favorite trends; between urban street fashion, the overflow of cupcake and fro-yo places, the June 2014 arrival of SoulCycle and, of course, an abundance of hot spots for brunch. Brunch is a big deal here in the Capitol. Besides bringing groups of friends together over delicious food and bottomless mimosas, brunch is a time to look your Sunday best. Blending classic and trendy is how most Fashionistas/os plan their outfits, whether they're brunching at Masa 14 or The Four Seasons.
This fashionista flawlessly combines the best of both worlds; pairing something refined with edgier, more trendy, pieces. She took a rather classic tweed-inspired jacket and shook things up by pairing it with a leather skater skirt. She kept things brunch appropriate with a simple blouse, but once again added edge with her cool wedges and to-die-for statement necklace. Her choices in jewelry, including a Van Cleef & Arpels bracelet and Cartier watch, keep her outfit quite ladylike. Her Chanel bag is perfect for any brunch outing-as it fits all the essentials. She is a prime example of what you'll see throughout D.C on any given Saturday or Sunday when brunch is poppin', and so is the champagne!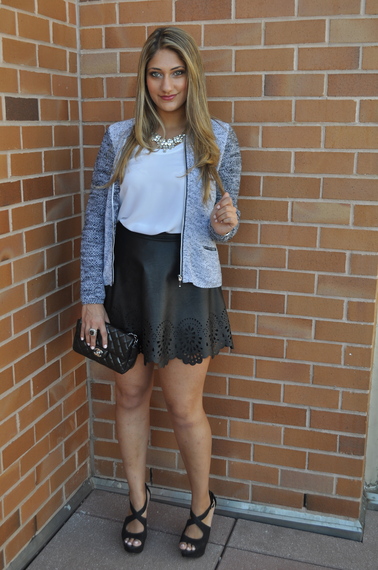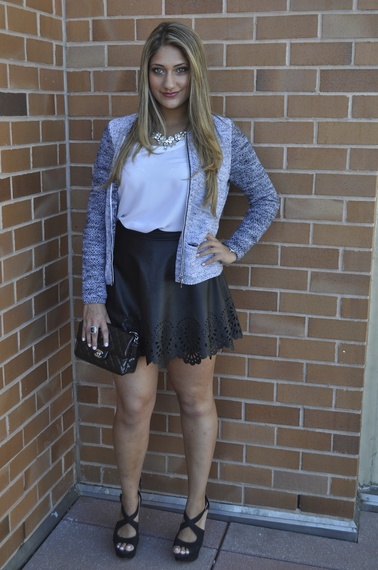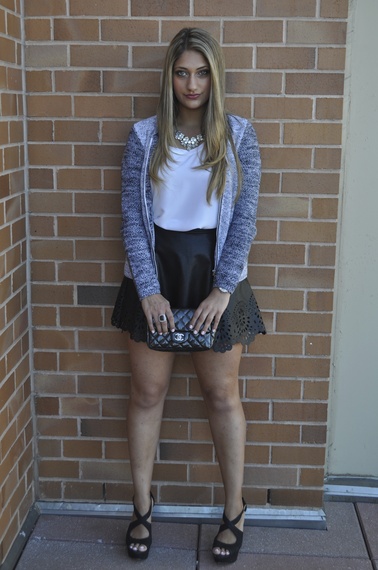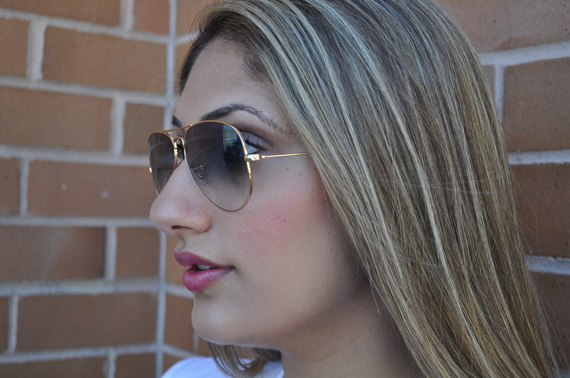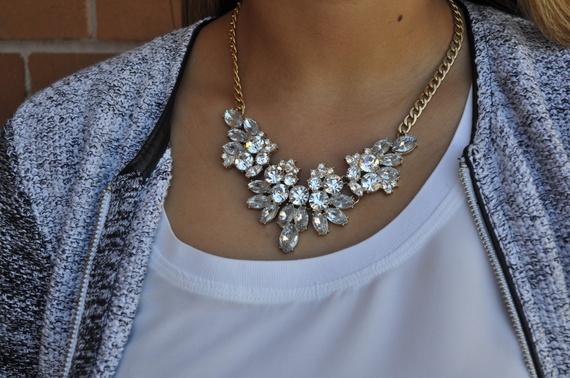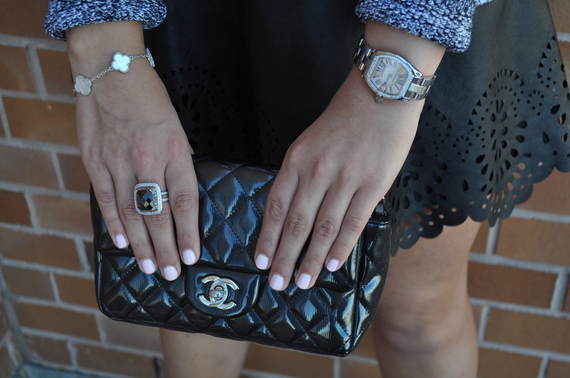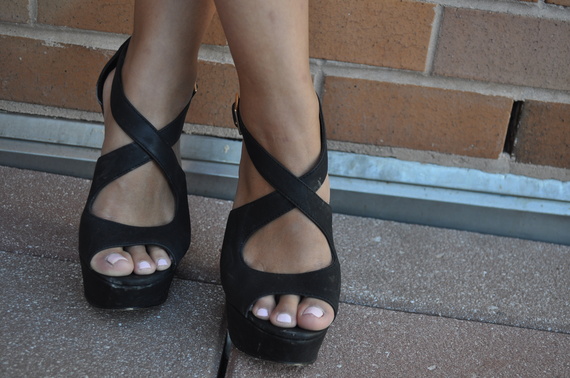 Melyssa Grant is a sophomore in the School of Media and Public Affairs at The George Washington University. She is a Presidential Scholar in the Arts and double majoring in Journalism/Mass Communications and Dance. She has been writing for CollegeFashionista since December of her freshman year and is so thankful for all the amazing opportunities this internship as offered her. As of this year, Melyssa also joined The Social Life as a blogger and became an opinion staff writer for The Rival DC. She hopes to have a future that somehow combines the amazing careers of Rachel Zoe, Alison Brod and Guliana Rancic. For now, she'll continue to dance, write, style, and sass her way through Washington, D.C.