If we're being honest, the truth is that living in Florida makes putting together an outfit more than a little difficult at times. In the summer (and often spring...and fall), the heat makes the idea of wearing clothing at all slightly cringe worthy. In the cooler months, and by cooler we mean 60-70 degrees, sometimes it's hard to predict whether it will be cool enough for long sleeves or sweaters. One day it will be sunny and warm, and the next it could be storming and chilly. Of course, the term 'chilly' may seem ridiculous to many Northerners, but us Florida natives need to stay warm too.
This Fashionista shows just how to style a casual outfit for a colder day in Florida. I spotted this Fashionista heading to one of her last exams of the semester in an outfit that emphasized comfort and style; the perfect combination for finals week. Like most University of Florida students, this Fashionista has combined a lighter jacket with some other simple pieces. A stylish jacket is not only important for those early morning walks to class, but also for riding the bus around Gainesville, buses that often seem to be kept at Arctic temperatures.
Although a beanie my be too warm for a University of Florida student by midday, the stylish hat is perfect for early morning classes or a late night trip to Starbucks to grab a coffee. Not only are beanies warm, trendy and chic, but they also hide a bad hair day. What more could a college student ask for?
If you're looking for a bolder way to rock a hat, Tobi offers beanies in every color you could imagine. Try a neon beanie to really add a pop of color and sassiness to an outfit.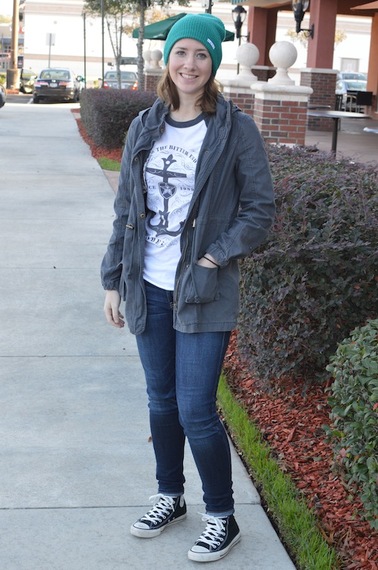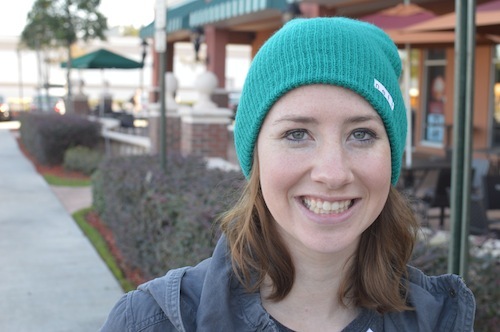 Olivia Muenter is a junior at the University of Florida, majoring in journalism. If she isn't writing or editing for CollegeFashionista, you can find her working on her personal style blog (http://wanderlust-and-such.blogspot.com), traveling or, of course, shopping.