Most couples believe that they need to get married, buy a house, have children and live "normal" adult lives. But in this brave new world, modern day couples are re-writing the script, taking the road less traveled, and daring to live the life of their dreams. We asked the top couples travel experts around the world about their favorite places to visit, ultimate bucket list trip, secret travel tips they swear by, and their most romantic destination. Here is our list of the top Instagram couples traveling the world that you need to be following. I now pronounce you, Mr. & Mrs. Nomad. #Relationshipgoals, commence.
1. Collette & Scott, @roamaroo
Website: Roamaroo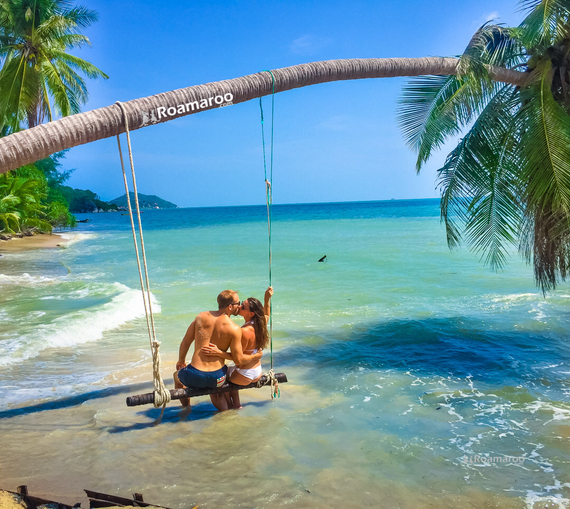 Why You Need to Follow Them: They quit their jobs in corporate America, sold their cars, and rented out their Los Angeles home in order to travel the world, starting travel blog, Roamaroo.com. They believe in quitting your day job, but never quitting your daydream. Believing in the authenticity of the untold story, Roamaroo captures luxurious and adventurous destinations around the world. These travel experts are regular contributors to Livestrong.com, Elite Daily, and The Huffington Post. Editor's Note: I might be biased because I'm half of the equation!
Their ultimate bucket list trip is to climb Mt. Kilimanjaro in Tanzania and follow the trek with a safari during the great migration, combining adventure and Mother Nature at its purest form. Their most romantic trip has been in an over-water bungalow at Six Senses Laamu in the Maldives where they were able to spend their days scuba diving in the idyllic Indian Ocean.
2. Hannah & Adam, @gettingstamped
Website: Getting Stamped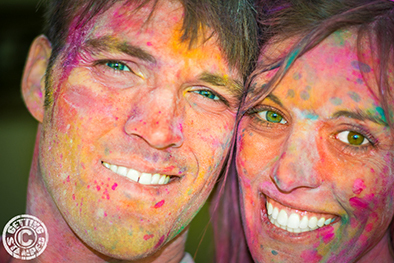 Why You Need to Follow Them: Hannah & Adam kicked their corporate jobs to the curb and said good-bye to the "American Dream" in June 2013 and have been "Getting Stamped" across the world ever since! They have traveled to 6 continents, stamped in 55 countries, slept in 300+ beds, and made countless memories.
Their favorite destination is Koh Lipe, Thailand, where they fell in love with the friendliest locals and tasty Thai food. They love waking up to the waves crashing outside their beach villa, and only being steps to the ocean. Their ultimate bucket list trip is to Antarctica so they can make it to all seven continents in the world.
3. Stefan & Sebastian, @nomadicboys
Website: Nomadic Boys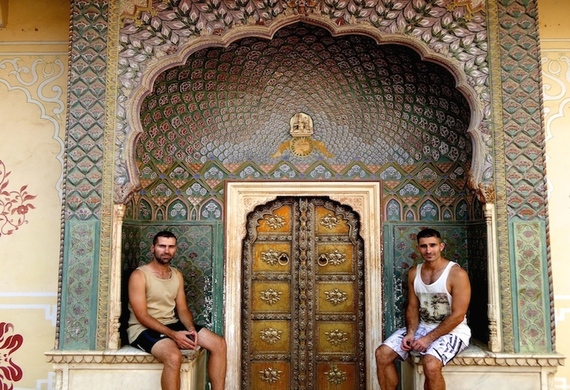 Why You Need to Follow Them: In June 2014, they quit their jobs in London to travel the world. They've since been traveling through Asia, chronicling their adventures along the way.
Their favorite destinations have been Mongolia and Nepal for the breathtaking scenery where they have planned their travels around exciting festivals. They recommend scheduling an Autumn trip to India around Diwali or heading over to Mongolia in July when they have their annual Naadam Festival (their Olympics equivalent).
4. Bobby & Alli, @travelingnewlyweds
Website: Traveling Newlyweds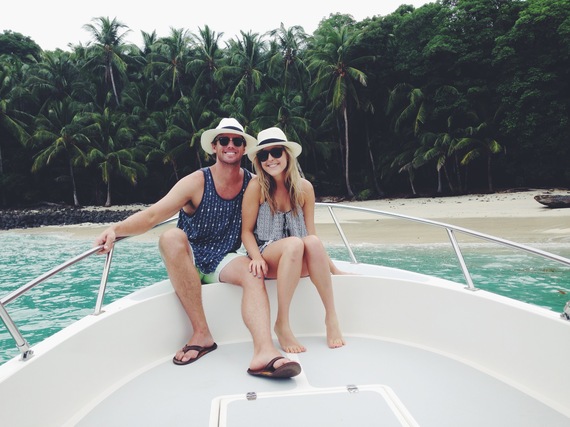 Why You Need to Follow Them: Since tying the knot in 2014, this wanderlusting couple has been all over the world... and they aren't slowing down! Whether they're exploring exotic locations (next stop: Cuba!), easy weekend trips (Palm Springs, anyone?), or their favorite backyard finds (Bear Flag fish tacos. Best on the west coast.), Bobby and Alli aim to prove that marriage is the ultimate adventure. Especially when you're married to your favorite travel buddy!
Their most romantic trip has been on their honeymoon to Panama, which included a trip to Panama City, a road trip to Boquete, and Boca Chica, a sleepy fishing village on the Pacific Ocean. Travel tips they swear by include "bringing a deck of cards wherever you go, stay hydrated, change your socks when you land after a long flight, and always have a sense of humor."
5. Emma & Cam, @honeymoonhangover
Website: Honeymoon Hangover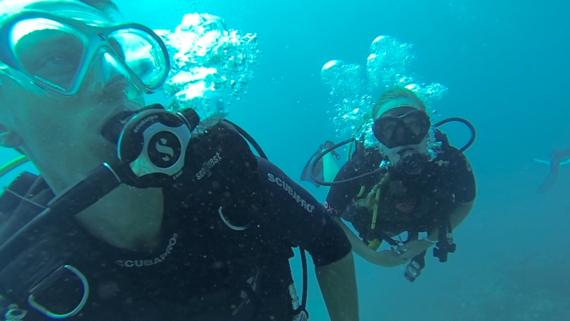 Why You Need to Follow Them: After meeting on Hayman Island, Australia in 2008. They have skimmed the Mediterranean on a Superyacht before heading to America to do the same only to end up spending 6 months living in The Maldives & Asia.
These diving lovers are obsessed with the romantic island of Nukubati in Fiji where they could catch fresh seafood daily in their remote village. They are torn between two bucket list trips, a stay in an overwater bungalow in Bora Bora and then a luxury African safari.
6. Rachel & Jeven, @wanderlusting_the_world
Website: Wanderlusting The World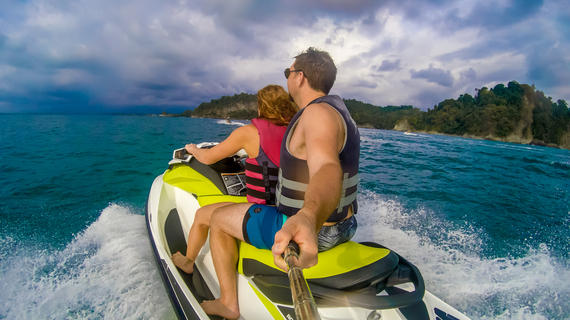 Why You Need to Follow Them: An LA based couple that proves you don't need to quit your job to travel the world. Recently married at a destination wedding on the beaches of Cabo San Lucas, Mexico, these partners in business and in travel run FitLife Productions in Santa Monica, California.
Their most romantic trip was to Italy where Jeven proposed to Rachel while hiking through the Alps. They believe in not planning every step of a trip because "the best moments you'll have when traveling are the ones that you least expect. See where the day takes you. Don't look at trip Advisor or any other blog. Just let go and experience the adventure."
7. David & Allison, @twoheartstravel
Website: Two Hearts Travel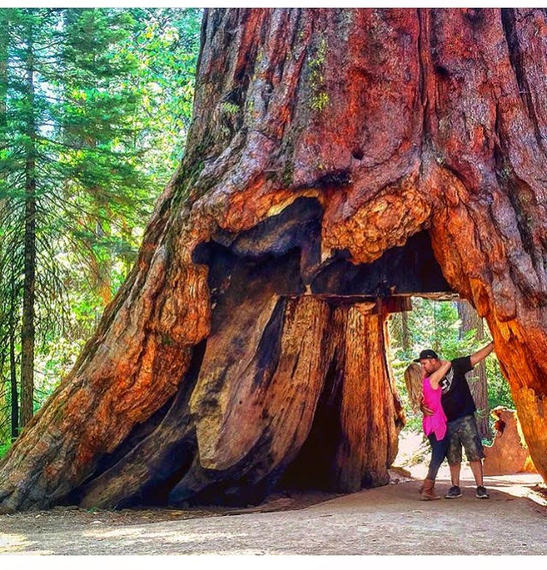 Why You Need to Follow Them: Nearly two years ago, this traveling couple sold all of their belongings and moved into a motorhome in order to travel around the United States.
These California natives love traveling to National and State parks in the U.S. They still manage to keep their full-time jobs while quenching their wanderlust. David and Allison believe that "experiences are more valuable than luxury...we would rather stay in a less expensive hotel and have the extra cash creating memories when traveling."
8. Soly & Zina, @butnodessert
Website: But No Dessert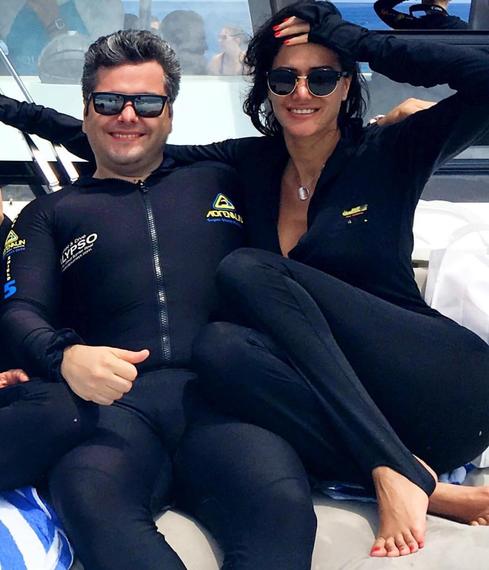 Why You Need to Follow Them: These married travel junkies are absolutely addicted to delicious food and extraordinary travel. Their life is a happy blur of hotel rooms, luggage, airports, good food, beautiful cities and great fun!
Out of the 32 countries they have traveled to, their most romantic trip has been to Hawaii in the United States while the idyllic island of Sardinia, Italy is a close second. These travel bloggers recommend not planning in advance as they prefer to "discover and wander. Why not get lost?!"
9. Aga & Bekran, @worldisenough
Website: World Is Enough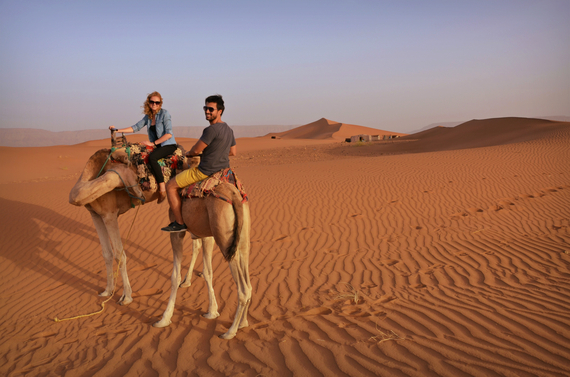 Why You Need to Follow Them: These nomadic lovers met only one and a half years ago and have already traveled to over 20 countries together. They still manage to find time to travel despite pursuing law and medical degrees.
Their favorite trip together has been to Iceland where they road tripped through the country for a week. Their most romantic vacation has been to Cinque Terre, Italy, where they say they would "go back in a heartbeat." They are currently dreaming of bucket list trips to Japan, Cuba, and South Africa.
10. Franck & Richard, @onedayonetravel
Website: One Day, One Travel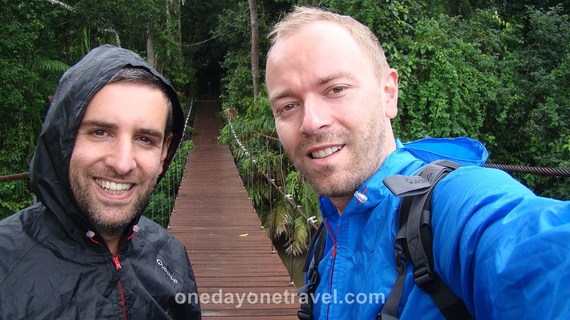 Why You Need to Follow Them: This adventure loving duo have been curiously traveling together for over 20 years. They've been travel blogging since 2008.
Their most romantic trip together has been in an over-water cottage in the "middle of Tumbak lagoon in northern Sulawesi, Indonesia. Alone, in the middle of the sea, after a beautiful sunset, under the stars and the moon, we were close to what we can call the perfect romantic spot." They are currently dreaming of a trip to Myanmar for its mix of culture and landscape.
11. Chris & Jade, @thenomadpeople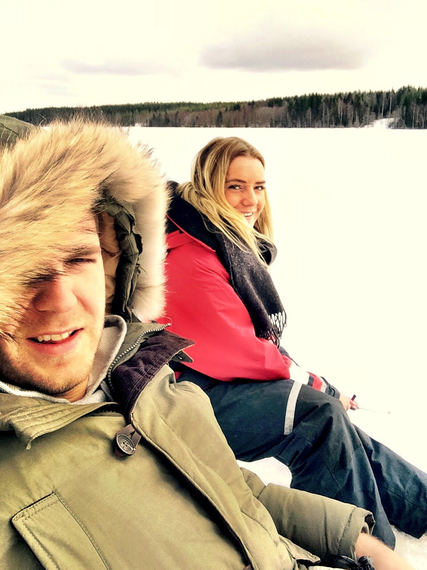 Why You Need to Follow Them: Why You Should Follow Them: Hailing from Gothenburg, Sweden, these two have a big taste for travel and photography. They we quit their day jobs to fulfill a lifelong dream of traveling the world, wandering without an end-date and the comforting safety of a job or apartment to get back to. Their battle cry is to stay as long as we want in one spot, when they get bored, they move on.
Their most romantic trip was a drive from Gothenburg, Norway to Jotunheimen, Norway to a national park. Upon arrival, they pitched a tent and enjoyed some wine with a private view of the fjords. When asked about travel tips, this Swedish duo said, "don't book too much in advance, take it as it comes and follow your gut. Just be curious, have fun and explore, you will only regret what you didn't experience. - To us, It's all about the amount of life in your time."
12. Mike & Luci, @fightingcouple
Website: The Fighting Couple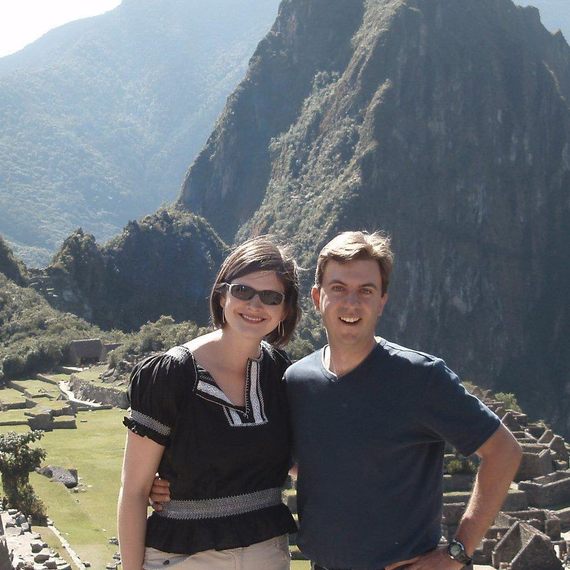 Why You Need to Follow Them: Mike & Luci are on a mission to encourage couples to get out and see the world together. They have visited 40 countries together and have fought on 6 continents. The pair shares a drive to explore and help couples overcome their fears and work together.
Their favorite destination thus far has been Istanbul for its incredible food and shopping. The duo says that, "you will never eat a better kabob than on the street in Istanbul" and that "the Grand Bazaar is one of the most interesting/overwhelming/crazy places we have visited." The travel tip they live by is traveling on the shoulder season because "everything on the shoulder season is cheaper: hotels, cars and attractions. You might have a couple days of rain, but trust us, you can afford a good umbrella with the money that you will save. We like to travel in the spring and fall, but each destination has a unique off-season."
13. Dave & Deb, @theplanetd
Website: The Planet D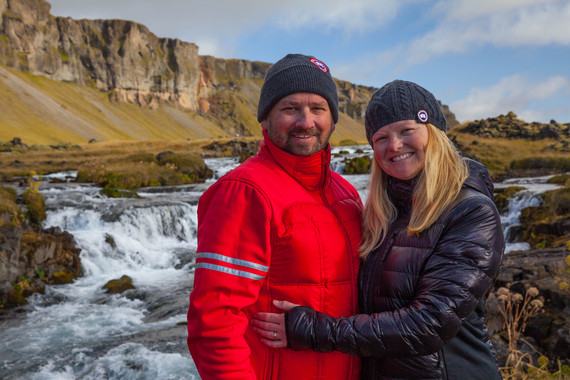 Why You Need to Follow Them: Dave and Deb are well-known travel personalities in both online and mainstream media. Their highly acclaimed website, The Planet D, won back to back Gold Medals for Best Travel Blog by the Society of American Travel Writers (2014/2015) They've travelled to more than 100 countries on all 7 continents. As spokespeople and international ambassadors they've worked with some of the world's top travel brands and have been featured in major Canadian and international media outlets such as The BBC, Lonely Planet, The Today Show and Yahoo Travel.
The most romantic trip they have ever taken was a week in Santorini, Greece where they "relaxed, booked a cave hotel overlooking the caldera and ate Greek yogurt every morning" from their private balcony. Antarctica has been their favorite destination for the sheer wow factor and their ultimate bucket list trip would be trekking to see the mountain gorillas in Uganda and Rwanda.
14. Andrea & Bryan, @bestworldyet
Website: Best World Yet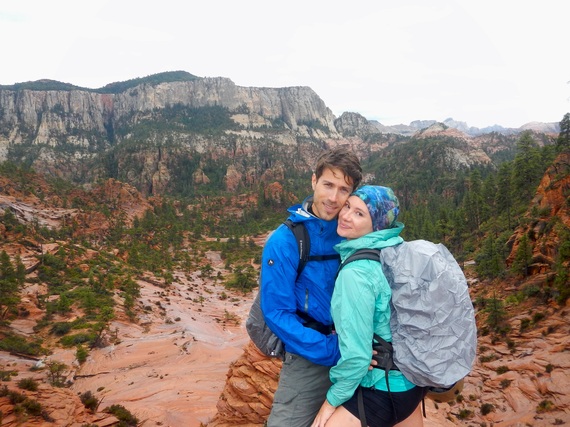 Why You Need to Follow Them: In May 2015, they sold their belongings, rented their condo, and left the US on a one way ticket, getting hitched in Barcelona and never looked back. These digital nomads have no immediate plans to settle, but are evaluating each 'temporary home' as a place to reside one day.
Their most romantic trip to date was a luxurious safari in Sabi Sands in South Africa. Their biggest recommendation to travelers is to "embrace technology, but don't forget to disconnect." They said that, "we live in a world where technology can support a pretty kicka** round-the-world office. That said, you can make yourself crazy being connected at all times... so don't forget to disconnect completely. Every now and then, resist reaching for your camera. Instead, keep some moments for yourself and appreciate them in a more personal way."