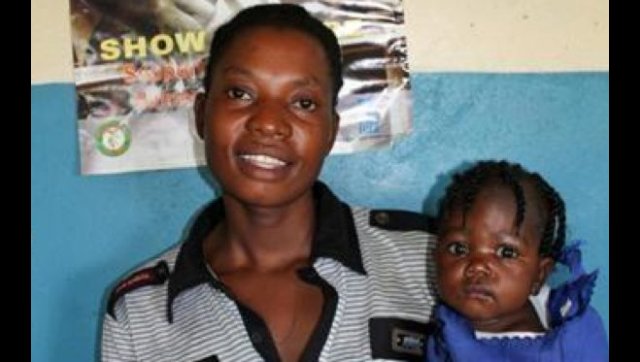 Heightened global awareness of HIV and AIDS over the past 20 years has saved lives and helped prevent transmission of the virus, both between sexual partners and between mothers and children. Euphemia is one Zambian mother who benefited from education about HIV. Diagnosed with the virus when she was pregnant, her primary concern was preventing its transmission to her baby.
Euphemia holds her daughter, Medo, who was born HIV-negative, because she took special precautions to protect the child. Soon after Euphemia married, she discovered something her husband hadn't told her. Though polygamous relationships are common in this part of Zambia, Euphemia did not realize she was part of one. "I thought I was the only one, but realized after marrying him that I was the third wife," she explains.
Realizing her greatest fear
In 2010, Euphemia became pregnant and was shocked to learn that she was HIV-positive.
As a teenager, Euphemia was passionate about educating people about HIV. Her passion came to fruition when World Vision's Reaching People Infected with AIDS (RAPIDS) program engaged her as a youth volunteer peer educator. RAPIDS was a five-year project, funded by the U.S. President's Emergency Fund for AIDS Relief (PEPFAR).
Euphemia worked as a peer educator for three years. "I had put in a lot of effort and energy to make a difference in the community by sensitizing the people about the disease and its dangers," Euphemia explains. "The mission was very fulfilling because that was what I dreamed of doing even before World Vision engaged me."
However, Euphemia didn't realize that one day she would need that knowledge for herself. "What I feared most finally caught up with me... I was shocked when I tested positive, but my main worry was the well-being of my unborn baby and how the future would be for me and the child," she says.
Clinic provides support to HIV-positive women
To address the HIV crisis in Euphemia's community, World Vision operates the Sinazongwe Voluntary Counseling and Testing clinic. Each month, more than 200 people who are HIV-positive, or at risk of being infected, receive prevention and support services.
Prevention of mother-to-child transmission services are also provided and include:
Compulsory HIV testing of pregnant mothers
Deliveries conducted especially to prevent HIV transmission
Monitoring of HIV-infected pregnant mothers
Psychosocial counseling
Anti-retroviral therapy
Guidelines, care, and support for pregnant mothers and at-risk children
Throughout her pregnancy, Euphemia was supported by the clinic.
An answer to prayer
"My baby is HIV-free," Euphemia joyfully exclaims. Her daughter, Medo, is now 6 months old.
"So far, I have taken her for HIV tests twice, and she has continued to test HIV-negative," says Euphemia. "I thank God for protecting my child from contracting the virus. That was my prayer."
Before World Vision established the clinic in 2008, it would have been highly unlikely that mothers like Euphemia could have given birth to an HIV-free baby.
Strength to move on
Though she knows the devastating effects of HIV and AIDS, Euphemia is determined to move forward with her life.
"I was afraid of being HIV-positive, but now what encourages me to move on with life and keeps me strong is what I learned from World Vision and what I taught others when I was a peer educator," she says.
Her faith is strong. "Now I am praying for God to give me a chance to live longer so that I can look after my children and see them grow and be independent."
Three ways you can help
Thank God for Medo's healthy birth and for the increased awareness of HIV and AIDS over the past several decades. Pray for mothers like Euphemia and others who struggle to live with HIV.
Call your members of Congress. Urge them to protect life-saving programs to combat global AIDS. Drastic and disproportionate cuts to these programs have been proposed. Programs like RAPIDS are the result of past U.S. commitments to fight the global AIDS pandemic. Ask them to continue this commitment.
Donate now to help prevent mother-to-child transmission of HIV. Your gift will help infected moms like Euphemia gain access to care that can prolong their lives -- and protect their children from HIV.
Learn more
Visit our World AIDS Day page to learn more about mother-to-child transmisson of HIV and how you can help prevent it.
This has been cross-posted from here.
RELATED ON HUFFPOST:
Scroll through some of the world's best and worst countries for infants below.
Note: Of the 12 countries that have the lowest rates of infant mortality, numbers 12 to 2, all have a uniform ranking.
PHOTO GALLERY
Infant Mortality Rates Across The World: The Best And Worst Countries