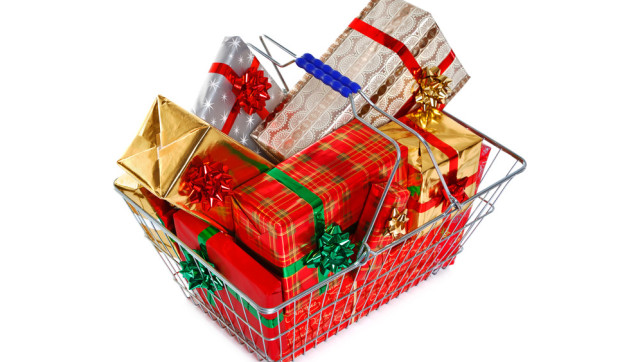 By Sierra Filucci, Common Sense Media editor
One holiday, when my superhero-loving son was 4, a well-meaning family member gave him a DVD of Spider-Man 2. Perhaps they didn't realize that the movie was rated PG-13 -- or just didn't think it mattered. But nothing ruins the fun on Christmas morning like having to pry a new gift out of your kid's hands because you think it's inappropriate. I actually didn't go that far, but I did end up spending a lot of time and energy over the next few weeks telling my son, "You can watch it when you're older" (which was always followed by "Whhhhyyyyyy?!").
Exchanging holiday gifts can be one of the highlights of the winter season, but ensuring that the process goes smoothly for everyone can take a little pre-planning on your part. Remember that not everyone is in tune with what your kids are interested in, what's appropriate for their age or what your family rules are around media-related toys and treats. Here are some tips for helping out well-meaning gift-givers while also keeping conflict at bay.
1. Be prepared: Every year around Thanksgiving, I'm still thinking about turkey when my dad pops the Christmas question: "What do the kids want?" Instead of answering with, "Oh, whatever you want to get them," I plan to be ready with a thoughtful list of items that fits their interests and ages. (Dad, if you're reading this, I'm thinking of some cool games for our Wii and, for my speed-reading 8-year-old, perhaps a Kindle loaded with some good fantasy books?)
2. Express yourself: Not all family members ask before they do their holiday shopping. So make sure to speak up early and often about your preferences. You can take the subtle approach with, "We're only watching G-rated movies these days." Or you can be super proactive with: "We've got some really clear rules about media use in our house, so if you're thinking of getting the kids any gadgets, DVDs or video games, please ask me first."
3. Stay positive: Sometimes it can be helpful to let gift givers know what you would like, instead of what you don't want. For instance, you can steer folks away from media gifts altogether with: "We'd really love something homemade this year." Or talk about what's worked well in the past: "Those books you got for Pablo last year were perfect. I bet he'd like the latest in the series this year." Wish lists on sites like Amazon can also be helpful for Internet-savvy gift givers who like clear direction.
4. Set limits: The holidays are often when relatives like to splurge on high-ticket tech toys or just go overboard on the number of gifts they give. But your kids may not be ready for expensive, high-powered electronics or a 10-pack of Mario games. If you want to regulate the amount of media (or anything else) coming into your home, set some limits. You can organize a gift exchange in which each family member buys for only one other person. Or ask for activities or services (like a trip to the zoo from your cat-crazy aunt, or a snazzy haircut from Grandpa, the former Army barber!) instead of gadgets.
5. Don't panic: Even your best efforts can sometimes prove futile. When your 6-year-old unwraps a cell phone on the first day of Hanukkah, don't freak out. Kids who know your family's media and gadget rules beforehand will be more understanding when you explain that you'll need to hold onto the present until the right time. Fortunately, kids usually move on to the next gift pretty quickly. And if you decide to give the gift giver some gracious feedback, you might just make next year a little easier... for everyone.
Read more from Common Sense Media
2012 Feel-Good Holiday Gift Guide
Holiday Movies: Coming Soon to a Theater Near You
8 Tips for No-Stress Holiday Shopping
About Common Sense Media
Common Sense Media is dedicated to improving the lives of kids and families by providing the trustworthy information, education, and independent voice they need to thrive in a world of media and technology. We exist because our kids are growing up in a culture that profoundly impacts their physical, social, and emotional well-being. We provide families with the advice and media reviews they need in order to make the best choices for their children. Through our education programs and policy efforts, Common Sense Media empowers parents, educators, and young people to become knowledgeable and responsible digital citizens. For more information, go to:www.commonsense.org.