By Wendy Perrin, CNTraveler.com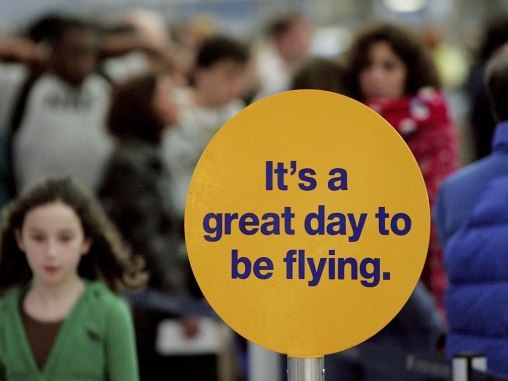 With millions of people flying to their holiday vacation destinations this weekend, and with severe weather expected to disrupt some of those travel plans, I thought it might help to provide some tips for coping with common holiday travel problems:
1. If a winter storm is brewing the day before your flight: Have a Plan B.
2. If your flight is cancelled: Be the first to find out.
3. If your flight is cancelled and you're told there are no seats on other flights: Here's how to get one.
4. If you phone the airline and are stuck on hold for hours: Call one of these numbers instead.
5. If you get to the airport and the security line is endless: Use this app to find the shortest line.
6. If your aircraft is switched and your seat assignment changes: Use this app to move to a better seat.
See Also: Stop Visiting These Places! You're Ruining Them!
7. If you're bumped from an oversold flight: Nip that problem in the bud next time.
8. If you're stranded at the airport for hours and need a haven from the pandemonium: Here are your best new lounge options.
9. If you're stranded at the airport for days and need someone to rescue you: This guy is your best bet.
10. If your plane's overhead bin is full and you're forced to gate-check your carry-on: Either take this precaution or make sure you pack like this.
11. If the airline loses your checked luggage: Get fast help finding it.
12. If you failed to make vacation plans in the first place: Nail down a last-minute getaway.
Should you encounter troubles during your holiday travels and need advice on the spot, feel free to tweet to me and I'll do my best to tweet back. You can also follow my own holiday travels on Instagram. Happy Holidays!
More from Condé Nast Traveler: