By Ken Jennings, Condé Nast Traveler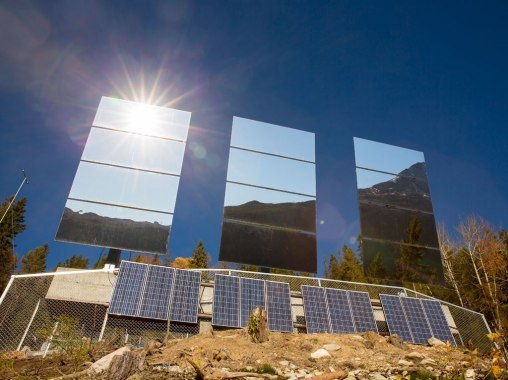 Rjukan, Norway (Getty)
Rjukan is a small mountain town in the Norwegian county of Telemark. In the early 20th century, it became a major center for fertilizer production when its founder, a canny industrialist named Sam Eyde, realized the hydroelectric potential of a nearby waterfall. The town is justly famous for its World War II heroics. In 1943, the Norwegian resistance destroyed a Nazi heavy water facility there, dealing a decisive blow to Hitler's dreams of beating America to the atomic bomb. Today, Rjukan is a popular tourist destination, but not during the winter months, when the sun literally never shines there. Until now!
See Also: Stop Visiting These Places! You're Ruining Them!
Rjukan lies at the bottom of a narrow east-west valley called the Vestfjord, and the view south is dominated by an imposing mile-high peak, Gaustatoppen. From September 28 to March 12 every year, the Norwegian sun sinks so low in the sky that Rjukan lies in perpetual shadow. In 1928, Sam Eyde's company even built a cable car up into the mountains, so the pale citizens of Rjukan could feel the sun on their faces during the six dark months of the year.
Eyde had another crazy idea as well: using a system of mirrors to reflect light onto the sun-starved town. He could never quite figure out how to make it work, but in 2001, a local artist named Martin Andersen unearthed the plans for a "Solspiel" -- a "sun mirror" -- and talked the town council into developing the idea. It was actually possible, engineers told him. An Italian village called Viganella had installed its own mirrors in 2006.
In 2013, three huge steel mirrors were helicoptered into Rjukan and installed atop the ridge. A computer in Germany slowly moves the solar-powered mirrors all day long, tracking the sun. The result: a warm, sunny glow that beams down permanently onto Rjukan's market square, giving the town its first winter sunlight ever.
At first, the town was skeptical about Andersen's nutty idea. Petitions circulated; a Facebook campaign was organized. But today, as residents bask in their newfound warmth, all is forgiven. "Living in the shade must make you afraid to dream of the sun," Andersen mused. "That's the only way I can explain the resistance. Like the valley walls, minds without sun must become somehow a little bit narrower."
More from Condé Nast Traveler: