By Will Coviello, Condé Nast Traveler
Mardi Gras can seem like a tourist spectacle, but its pleasures are less about watching the action than being part of it. That's why New Orleanians throw so much effort into making costumes, riding in parades, and mingling with the crowds. Here's how you, too, can celebrate like a local.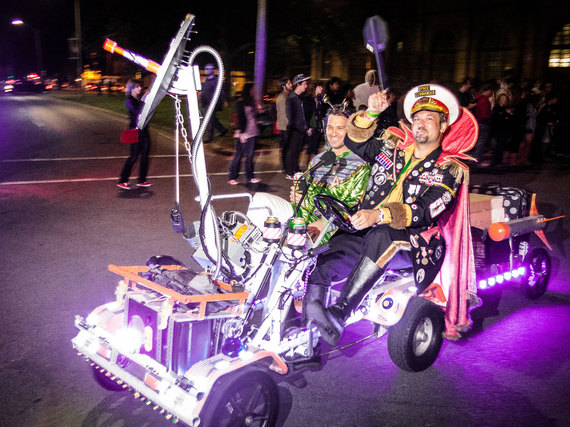 Photo by Franz Ellers
Intergalactic Krewe of Chewbacchus
In just its fourth year, the sci-fi mashup krewe expects to attract more than 1,000 fans of Star Wars, Doctor Who, Japanese monster films, and other pop icons and cult classics for its parade through the Bywater and Marigny neighborhoods. Peter Mayhew (who played Chewbacca in the original Star Wars) is scheduled to ride a Millennium Falcon replica built on a golf cart. February 7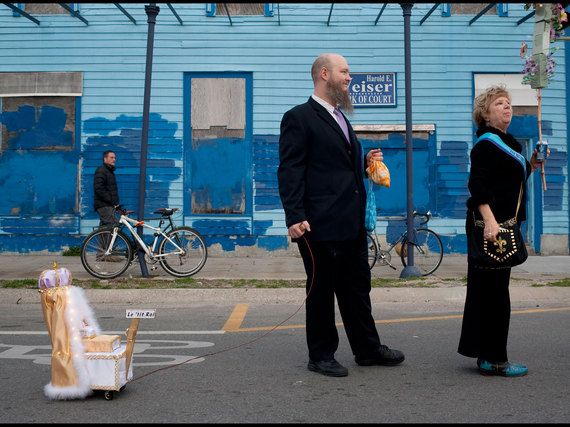 Photo by Ryan Hodgson-Rigsbee
'tit Rex
Going against all Mardi Gras stereotypes (i.e. bigger, brighter, excess, excess, excess), the young artists that founded this parade have instead scaled down. The parade of artistically crafted shoebox floats--like those made by area school children--is a walking cocktail party in the Marigny neighborhood. One krewe member usually distributes painted cocktail umbrellas to spectators to wave during the festivities. February 7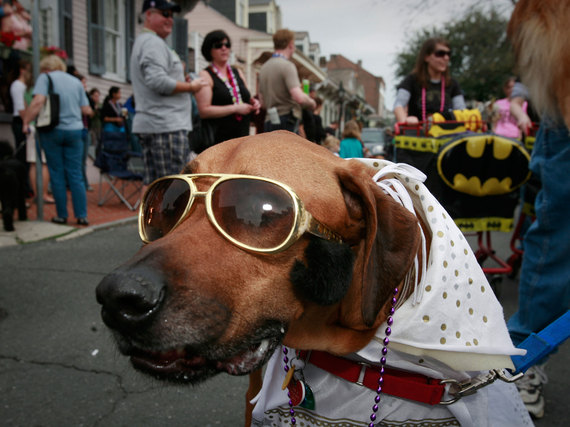 Photo © LEE CELANO/Reuters/Corbis
Barkus
Barkus (a pun on Bacchus) draws thousands to the French Quarter to watch its massive costumed dog walk. Once only attended by a small group of French Quarter dog lovers and their pooches, the parade now welcomes thousands of participants from throughout the city and suburbs. It's the most family-friendly parade as well as the friendliest day to stroll the Quarter during Carnival. This year, the krewe's parade is Star Wars-themed--it's called "Bark Wars: Return of the K-9"--and there's pre- and post-parade socializing in Louis Armstrong Park. February 8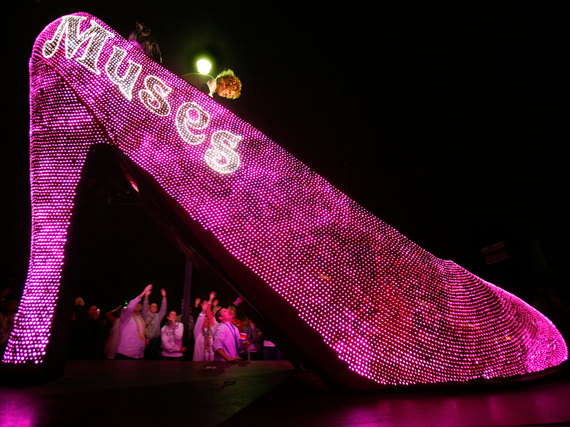 Photo © LUCAS JACKSON/Reuters/Corbis
Muses
Forget beads; some of the most prized items in Carnival are the hand-glittered shoes given out by riders of the all-women Krewe of Muses. The 14-year-old krewe helped energize parading with the satirical wit and creativity of its themes and floats, from mocking hypocritical "family values" politicians to celebrating shopping. February 12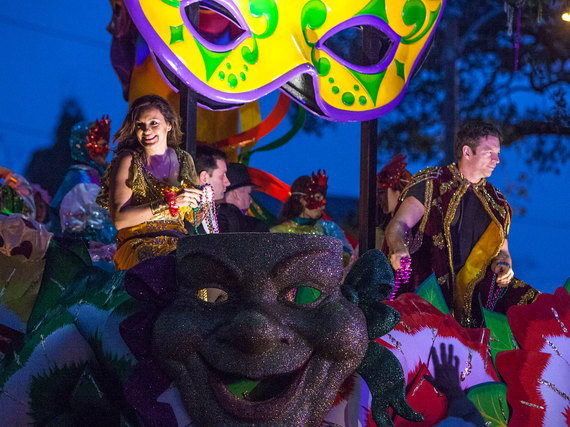 Photo by Skip Bolen/Getty Images
Go to a Mardi Gras ball
Attending most Carnival organizations' masquerade and coronation balls requires an invitation, but some of them are open to the general public--including the Krewe of Orpheus, founded by New Orleans native Harry Connick Jr. The group sells tickets to its Orpheuscapade, which is meant to be a glitzy, music-infused extravaganza that happens to have a float parade roll through it. February 16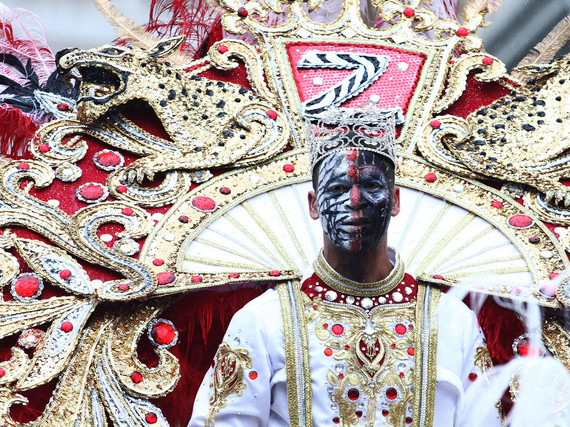 Photo © ZUMA Press, Inc. / Alamy
Rex and Zulu Parades
For a dose of Carnival tradition, join the encampment on St. Charles Avenue on the morning of Fat Tuesday to watch a double-header of Carnival's most prominent parading organizations. Rex, a 150-year old group of prominent businessmen and socially connected families, puts on one of Mardi Gras's most beautiful processions. The African-American Zulu Social Aid & Pleasure Club started parading more than a century ago in parody of the old-line krewes' wealth and Carnival grandeur, but it's now one of the city's premier cultural organizations. February 17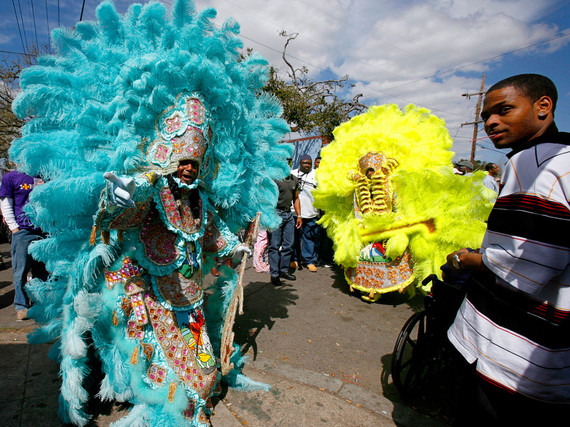 Photo © LUCAS JACKSON/Reuters/Corbis
Mardi Gras Indians
Early on Fat Tuesday, Mardi Gras Indian tribes come out early, strutting new suits covered in brightly colored ostrich plumes and detailed beaded panels. Many tribes make their way to Hunters Field to greet fellow chiefs and tribal figures and compare craftwork. There are no published routes, so Indian fans gravitate to the festivities on North Claiborne Avenue under the I-10 overpass late in the afternoon to await the spectacle. It's a vibrant, street-level tradition with a heavy influence on the city's music and parading culture. February 17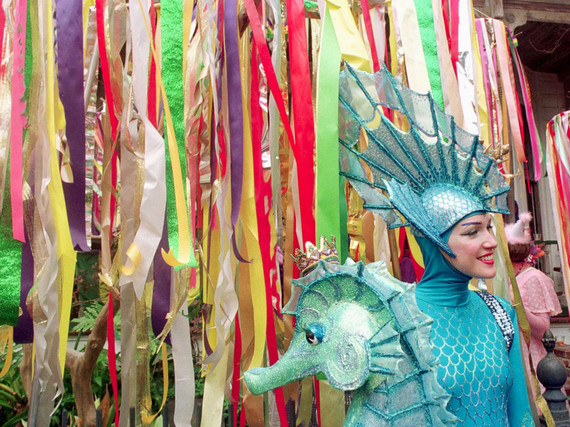 Photo © Reuters/CORBIS
Costume with the Society of St. Anne
Masking and costuming is a gateway to revelry, even for people just getting started with a feather boa and opera-style mask. The secretive Society of St. Anne sets the standard for lavish costuming. Throw on something festive (there are many costume shops to choose from in the Quarter) on the morning of Fat Tuesday and join the costumers in the Marigny and Bywater neighborhoods who wait for St. Anne to march by. February 17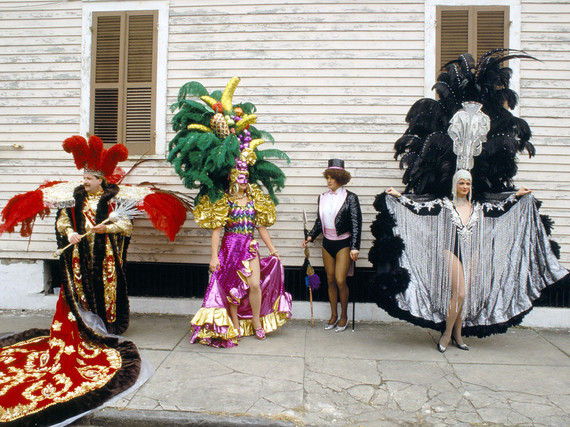 Photo © Barry Lewis / Alamy
Bourbon Street Awards
RuPaul's Drag Race season six winner Bianca Del Rio hosts this annual costume contest, which happens on Fat Tuesday at Bourbon Street's epicenter of gay bars (St. Ann and Bourbon Streets). Aside from the masquerade and tableaux balls hosted by gay Carnival organizations (some of which are invite-only), this is the best place to see drag queens in some of Carnival's most amazing, outlandish costumes. February 17
Photo © VStock / Alamy
Find a King Cake
Dining out can be hit or miss during the final crush of Mardi Gras. Locals generally avoid places that shift to severely abbreviated "Mardi Gras menus," which tend to offer chow-line fare at jacked-up prices. But one thing you'll find everywhere, from house parties to office break rooms, is king cake--generally a cinnamon coffee cake covered in purple-, green- and gold-colored sugar. The cake contains a tiny plastic baby, and traditionally, the person drawing the piece with the baby becomes the king or queen of the party. In practice, the recipient is obligated to supply the next king cake.
More from Condé Nast Traveler:
The Best Cities in the World
Top 25 Cities in the World: Readers' Choice Awards 2014
15 Places You Won't Believe Actually Exist
The Friendliest and Unfriendliest Cities in the U.S.
The 10 Best Small Cities in the U.S.
How Not to Look Like a Tourist in Paris