I have a bigger moustache than your father, higher heels than your mother and I'll steal your girlfriend if you call me "faggot" one more time. Lock up your daughters, shoes and handbags, because Conquistador is coming to town.
Looks will make or break you in Hollywood. I would know -- mine do both. One day, I'm seen as eye-candy and doors open for me, the next I'm seen as a threat and doors are slammed in my face.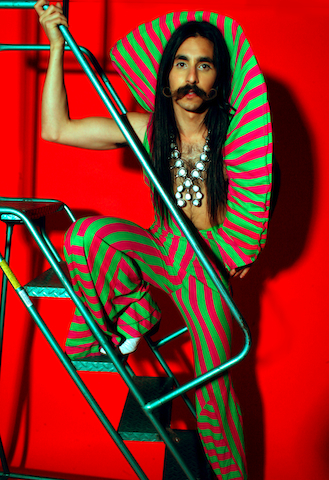 Not only am I a proud member of West Hollywood's LGBT community, I am also in their debt. I perform, host and am a "gayte keeper" at many parties. Before becoming part of gay nightlife in Los Angeles, I used to feel like I was "dressing up" for events, clubs and my shows. Now I feel like I dress down for everything else. I found a community that truly allowed me to be myself, without judgement. Not just be myself -- grow myself.
I am Conquistador -- glitter shaman, poet, singer, gangster of love! I would like to continue to label myself for you, but my label maker's broken -- because I just crushed it with the six-inch spike of my thigh-high boots.
I'm sitting here in my lucky leopard catsuit, sweating over a hot keyboard and frankly, my guyliner is running. How do you maximize an 800-word opportunity to introduce yourself; your world-champion mustache (who demands her own article) and say the right words about your music to entice people into clicking a link and taking a look-slash-listen?
My band and I just released a video for our single "With a Love Like That" off our debut EP, called W.A.L.L.T. In this video, which we are thrilled just took first prize in the Machinima Interactive Film Festival, I am decked out head to heel in the hottest of pink "mandex" (that's man for spandex) riding a giant inflatable swan. (WARNING: do not view video while drinking milk, or it might come out your nose.) Offhand, I'd describe our musical cinematic debut as pounding drums and bass, vocals dripping with reverb -- filling the hungry hole of a carnivorous heart in a milky, nebulous, futuristic fuchsia space-scape!
The single is about love addiction and knowing when to let go: A love hotter than July, but colder than a pimp's heart. Like many artists, I have highs higher than the mountains of Mars and lows lower than the sea of Galilee. Opposites impact. One day, I'm crashing the VMAs and causing a stir on the red carpet with Miley Cyrus, the next I'm back to bouncing douchebags as "door bitch" at one of my five jobs. Life is high-low. So that's how my art is. It's serious, but you have to laugh sometimes.
Don't get me wrong -- I might be hair to the throne, but I'm no transvestite Lady Gaga and I am not trying to be. She puts on a meat dress to get attention, my meat shows in a dress and I get kicked out of places. I've been refused service from chi-chi restaurants because of my attire. One moment I get a taste of celebrity with the paparazzi all over me, snapping photos of the possible next "it-boy/girl," thereafter I'm getting my face planted in dirt right after performing at Coachella and kissing Ke$ha. I was attacked in Hollywood, of all places, while walking to my car. Three men screamed "nigger wannabe faggot" as they threw bottles at my head from a moving truck. Bigotry comes with the territory and I am no stranger to this kind of affection.
These days that kind of hate just fuels my fire. Onstage I love to rip open my stitches, strut around with my heart in hand and attempt to connect with people. Sometimes I fall, bleed and have even ended up in a wheelchair. Other nights, I share very personal parts of myself -- that's when you can really get hurt.
Not long enough ago, my brother died at 25 years young. His death made me recommit to being honest and bold, whatever shape and sound that might take. I do something every day to honor the promise I made to him and myself: that I'm going to make this life count, that I will take risks -- and being yourself is a risk we all should take. The more I wear my heart on my unitard, the more people see beneath my spandex skin and mustache.
Inside the rainbow I found people who, despite facing constant discrimination themselves (or perhaps because of that very fact) opened their arms to a strangely follicled fellow in an ice skating suit, high heels and white Ushanka fur hat. The fact is, all communities are made up of individuals. I've been beyond fortunate to get a break from my own sense of isolation by finding the LGBT community whom I would categorize, judge and label as a group of unique individuals with the heart and the fortitude to band together and support each other. The straight world could learn a lot.
Individuality and inclusiveness are what I strive for in my art, as well as in my life. From the time I was a little boy, I knew I was some kind of... I was drawn to flamboyant people who walked to the beat of their own neon drum machine. As my mother used to say, never judge a man until you walk a mile in his heels -- or at least that's what I remember. No matter the shoes, fools or obstacles, we walk on.