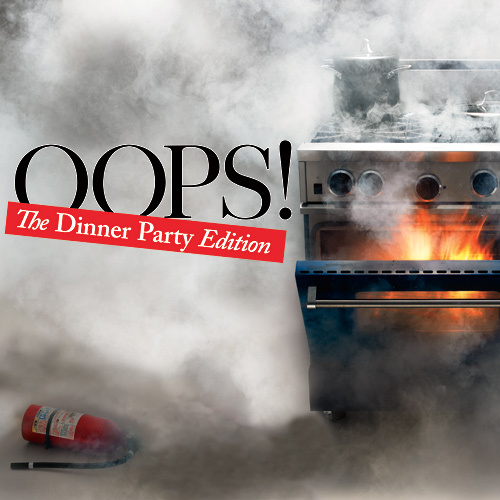 It's your worst nightmare: intimate dinner or big splashy event, and something goes horribly wrong. The causes can be legion. The only known antidote: humor & quick thinking.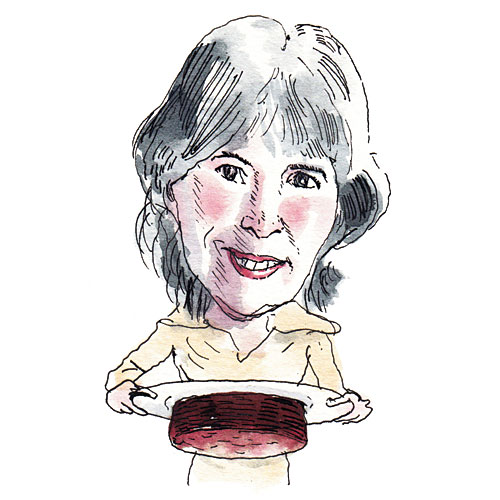 1. Deborah Madison's sticky situation
Who: Deborah Madison, author of "Seasonal Fruit Desserts from Orchard, Farm, and Market" and advisor and former board member to The Seed Savers Exchange, Sante Fe, New Mexico
I was testing recipes for my book, working out the Winter Squash and Date Cake, which is a big, moist cake that I had planned to serve that night for company. I used a new pan, and the cake stuck to it. I had no choice but to pry it out.
What now? I broke up the pieces and made a "bread" pudding with it. It was delicious that way -- soft and succulent with bits of dates here and there. It was, in the end, a very successful dessert. But I'd never make that cake in order to make that dish.
See More: The Most Common Cooking Mistakes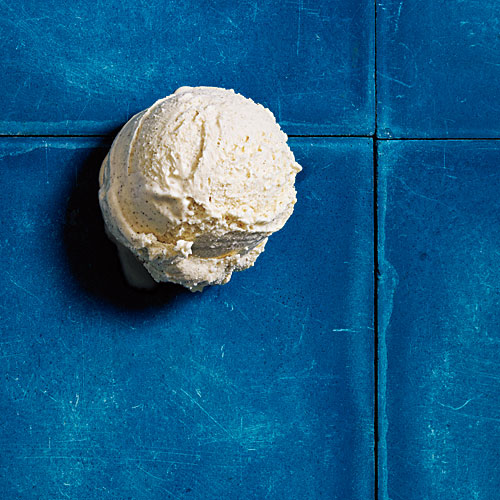 2. Dog reconsiders

Who: Ann Taylor Pittman, executive editor, Cooking Light
One summer evening during my graduate school years, I threw an impromptu dinner party. My guests included a couple of professors I wanted to impress. When it was time to move on to dessert, I invited everyone into the kitchen to scoop and assemble bowls of blueberry crisp and ice cream. My beloved dog, Feck, who had been on his best behavior all night, trotted into the kitchen with us. He settled away from the action. What a good boy! I was on scoop duty but missed an outstretched bowl and dropped a perfectly round ball of ice cream on the floor. Feck swooped in and vacuumed that ice cream ball right up. Everyone laughed, until the ice cream re-emerged from the dog and out onto the kitchen floor: a still-frigid ball of vanilla ice cream. Most of my guests ended up skipping dessert.
What now? To this day, when food is being served, the pups are out of the house.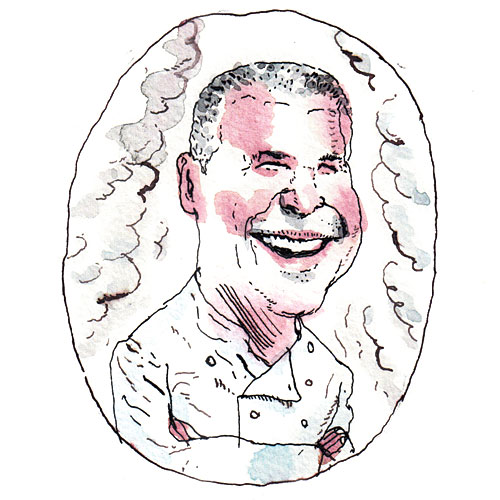 3. Pig on fire!
Who: Michael Chiarello, chef/owner of Bottega Restaurant in California's Napa Valley
As a young chef, I was asked to do a series of dinners in a program called Great Chefs in Great Homes. This one was a 10,000-square-foot home overlooking San Francisco Bay. I was cooking a slow-roasted suckling pig that didn't quite fit in the roasting pan -- its nose was sticking over the edge.

Many hours into the cooking, just prior to serving, we looked through the oven window and saw fat dripping off the nose onto the floor of the oven and flaming up. When we opened the oven door, oxygen rushed in and hit the fire, and a 4-foot flame came ripping out of the oven!
I shut the oven door and whispered to the owner, "If you could, announce a toast to your guests with really loud applause. Before you do that, please show me where the fire extinguisher is." I directed my sous chef to run to the bedroom and pull a sheet off the bed and drench it with water.
What now? The host gave the toast, the guests began to clap, and we opened the oven, threw a sheet over the pig, and wrestled the pan safely out. Then we sprayed the oven with the extinguisher. We saved the pig and the dinner, but my crew and I worked until sunrise cleaning all of the extinguisher soot off the walls of this brand-new home.
See More: How to Cook a Standing Rib Roast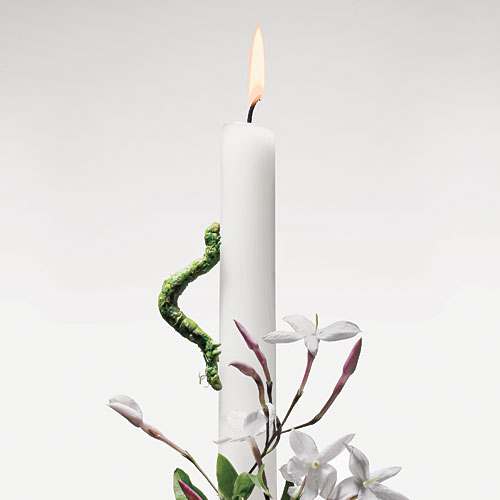 4. Fresh flowers bring unexpected guests to the party

Who: Joanne Singleton, Cooking Light reader, via Facebook
Someone made a cake with white frosting and thought to decorate it with flowers from their garden. Once the candles were lit, we watched the inchworms that had been on the flowers stand up and dance because of the heat from the candles!
What now? Perhaps fresher isn't always better. When in doubt, stick with decorations not found in the garden.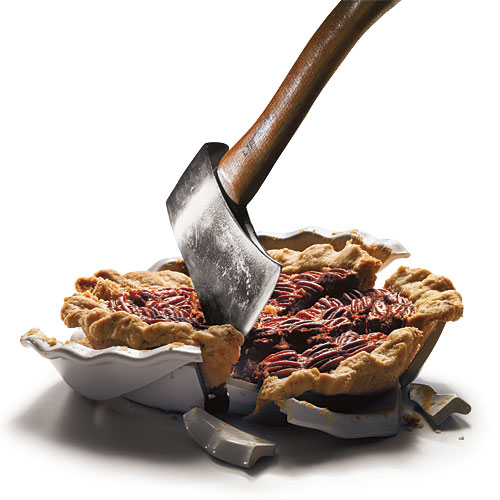 5. Trisha Yearwood's clunker of a pie

Who: Trisha Yearwood, Grammy Award winner and author of "Home Cooking with Trisha Yearwood"
One of my best friends is an actor named Karri Turner. She and I worked together on the set of JAG, and she's a good old Southern gal like me. Living in L.A., she craves comfort food, so every year on her birthday, she comes through Oklahoma and I make her favorite dinner: fried chicken, mashed potatoes, gravy, biscuits and pecan pie instead of birthday cake. I usually make the pies the night before, but one year I didn't have time, so I did it all in one day. I'm used to a hectic kitchen, but when you have that much stuff going on, sometimes things go awry.
When I pulled the pie out of the oven, I thought, "Wow! This is the most beautiful pecan pie I've ever made." That should have been ominous, but I didn't think anything more of it until it came time for dessert. The pie was very hard to cut. The topping had almost a praline candy quality. Suddenly it hit me ... I had put the butter in the microwave to melt it and forgotten to take it out to add to the filling. I opened the microwave door, and there sat a huge bowl of butter.
What now? We still laugh about that pie.
See More: Our Best Healthy Pie Recipes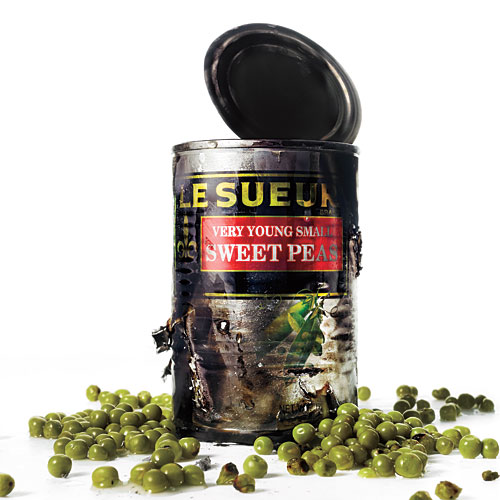 6. Bragg sets bar low, then fails to get over it
Who: Rick Bragg, author, Pulitzer Prize-winning journalist, and University of Alabama writing professor. His most recent book is "The Prince of Frogtown."
I invited company over once for Hamburger Helper. That might not seem like the kind of thing you'd feed company, but setting the bar low has been my culinary strategy for a very long time. I had a skillet. I had a spoon. I had hamburger, and I had Hamburger Helper. Everything was going right until I decided I needed a green vegetable. So I went and got a can of Le Sueur peas and got to thinking, "If you just opened the can and set it on the stove, would the peas not heat?" Bad things happen when you do that. First, the paper label caught on fire. I'm not altogether clear on what happened next -- whether the seam opened or the peas just boiled out. But peas and pea juice ran down into the electric eye and began to spit at me.
What now: To turn the burner off on the stove, I had to reach over spitting peas. I didn't impress anybody that day.
Continue Reading: See All 19 Entertaining Mistakes
Don't Miss
Top-Rated Party Appetizers
Homemade Gifts from the Kitchen
101 Healthy Soups