As more and more students head out-of-state to attend college, parents continue to worry about the hazardous consequences of their child's collegiate decision when it comes to packing. Ah, yes, the part where you're basically shipping your life in as little boxes of possible over either one or fifty states.
When it comes to orientation week (and any other in-between semester breaks), there are many, many advantages involved in flying. How's a comprehensive guide to do so.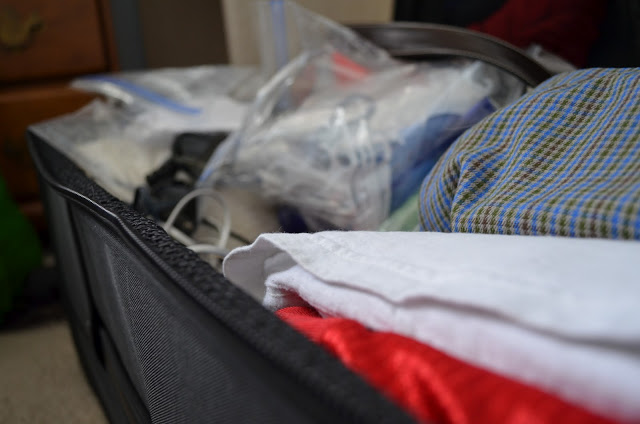 Checked Bags
How many can you bring?
It varies.
How much is it?
It depends on the airline. Some offer the first bag free, others offer the first two bags free. A majority of airlines have fees that increase with the quantity of bags checked.
Regulations?
Usually, it has to weigh less than 50 pounds. Unless you want to be heavily fined.
Tips
:
Lay all large, flat items on the bottom of the bag. This can include any picture frames, books (although you should limit yourself to 2-3), and those folders with "important documents," such as your health insurance, bank account information, etc. After all, you can't ask Mom where it is.
Roll your clothes into tight small rolls that look like sushi (mmm, sushi). Set them aside.
Place your shoes around the edge of the bag.
Add your California Roll(ed) clothes on top of your bottom layer and next to the shoes. Start with your larger rolls (ie. jeans, collared-shirts), then your smaller ones (shorts, tees).
Still have room? Add your underwear and socks on top. Don't forget to count how many of each you have - don't want to get there and realize you have no underwear to wear while you're doing laundry on a Thursday morning before class (unless you're into that sort of thing).
Another tip: put any large bottles or face washes into your checked bags, since you won't get too far past security with the tall bottle of Garnier Fructis poking out of your carry-on.
Any photographers: fly with your equipment tucked safety in your suitcase. If you have any film, make sure you put it in you carry-on: the scanning devices can destroy your unused film!
Carry-Ons
How many can you bring?
One per person.
How much?
Free... (on
most
airlines; be sure to check before getting to the gate!)
Regulations?
Less than 50 pounds.
Tips
:
Follow the tips above when packing your carry-on. This can include additional clothing, more shoes, and certain toiletries.
Be 100% certain that your carry-on fits your airline's regulations. Onto my flight to NYC, I saw an enraged man arguing with a flight attendant that his bag DID fulfill the airline's regulations. I felt bad for him - the cost of a checked bag (granted he didn't check any others) was $25. But if he did have any other bags, it would have been $35.
All airports enforce the 3-1-1 guidelines of gels and liquids strictly. You can only have 1 clear quart-sized bag of usually three 3.4-ounce bottles per person. Keep this in mind with make-up, hair products, and lotions.
All camera film should be carried on. Don't risk having it ruined by putting it in your checked luggage.
Personal Items
How many can you bring? One per person.
How much? Free! (take advantage)
Regulations? Has to be equal to or less than the size of a regular purse, briefcase, or camera bag.
Tips: Your personal item can only be of the following: purse, laptop computer, briefcase.
Additional Materials
How many can you bring?
Seemingly unlimited.
How much?
Free.
Regulations?
Smaller items.
Tips:
Items that are generally available: umbrella, jacket, duty-free merchandise, strollers, and drinks/food bought within the airport.
Although there are no regulations on the quantity of these items, it would be suspicious if you were to wear 2 jackets, carry another, while struggling to hold an umbrella in your other.
Some Reading Material You gotta keep yourself occupied during the flight!
For more information or tips, check out this instructional NYT article on how to truly pack a bag.
What about you: how do you travel light while moving off to college? Or when you're going on a quick weekend trip out of town? What are some of the best tips you picked up?
An earlier version of this post appeared as an excerpt last year. The article has been updated since then.