Disruption by Design is the theme of the annual Wired Business Conference, which took place yesterday in New York City. But this year's conference wasn't about disruption as much as it was about technological evolution. We've come to yet another crossroads where we have to ask, technology is awesome and we invented it, but what can it do for us? And more importantly, how can it make us better human beings?
A more appropriate title for the conference would have been "Convergence," as most of the technologies presented and discussed were focused on how to bridge the gap between algorithms and altruism, or better yet, how to humanize technology.
AOL's Co-Founder Steve Case took the stage with Wired's Executive Editor Thomas Goetz to discuss technology's current role in health care. Case is now the Chairman and CEO of Revolution, a consumer-oriented healthcare company. "For the past half century we've been pulling apart doctors and patients," says Case, "Now we need to put them back together."
Case is a man for whom the philosophy behind ZipCar, a company that was only made possible through ubiquitous access to the Internet, shares its tenants with the future of health care--except we aren't sharing cars, we will be sharing doctors and information. "The way people make health care decisions is suboptimal," he states. We must change our ingrained habits, like driving a car; because now we have the Internet and we can do things better.
While Congress waged war over the state of our nation's health care this past year, Case points out that the debate wasn't so much about health care reform as it was about "insurance reform." Case states Revolution will provide "the three C's of consumer health: content, coverage and care." He wants to focus on keeping people healthy and reaching the "promise land" of electronic medical records with doctor patient relationships as the central part of the health care of the future. Heavyweights like former Secretary of State Colin Powell, former Netscape CEO Jim Barksdale and former Hewlett-Packard Co. CEO Carly Fiorina are prominent members on Revolution's Board of Directors.
After Case, the Chairman, President and CEO of Starbucks, Howard Schultz took the stage with Wired's Editor-in-Chief, Chris Anderson. Starbucks is the biggest Wi-Fi network in the world. It has become the poster child for excess (Cut your latte out and save $1,000 a year!) while also being the largest buyer of fair trade coffee in the world. Starbucks is a company that spends $300 million a year on health care for its employees and is the first company in America to offer health care to part-time employees. "But balancing profitability with social conscious isn't necessarily easy," says Schultz.
Schultz returned to Starbucks in January 2008 after taking a brief hiatus and watching his company fail from the sidelines. He now is putting all his coffee beans behind building brand equity and he's doing so around new forms of digital and social media. "It's not an accident we are the number one brand on Facebook," he says with a smile.
At the conference Schultz announced that starting July 1st Starbucks will offer free WiFi nationwide and a Starbucks Digital Network launching in fall 2010. Case envisions it as a proprietary way to give exclusive access to new sources of information and content. "This isn't about making more money," he says, "It's about enhancing the experience and the brand." He concludes, "It's not about the distance between two points but about the intimacy of information sharing."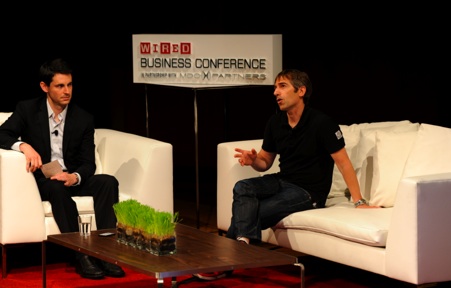 In the afternoon Mark Pincus the founder and CEO of Zygna, a Facebook apps company, spoke with Wired Editor Jason Tanz about the meaning of social capital. Pincus says he doesn't care about eyeballs or traffic but is excited about the new opportunities in online gaming. He declares, "FrontierVille is the most successful launch we've ever had. More than 100,000 people tried the game the first day and about 70% of those people returned to play the second day." Less than a week later, the game has more than one million daily active users. Pincus sees a huge importance to online games. It's about connecting and even re-connecting with friends through platforms like Facebook and Twitter. "Tell mom," he says, "I'm not just playing games, I'm enhancing my relationships with my friends."
The queen bee of humanizing technology, Caterina Fake, co-founder of Flickr and Hunch, stole the stage in the afternoon. Hunch, which launched in June 2009, is a recommendation site, and a dramatic way of personalizing the web. The site aggregates user information through a series of random questions like "Polka dot or stripes?" "Do you have a will?" and "What would you do with a plastic bottle while you walk down the street?" Since its launch over 54 million questions have been answered.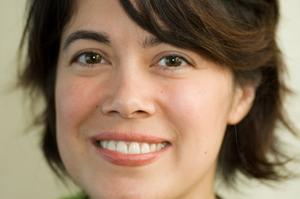 The result is an incredibly nuanced view of every Hunch member. And from that view Hunch can make recommendations. Say you ask all of your Twitter and Facebook friends for an Austin hotel recommendation. But none of them have been there for the past five years. Hunch will make a recommendation based on where a similar user has gone. A similar user being someone with similar spending habits who also prefers polka dots to stripes, doesn't have a will and would hold a plastic bottle 5 blocks until finding a proper recycling bin.
"So how does one go about humanizing technology? How do you treat people with respect online?" Fake asks. "The days of crawling, indexing, sucking and scraping indiscriminately for information on the web are over. It's mechanical, too inhuman," she says.
Data is information, and then it becomes knowledge. And with the addition of experience and age, knowledge is transformed into wisdom. "There's a great deal of information out there," says Fake, "And were trying to the best of our abilities to add this layer of knowledge and experience to our information."
According to Clay Shirky, an adjunct professor at ITP, and author of the book "Cognitive Surplus," we live in a connected age, teeming with creativity and generosity. We live in an age where a suppressed woman in India can start a Facebook group called "The association of loose, forward and pub going women," and get away with it. We live in a world guided by an "Openness Philosophy" because we believe this sort of information sharing and gathering will necessarily propel our species forward.
So while Disruptive by Design was less disruptive this year, it's clear that this thing we call the Internet and its screaming toddler we call social media is here to forever retool our lives. We are heading towards a kind of unprecedented convergence, where technology permeates our world and its developers find new ways for it to meaningfully integrate into our lives.