I had much bigger plans for this summer -- a giant bucket list, actually. I love to travel, from day trips to international adventures, and although young, my girls have become quite the travelers. By the start of summer, we had reached a place, for the first time since having kids, where no one needed to nap, no one needed a crib and no one needed diapers. I saw this summer as the perfect time to travel and take tons of day trips. With baby #3 on the way, I knew next summer would be back to schedules and certainly more chaotic. Maybe part of it was my fear of trying to leave the house next summer, never mind heading out on a summer vacation. Whatever it was, this June, I had plans for the ultimate summer with my girls.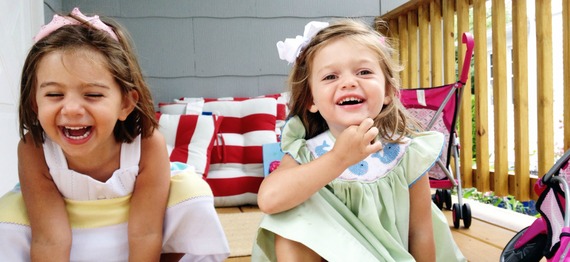 Summer started off with a beach trip with friends and a trip to Baltimore, followed by two weeks at family's beach house. Once we got home after 4th of July, we decided to have a few "lazy days" in our backyard. Those few lazy days of summer lasted right up until today. Sure, we did a few things here and there, but instead of checking items off a giant summer bucket list, we spent the days, just us three girls, enjoying long mornings snuggled on the couch, followed by trips to the town pool and afternoons in own backyard. What came of it was the best summer I can remember. Instead of worrying about the next day trip, the incessant packing and adventurous itineraries, I sat in the shade and watched my girls play out their own adventures.
I suppose I thought making a memorable summer for my girls had to include traveling to new and exciting places, but we seem to have made a million little memories just enjoying the simple things summer has to offer right at home. When I think of this summer, I'll always remember it was the year Maggie learned to swim and pump on the swings herself. I'll remember how I couldn't believe how fast Alex could run back and forth across our yard, how her favorite thing was having me make up different obstacles for her "races" around the yard, and how absolutely dirty her face was at the end of the day. I'll remember hot evenings on our front porch, where all three of us enjoyed ice pops.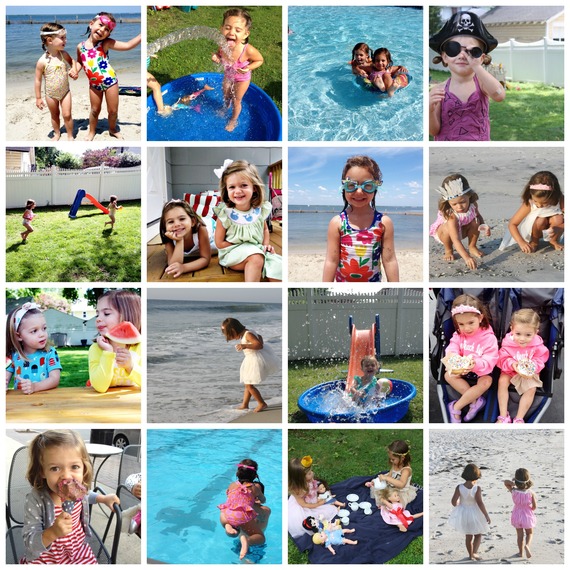 I had thought that my kids reaching these new "non-baby" schedules meant it was time to race around seeing as many new things as we could, but it really meant they were finally at an age to enjoy the summer as kids, and watching kids in the summer is one of the most amazing things to see. Being in the third trimester of pregnancy during the summer is not always easy, and having some time to sit back and relax in the shade is priceless. So while I took time to rest in the yard each day, I watched my girls just be kids this summer. I watched them collect bugs, share watermelon slices and spray each other with a hose. They spent hours playing out incredible imaginary adventures with each other and with sweet neighbors they'd invite to hop over our fence and play. Possibly my favorite afternoon was spent watching and laughing along with them while they created a pool of mud in the yard, pushed their little slide over and went mud sliding. They were kids being kids in the summertime, and there's nothing quite like that.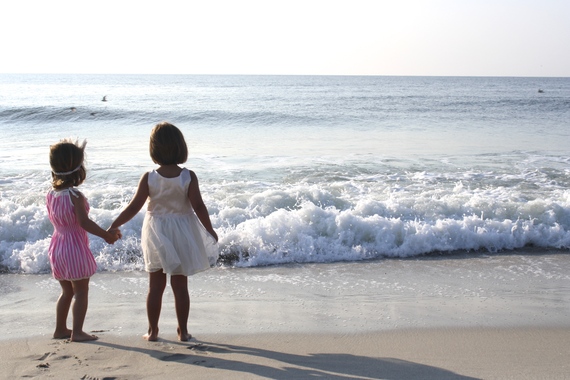 Even when we traveled to the beach, we took it easy. We spent mornings collecting shells and afternoons playing in the sand and waves with family. To have family that invite us to the beach and enjoy spending time with us is a blessing, and we really appreciated that this summer.
When we left our yard, it was usually to head to our town pool. The girls enjoyed playing with lots of friends there, but they still begged for me to swim with them. I know there's only so many summers that they'll want nothing more than for me to swim by their side in the big pool, so I know to enjoy it while it lasts. Their favorite thing to do at the pool was the take turns jumping off the edge of the pool for me to catch them. When I look back on this summer, I'll always picture their giant smiles as they splashed in the pool into my arms.
We didn't check anything off our summer bucket list, but as I tucked them in tonight, I knew we had a full summer. A summer full of simple, sweet memories.