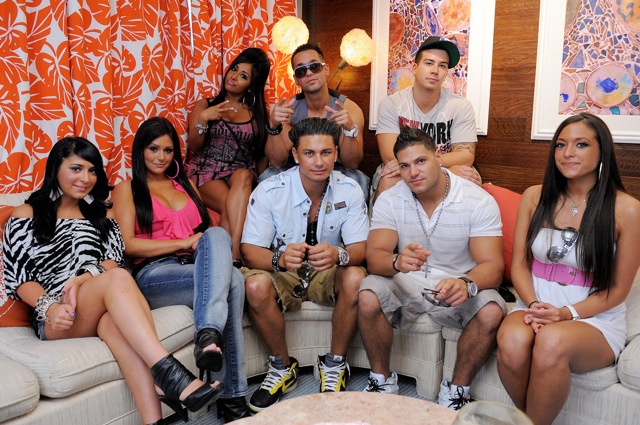 With the Season Premiere of MTV's hit show, Jersey Shore upon us Thursday evening at 10pm on MTV, I was thinking about these kids and the world's fascination with them.
They're just ordinary kids from Staten Island and Brooklyn but undeniably relevant in today's pop culture scene. As someone who grew up in the Riverdale section of The Bronx, it's kind of funny to me. While Riverdale was certainly not a guido-esque epicenter, these types were everywhere during my youth, from Arthur Avenue to 86th Street in Bensonhurst. They wore white Capezios, gold chains (giant crucifix optional) and a lot of hair gel. So, while thank goodness the footwear may have evolved through the years, the personal care products and jewelry choices remain unchanged. They were a pop culture force back then, except there was no reality TV, no Twitter and no TMZ. Bummer.
When I moved to Miami at about their age in the mid-nineties, I thought that the guido scene was something I left back in New York. The only time you see kids like the Jersey Shore gang in Miami is during Spring Break. You hear a lot of "Yo, these Spanish chicks are freakin' hot!!" while you're walking around South Beach. It's hilarious.
In Season 2, Snookie & company will grace us from their Miami digs. I couldn't resist the opportunity to take a look inside and give my professional evaluation of their decor. MTV provided me with some shots of the house where there is sure to be lots of drama, tonsil hockey and Ronzoni with gravy. We call it sauce, they call it gravy. It's a guido thing, trust me.
So, let's take the nickel tour through the Jersey Shore's Miami house! Feel free to fist pump along the way..Are you's ready fuh this?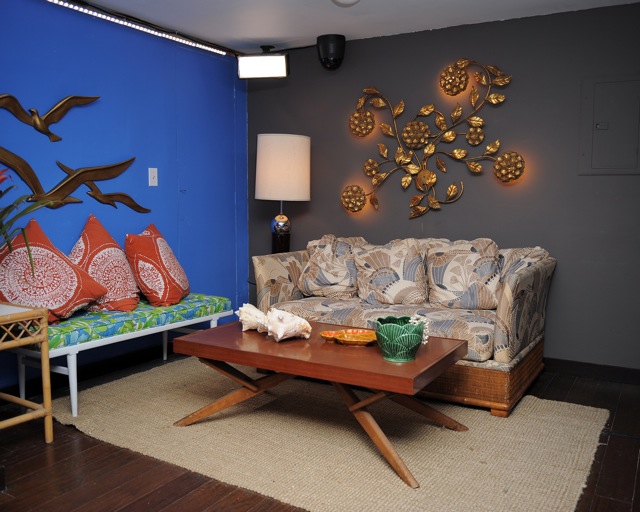 So, this is actually not that bad. See the cameras? Although, I'm having trouble getting past the ratty area rug. Seriously, $100 at Home Goods could fix this in less time than it takes to get a spray tan. The overall look is kind of mid-century modern gone horribly wrong, but still not unbearable. Way too many patterns. Who bought the lettuce-like vase? And conch shells are for fat tourists in Orlando! The wall decor resembles something I swear was in my living room growing up. Put those wood seagulls in a minimalist room and it would be very cool. The coffee table is fab. Ugh, that rug is killing me. Somebody puke on it so it gets thrown out!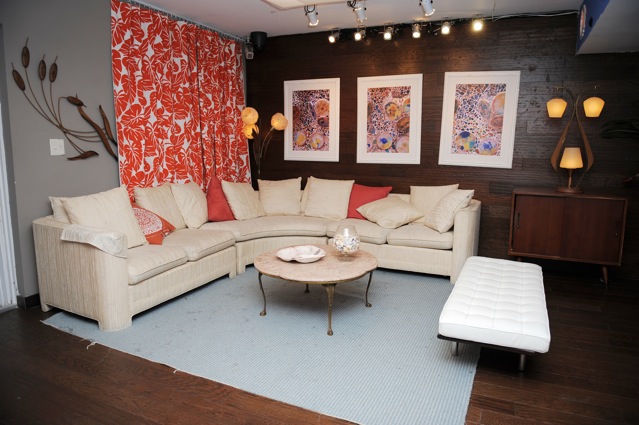 Ok, so ratty carpets are a recurring theme here. But, let's move on! I love the coral colored curtain (is it a shower curtain?) against the grey wall. I also dig the white bench. I would remove Grandma's coffee table and use the bench as the center piece. That sectional has a Bob's Furniture scratch & dent feel to it. Eeeuw. Also, I can only imagine the bodily fluids getting absorbed into the polyester chenille mix. I would replace with a Courtney Cachet Lovesac in my grey quilted pattern (of course!) and add some more brightly colored pillows. I totally dig the cabinet but that lamp is not retro cool, it's gross. Marshall's clearance aisle is not a great place to purchase artwork. I'm just sayin'..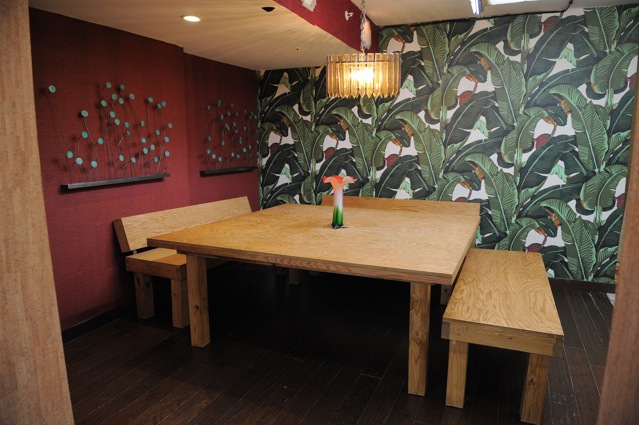 Ahh, the dining room! Hmm. Sort of like a poor man's version of the farm table. My bigger concern is the sharp edges they will be bumping into during the inevitable brawls and late night make out fests. West Elm has a waaay better version of that lamp that might've been a little better design option. I see we hit Marshall's again for our wall decor and the wallpaper is very "I want to feel like I'm in Havana in the 50's". I give it a week before the vase breaks.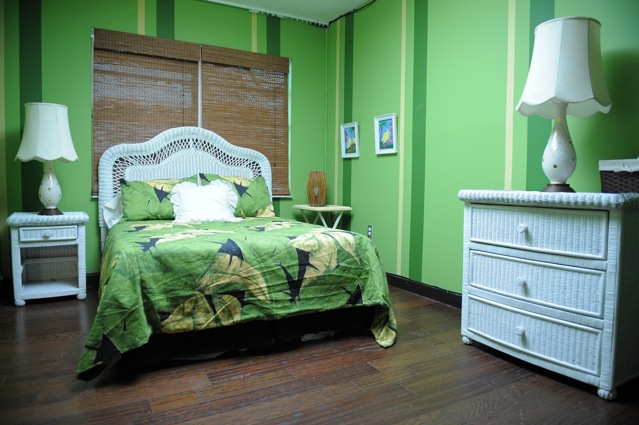 Not sure whose bedroom this is, but a restful night's sleep aint in the cards for you, Darling! Also, Motel 6 has nicer looking bedspreads. I'll send you one! Please! Also, let's take a walk over to Target and switch out the senior citizen lamp shades. We could also hang a white curtain behind the bed instead of the bamboo shade you have going on. I see a little basket from Lowe's in the corner! Let's lose the teeny tiny wall hangings. Not working.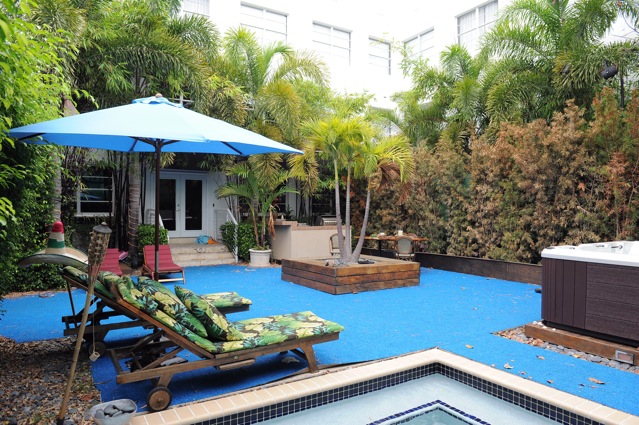 The pool area is pretty good, huh? The only thing I would do here is replace the chaise cushions with white and get a couple of cool floor pillows in bright colors. With a little tweaking, we could have this place looking very "Palm Springs Gay" as Kathy Griffin calls it. What's the deal with the sombrero? There are like fourteen Mexicans in Miami and I know all of them. They don't wear sombreros, they were Prada. Who's overseeing the chlorine levels in the jacuzzi? Um, yeah!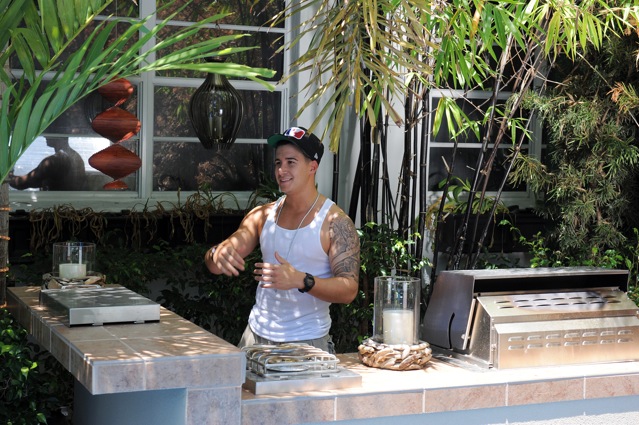 I'm loving the fact they have an outdoor kitchen! Very current! Is that a braided Italian bread around the hurricane lamp? Yo, throw some f#ckin' steaks on the grill, Vinny!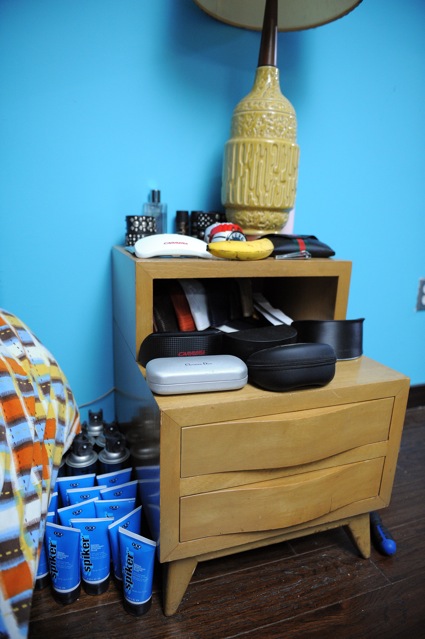 Guess who's end table this is? Dude, you need to get organized! The lamp is criminal it's so awful. Keep your beauty products in the bathroom. The fact that a lifetime supply of hair gel and a banana is next to your bed is creeping me out. Yuck. Also, next season I'm sending you some new sheets. Have your publicist call me.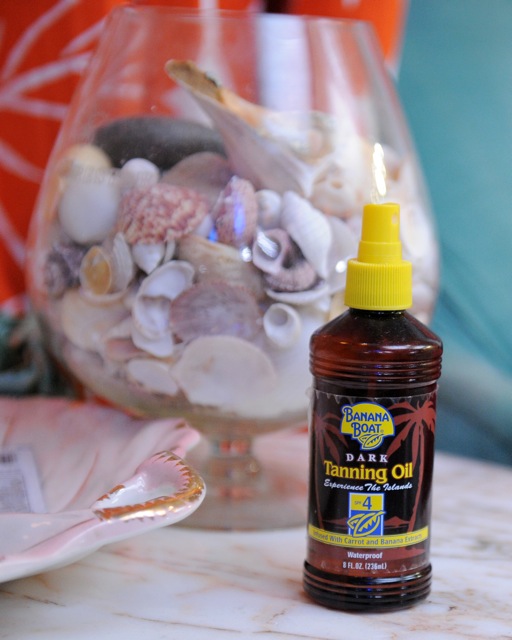 I just love this pic, don't you?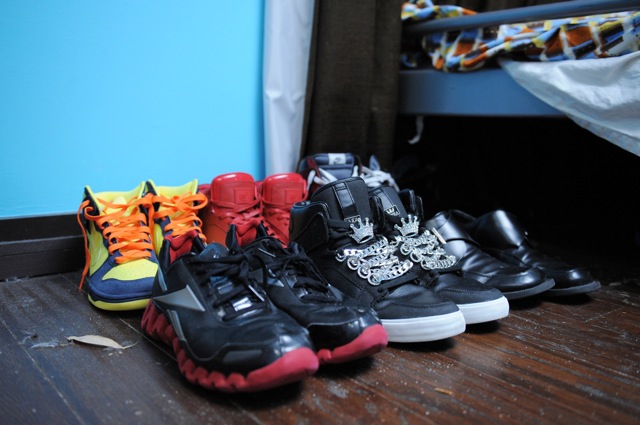 You need a shoe organizer. I'll let the glow in the dark sneakers slide if you invest in a decent pair of black leather Gucci loafers. Catch a ride up to The Bal Harbour Shops and shell out the 400 bucks. Thank me later. And another thing, you guys need a Swiffer. Big time.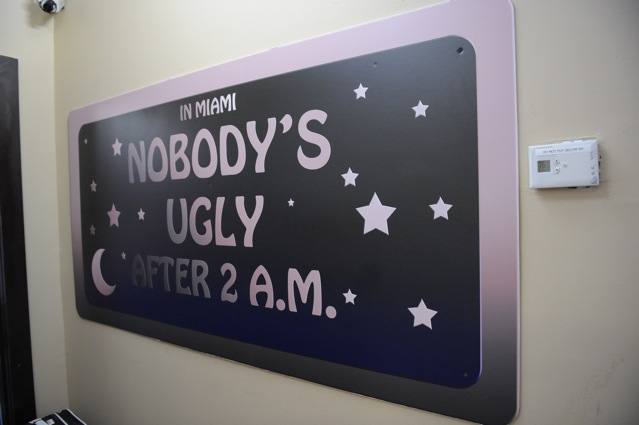 Ok, so this is funny. I like funny. But Miami has more beautiful people per square foot than anywhere in the world. So, it's not true. But, funny nonetheless.
I'm publicly offering MTV my design cred to the Jersey Shore digs next season, free of charge.
For the record, I am not touching that jacuzzi. Just having a little fun here..Can't wait to see what you guys have in store for us this season.