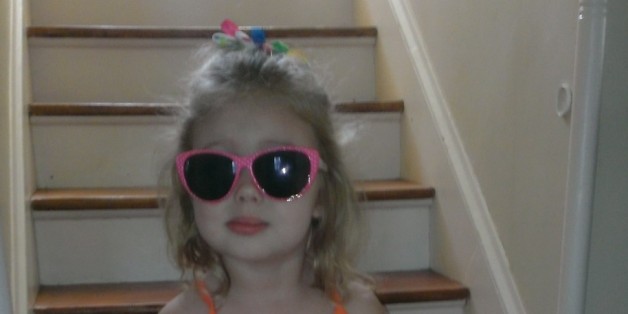 People may agree with T.S. Eliot that "April is the cruelest month," but I'm going to buy into all the hope that April offers. The hope that the sun will actually shine again... the hope that I can burn my winter coat... the hope that the Easter Bunny will bring me champagne one year. For those who live in warm climates, I'm happy for you (not really). But for the rest of us, who shivered our way through the season with kids tethered to our sides, we deserve a break. We deserve a good old-fashioned umbrella drink.
You know what I'm talking about. Not the fancy cocktails with house-made bitters and oversized ice cubes, but the old-school fruity concoctions that would be at home on Fantasy Island or The Love Boat. The ideal environment for an umbrella drink is, of course, a beautiful beach without cell phone coverage or baby monitors. But for those who can't swing such a getaway right now, give yourself permission to celebrate spring by mixing your own and indulging on your patio, in your comfy chair... or while hiding in the bathtub, if that's your only peaceful space.
Here are 10 signs it's time for umbrella drinks:

1. You've been frozen and Frozen.
You shoveled and scraped and shivered your way through the cold so much that you couldn't feel your toes -- until one of your kids stepped on them with a heavy snow boot. You ran perpetually late because of the added layers you had to dress everyone in, which inevitably never found their way to their proper hangers. You consoled yourself by singing, "The cold never bothered me anyway," because you couldn't escape the ear-piercing Frozen concerts happening daily in your house.
2. You used "snow" as a four-letter word.
What started out as snow dances and stolen moments of togetherness turned into stalking meteorologists on Twitter to see if the rugrats would ever leave the house again. You stopped hiding your disappointment, which turned into rage, when school was cancelled, and vowed to drop the kids off at school anyway. You bought toilet paper and wine in bulk.
3. You seriously considered indoor tanning.
The last time you did it was before prom, but you needed some kind of warmth, and you were desperate. Sure, the thought of someone's sweaty naked body preceding yours is uncomfortable, but it also means 15 minutes of peace and quiet. And you might smell like a tanning booth all day when you do it, but that just means you have to take a shower (15 more minutes of peace and quiet).
4. You threatened to punish your kids if they got sick again.
One week it was an ear infection and the next it was the flu, and you can't remember a week this winter when everyone was well. You knew that if the kids had worn their coats when you told them to, they would have been fine. You thought about banning screen time, but then realized you didn't want to punish yourself.
5. You're wearing green long past St. Patrick's Day.
Remember the days when your biggest dilemma on St. Patrick's Day was whether to wear something green (overtly or subtly) or ignore it altogether? Or where to go for the cheapest green beer? Me neither. The good news is that with kids, you're always wearing something green. Whether it comes out of their nose, mouth or backside, you can bet you've got green smeared on you somewhere. And that pot of gold? Yours can only be found in a diaper.
6. You put the kids to bed before sunset.
You cursed daylight savings time when it came and vowed not to spring forward. But you did, and you were exhausted for days. You felt (only a little) guilty about putting the kids to bed before dark, but you found the perfect remedy -- blackout window shades. Note: This also works well with early risers, as do bedroom doors that lock from the outside.
7. Your last vacation was your epidural.
Am I the only person who actually looked forward to the birth of my second child because I knew I'd get an epidural? Of course, my husband and I didn't invite anyone to the big event, so once I got my epidural, I was relaxed and in my happy place without anyone asking for anything. Yes, it's the calm before the storm, but it's a really nice calm. I still look back on that little staycation fondly.
8. The title of the last book you read for pleasure started with What to Expect.
Whether you were expecting or going through the first couple years of childrearing, you kept these monstrous volumes on your bedside table so you could consult them whenever you had five luxurious minutes of free time. You were going to put them away, but then you had your second kid, so there was never time to replace it with another book.
9. You're a parent.
It doesn't matter whether you're changing diapers or changing careers to be your kids' personal Uber driver -- you are devoting more gray cells and gray hairs to their happiness than your own. And for that, you deserve several umbrella drinks.
10. You're the parent of a toddler.
Enough said.
Like Us On Facebook |

Follow Us On Twitter |

Contact HuffPost Parents
Also on HuffPost:
PHOTO GALLERY
Cute Kid Notes