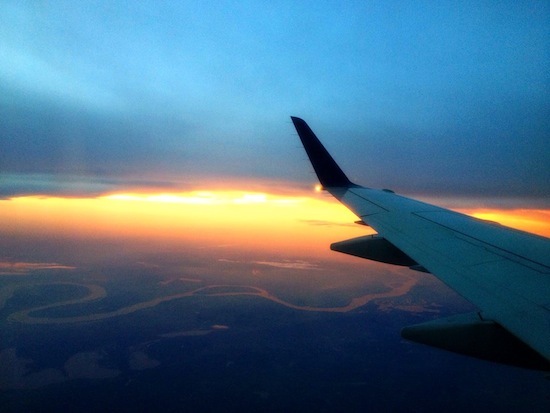 We all have the best intentions for a stress-free Thanksgiving holiday, but let's face it, things rarely go as planned. Airlines for America reports that more than 25.1 million passengers are expected to fly this Thanksgiving holiday, the largest number on record since 2010. And with bad weather looming, things could get ugly. But not if you follow these expert-tested tips for stress-free air travel:
1. Check-in 24 hours before. In the event that your plane gets overbooked, which is somewhat common during the holidays, you'll be thankful that you checked in online and already have your boarding pass in-hand. Checking in online or on your carrier's mobile app also leaves you one less thing to worry about at the airport.
2. Ship gifts ahead of time. Despite what you may think, shipping gifts ahead of time isn't that much more expensive, and it's a lot more convenient. The average baggage fee is about $30 for the first bag and even more for the second. But shipping a large flat-rate box with the USPS is only $16.95 and will arrive within three days.
3. Hurry up and wait. It's better to be safe than sorry this holiday season, so arrive two hours early for domestic and three hours for international flights. Then, be prepared to wait. Load up your smart phone or reader with books, and bring lots of activities and snacks for the kids.
4. Don't be "that guy" at TSA. Be prepared to breeze through security:
- Have your ID and boarding pass out
- Dress the part: wear slip on shoes and put your hat, jewelry, belt, wallet and change in the bin
- Take your laptop out of your luggage, out of its case, and put it in a separate bin with no other items
- Remember shoes must come off unless you are under 12, over 75, member of military or part of TSA pre-check/global entry program
5. Use TSA's "Can I Bring" mobile tool. Download TSA's free mobile app to find out which holiday items you can bring through security. Remember, there is a 3 oz. max for liquids and gifts must be unwrapped. Turkeys are allowed in both carry-on and checked baggage, but the ice packs used to keep the turkey cold must be completely frozen. Partially melted ice packs will not be permitted.
6. Do not power down. Your Thanksgiving return flight will be much more peaceful thanks to the FAA's new rule allowing phones and devices to stay powered on throughout the duration of the flight. Keep those noise cancellation headphones on and load up your iPhone with soothing playlists. The rule goes into effect on December 1, 2013.
7. Use Twitter for real-time travel updates.Travelocity's Turkey Task Force will be live tweeting from 10 of the busiest airports on November 26-27, providing weather and delay updates using the hashtag #TTF2013. Follow @Travelocity on twitter to stay in the know.