Have you started spring cleaning yet? OK, well, once we all get around to spring cleaning, it will be a waste to let all that scoured floor and furniture collect dust, receipts, lint and anything else you have in your purse or pockets for no good reason. These organizing hacks are great for every room in your house, so there's no excuse now for the "hoarder drawer of no return."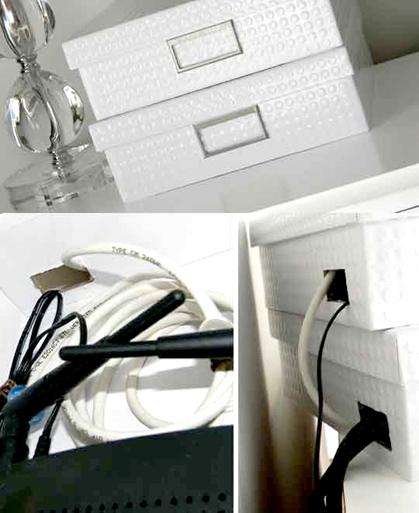 Disguise Your Office Tech
Few things are more unsightly in a home office than a web of wires and a router with those infernal blinking lights. Disguise them behind an unusable book or a decorative box. Just be sure to switch off your power strip at night, even if it's hiding in a shoebox. Leaving on a power strip with unused chargers plugged into it will result in vampire draw, using electricity -- and eating up pocket change. Have a look at HGTV's handy video tutorial on how to make your own adorable electronics organizer to keep your cords and chaos under a lid.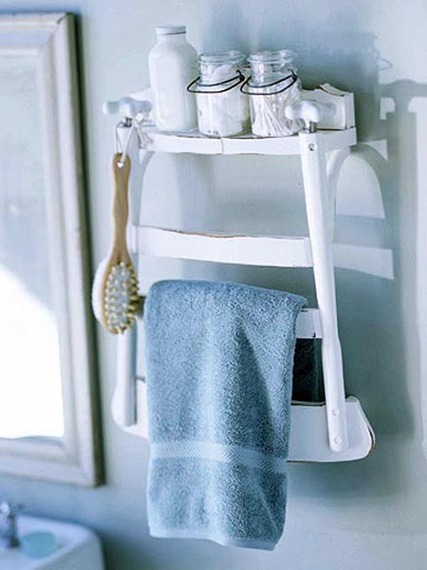 Vintage Bathroom Towel Organizer
Small spaces lend themselves to creative organizational hacks: this one is vintage, inventive, and a little bit "Alice in Wonderland." A wooden thrift store chair like this one featured on Craftfoxes functions as a towel holder and a shelf to store mason jars full of cotton balls and swabs. Check out Craftfoxes to see more vintage décor ideas for your house.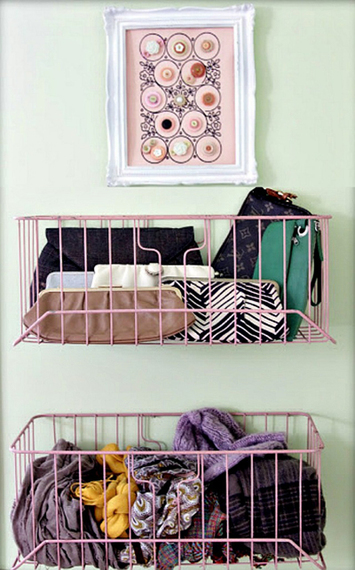 Keep Clutter off Entryway Tables
The last thing you're thinking when you come home is whether the keys and scarves actually belong on the entryway table. When there's just not enough time between your homecoming and your hungry cat's mewing for a mini organizing sesh, stash everything in wire baskets. These, featured on The Lovely Cupboard, are hung up on the wall to keep your floor tidy.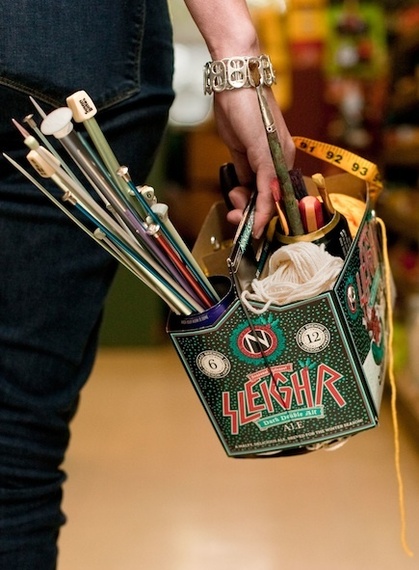 Craft Room Organizing
That pile of materials and tools you call a craft room could always use a little sprucing up. The six-pack craft caddy will put the things you use the most at your fingertips. Plus, it gives you a great, economical reason to buy a six pack? Oh, and did we forget to mention that it's portable. What are you waiting for? CraftFoxes has all of the details to get your six-pack craft caddy in motion.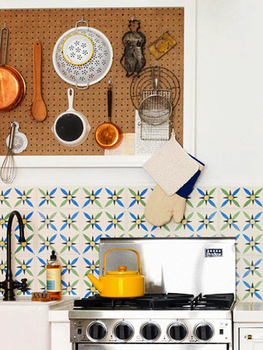 Kitchen Peg Board
Perhaps the best thing to happen to my kitchen is a peg board. Paint it or frame it and then store assorted tools, pans, and peelers on the wall. Try this nifty trick: punch a hole in a metal can from the recycling pile, paint or decoupage it in the same style as your peg board, and hang it by an S-hook to hold similar items, like wooden utensils or cookie cutters. See more kitchen organizational hacks at Curbly.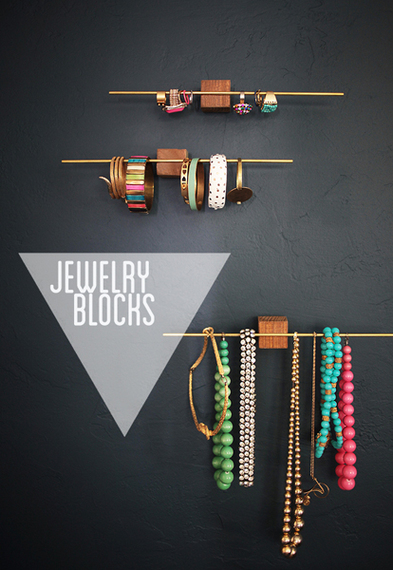 Bedroom Jewelry Blocks
HGTV designer Emily Henderson has a simple and stylish way to keep your jewelry in one place: the jewelry block. It's as easy as gluing brass or painted wooden dowels to a wood block, in turn attached to sawtooth hangers and finally hung on the wall. This DIY-ed jewelry organizer is delightfully minimalist.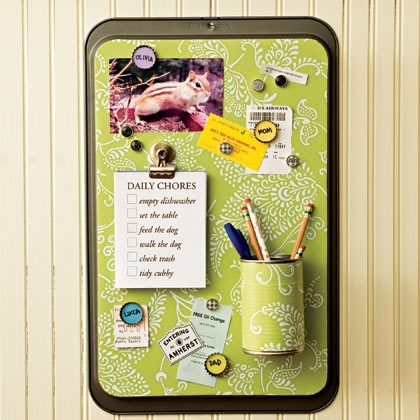 All-Purpose Cookie Sheet Magnet Board
This multi-tasker can operate as a command center for family chores by the refrigerator or collect handwritten paper notes above a writer's desk. If you can't spare a cookie sheet, find one from the thrift store and spray paint it or cover it in fabric. Similar to the peg board, save a metal can from the recycling pile, design it in the same color or fabric, and slap a magnet on it so it sticks to the cookie sheet. See the full instructions at Spoonful.