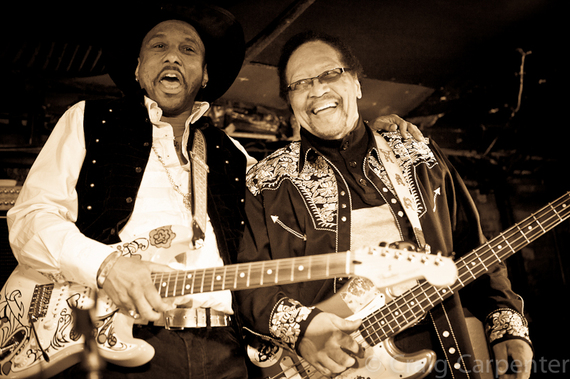 In the year following the release of Jimi Hendrix's third masterpiece album, Electric Ladyland, it was apparent that the band with which he had skyrocketed to fame, The Jimi Hendrix Experience, had ceased to exist. Feeling creatively stifled by the box stardom had put him in, as well as restlessly exploring new sounds and ideas, he and the band which had been assembled for him, had understandably grown apart. The relationship between Hendrix and bassist, Noel Redding was particularly strained, with marathon recording sessions and endless retakes causing so much strife as to finally break the trio asunder. Mitch Mitchell, the heavily jazz influenced power drummer, was also feeling increasingly uncomfortable with the new directions Hendrix was moving in. Gypsies, Sun and Rainbows, the next, and short-lived incarnation of Jimi's band, headlined the Woodstock Music Festival. As the biggest star in popular music, the caravanserai that accompanied Hendrix onstage was quite different than what the thousands in attendance had seen with him before. The new lineup dwarfed the previous power trio with members including Hendrix's army pal, the bassist, Billy Cox, and shaman/percussionist, Juma Sultan, bringing an entirely new look and sound to the Experience. Forty-five years later, as if returning to the scene of the time, BOLD AS LOVE, a startlingly authentic Hendrix tribute band graced the stage at New York's legendary West Village watering hole and performance venue, Café Wha?, conjuring the spirit of the Experience, past, by playing one of the venues at which Jimi made his earliest U.S. appearances. On this night, the past was present, as Billy Cox and Juma were onstage as well, bringing full circle the music, the fans and a strange kind of excitement whereby, even though it had "been done before", one didn't quite know what to expect.
Café Wha? is in something of a time warp. Located on MacDougal Street, just north of Bleeker, it's one of those places, on one of those streets, that people too young to truly reminisce envision as what The Village used to be. No longer a smoke filled bar, it is, none the less, simply adorned, with touches of tie-dye inspired paint hiding on the walls, and simple wood tables economically crammed into the subterranean venue. It is, put succinctly, a far cry from the art directed places Manhattan is now known for. Standing near the coat check, this writer overheard a group of women in their mid twenties who'd wandered in aimlessly, debating if they should stay for the show. When informed that this night would include, not only the tribute band, but two of Hendrix's original contributors, their response was disbelief (as if a writer would misinform someone!), but they looked around and saw the anxious, already seated crowd, and decided to stay. The four of them, admittedly Hendrix fans, positioned themselves at a booth near the back of the room, as there weren't many options left. Drinks and wings ordered, they waited, along with the rest of the room.
An hour earlier, the members of Bold As Love, guitarist, Eddi Lambert, bassist, Brett Jolly, and drummer, James Jaxon relaxed at another bar just up the street. They were met and joined there by Billy Cox and his wife and manager, Brenda. Lambert, the lifelong Hendrix disciple, sat and shook Cox's hand with the restless enthusiasm of a teenager. He had wanted to meet Cox for as long as he could remember, and there they were. For his part, Cox was as gracious and down-to-earth as one could imagine a legendary figure to be. He regaled Eddi and the rest sitting at the tables with stories of Hendrix and his family, his artistic process, and his goals before his short life ended. It was, to say the least, enthralling.
Meanwhile, back at Café Wha?, Juma Sultan stood and waited at the side of the building, considering the spray-painted, purple hued likeness of Hendrix painted on its side. Sultan, tall and thin with angular features, was draped in a waxed cotton duster with a wide brimmed hat, looking every bit the gunslinger percussionist providing the thundering congas during his appearance at Woodstock. As Shakespeare once wrote, "past is prologue."
It should be noted that this particular show was, in itself, a one-off. Bold As Love doesn't regularly tour with Cox and Sultan, but, as everyone was in town at the same time, and with the elders' approval of the tribute band's fealty to legacy, they would join together for the evening, playing the first of the tribute band's two sets together. The night, split in two parts, was spectacular. BOLD AS LOVE, as "openers", admitted a nervousness at having the keepers of the flame sitting just feet in front of them. None the less, they attacked their set with muscle, obviously letting the enormity of the night sink in. As a Hendrix tribute band, they had the effect of recreating songs and feelings the audience has had for years, while injecting their own banter and crowd interaction. it was as if watching your exceptionally talented friends playing songs from one of your favorite artists. It felt like an intimate party where everyone attending was family. The benefit and draw of a show like this is, if the band is good, a good time will be had. This band is good. After ripping through about eight favorites, such as the expected "Purple Haze" and Foxey Lady", and including album cuts Hendrix rarely played live, such as "Third Stone From The Sun", the band was joined onstage by Cox and Sultan. At this point, this writer, the four young women, and the rest of the crowd in attendance had our wigs collectively blown back. There's no other way one can imagine witnessing an early Hendrix concert, in a small room, with a small crowd, than by being present that night. In absence of Hendrix, himself, the next best thing is catch this band on another night.
Bold As Love will be performing a complete "Band of Gypsys" set at Café Wha? on June 2nd, and will be appearing at Musikfest in Bethlehem, PA on June 12th.