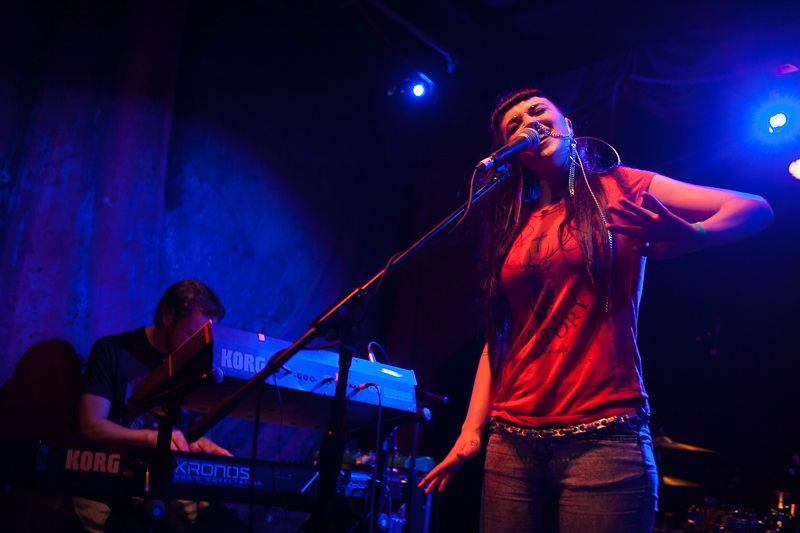 Photography by Craig Carpenter
The anointing has been underway for at least the past year, the indie music cognoscenti having declared the quartet from down under, almost the second coming. Hiatus Kaiyote, the "future soul" band hailing from Melbourne, Australia has already earned legions of admirers. The quiet release of their first album, Tawk Tomahawk, was met with rave reviews, and promoted by the likes of influential DJ's, Gilles Peterson and Jeremy Sole. Questlove, of The Roots, and Erykah Badu became their champions. The album was quickly followed by a remixed offering called Tawk Takeout, singles from which became favorite spins on dance floors worldwide. The stars had begun to align for a bourgeoning success story. Except, nascent as their ascent was, they weren't yet able to take their show to the other side of the world: the very birthplace of soul, hip hop and jazz: these big United States. In a sign of changing times, the band placed faith in their new fans and launched a Kickstarter campaign, raising enough money, first, to make good on an invitation to SXSW (the annual film and music festival that is becoming a requirement for the trendsetting set) and then again for a summer tour, part of which I was lucky enough to be witness to last night.
Philadelphia is a city full of music and entertainment history. Many of the greats of American music have lived or spent significant time there. It has a historically hard audience to impress, and musical innovation is usually the name of their game. They don't play passive observer. Last night at The Trocadero, a former burlesque theater with remnants of its colorful past evident from the stairs to the ceiling, Hiatus Kaiyote did more than impress. They nearly brought the old building down. For those unaware of Philadelphia's musical history, especially with regard to jazz and soul music, this is an amazing accomplishment. For this band to touch these shores, for the first time, playing its style of what they call "multi-dimensional polyrhythmic gangster shit" -- it's actually breathtaking.The band stepped onto the small stage and, after the audience regained control of its lungs, launched into their taut, but full set of songs from their first (and only!) album. A sing-along ensued, which is quite amazing, considering the very limited nature of the album. The lead singer, the charismatic, stylishly exciting, Nai Palm even mentioned as much, as the audience was able to follow songs that were only yet available to viewers of YouTube. In just over a year, Hiatus Kaiyote had bred an audience full of rabid fans, a brilliant reflection of the diversity and variety of this city, and truly lived up to the hype behind them.
The other very important thing to mention is that this band isn't resting its thus far earned popularity on its leader's cuteness, or the danceability and obviousness magnetism of their songs. In live performance, they show themselves to be, quite simply, musical badasses, with each member displaying a virtuosic mastery of their instrument. More than once, audience members almost fainted from amazement in trying to keep up with the chord changes and, at times, unconventional time signatures. The band is so well tuned, this writer will simply refuse to believe they've been playing together for less than two years. No more to say on that, really, except that the whole show felt like one had walked into a room of students at some prestigious, buttoned up music school, who were cutting loose while their instructor was down the hall. This group's understanding of styles of Black American music (it's easier to just lump everything into that), and re-interpret it, adding influences from their side of the world, and giving back a product such as the songs from Tawk Tomahawk is so thirst quenching and refreshing, it really leaves me wondering something. The last band from Australia that I remember making a big splash in the U.S. was (and this is a brutally unfair comparison), Men At Work. That was the early eighties, and the whole musical landscape was shifting, as hip-hop was just then entering the pop mainstream, and MTV hadn't yet opened it's programming to any meaningful diversity. Clearly, those times have changed. Radically. When I consider another band from that side of the world called Fat Freddy's Drop, and this amazing quartet, Hiatus Kaiyote, is this term "future soul" prophetic? And if it is, if the future of progressive soul music is coming from down under, has the world literally turned upside down? And, do I care? Hiatus Kaiyote is the absolute truth.
The members of Hiatus Kaiyote include: Nai Palm, Paul Bender, Perrin Moss and Simon Marvin. Upcoming U.S. dates include Brooklyn, NY, Atlanta, GA and Raleigh, NC.