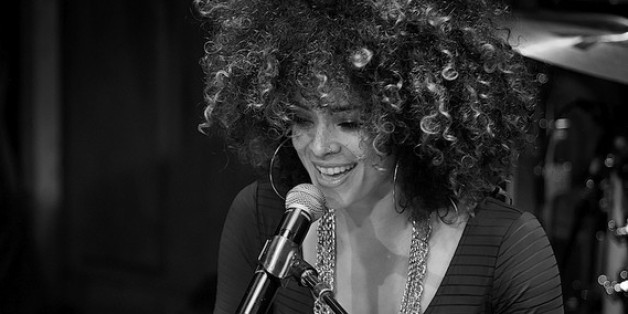 After being escorted up the serpentine staircase and led to the balcony area from which I would view the show, I took a moment to better take in the scene around me. The Lower East Side venue known as The Box is as famously secretive as it is selective. Having found myself with a coveted invite to attend Kandace Springs' EP release event, I once again counted myself amongst the lucky. The balcony, like the rest of the place, is dimly lit with candles and red and amber lamps. A couple is already seated there, and the man tells me the venue, a sometimes burlesque theater in a pre-war building, was made popular again in the nineties when Madonna frequented the place. This night, the room was packed and the expectant buzz vibrated up through the building to where I stood. I'd seen Ms. Springs perform this summer at Afropunk Fest. Then an unknown to me, I realized right away that the often bleak landscape of R&B and soul music was seeing a welcomed resurgence. This was my theory, anyway. In the dark interior of The Box, I'd come to see the truth revealed to light.
The last twenty five years of music have brought many amazing voices, and far more forgettable ones. Notable amongst the memorable are Erykah Badu, Lauryn Hill, Alicia Keys and D'Angelo. The connecting thread between all of these artists was, and is an undeniable rooting in soul music; the kind that harkens back to singers of their parents' generation, such as Aretha Franklin, Stevie Wonder and Donny Hathaway. These performers carried the baton from their forebears and helped to define what R&B and soul music is today. But, lo, for the few contemporary voices, the tradition seems to be faltering. That's why we're all aflutter to hear the Nashville native, Kandace Springs. The last twenty five years have, thanks to her parents, brought her to us, as well. As part of a musical family, she has, during that time, absorbed the traditions from her soul-singing father, the hip-hop of her generation, and the influence of the aforementioned greats of the nineties.
The rich, red velvet curtains of The Box opened to reveal Ms. Springs, poised behind a Fender-Rhodes keyboard; her connection to the past both tactile and emotive, with her band, also young, providing strong backing support. The audience, a mix of industry insiders, friends, and even her dad, Scat (whom she named as the one person who made her want to be a singer), received her as one would an Olympian. Perhaps a once in a generation artist, Springs has already been endorsed by the likes of the inimitable icon, Prince, and the seeming ambassador of his demographic, Questlove. Her delivery is relaxed and confident at this early juncture, and one marvels at the thought of what the future may hold. As she sang songs from her EP, some fans in the audience, already in the know, joined in the chorus of the powerful and empowering "Love Got In The Way", with Springs' emphatic and percussive, "hey hey....hey hey......hey". The extra-funky song is a ready made anthem; surely a darling harbinger for fans of strong songwriting, has already garnered over fifty thousand listens on soundcloud.com - not at all a small feat. "Meet Me In the Sky", another of her original songs, is a mid-tempo love song with a jazzy back beat that nicely plays around her sometimes deep, sometimes breathy voice. Perhaps most wonderfully, her lyrics come from a position of feminine strength; a blend of vulnerability, but with the confidence to overcome and ultimately win. This soul music, borne of a new generation, stands on the foundations of gospel, blues and jazz and hip hop, but heralds, perhaps a further evolution of black female stardom. We're ready for that.
Her taut, hour long set, short on talk, and long on performance, included a deft segue into Bobby Caldwell's "What You Won't Do", followed by a playful funk/jazz nod to 2pac's "California Love". I'd love to have been at her recent performance at UCLA to have witnessed the response from a Los Angeles crowd. A tremendous highlight of the night was a gloriously minimal rendition of Prince's classic ballad, "The Beautiful Ones". Played without accompaniment, it is no doubt that if and when the Purple One heard this, her version - now, her song, she'd earned her ticket. At one point in the show, a female voice shouted from somewhere below me of the collective love for Kandace, coupled with the most popular expletive. It was an honest expression, shocking in it's delivery, yet apropos. Same with Kandace Springs. We should look forward to more, ravenously.
Kandace Springs' eponymous debut EP was released on Tuesday, and she will make her first appearance on The David Letterman Show on Friday October 3rd.