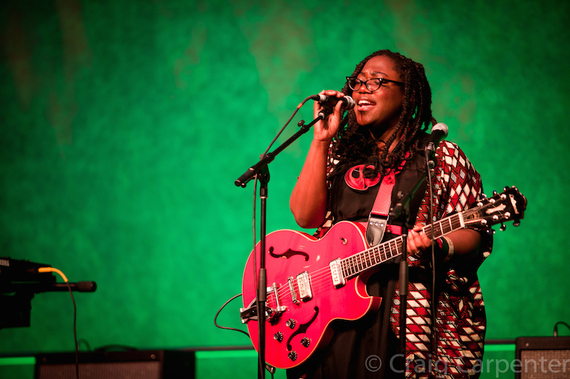 New York - The rain in the beginning of New York's summer season occurs often and prodigiously. It doesn't however, impede the progress or plans of the average Gotham pedestrian. It is as flavoring to the myriad offerings of international fare served by the hosting city. Amongst these offerings, was inaugural Global Beat Festival at Brookfield Place Winter Garden. Finding the place was a little bit more challenging than navigating the two inches of falling precipitation and rush hour traffic. Walking down Vescey Street, through one serpentine building, and into another, the Winter Garden was a glowing oasis with its seemingly sunlit, airy room and wide stage as its centerpiece. Standing on that stage, in front of a high backdrop with rich colors being intermittently projected onto it, Mélissa Laveaux, strummed a rich, red hollow-bodied guitar, as she sang effortlessly between French and English. Her very stature belied relaxed grace and confidence, mixed with the enthusiasm of an artist performing new songs for thirsty crowd. The crowd: a cross section of New Yorkers, some tourists seeking shelter from the storm, some office workers from the surrounding buildings. Still, others were peering over the edge of the food court on the floor above, but all in rapt attention. Such was the spell cast by Ms. Laveaux; exotic, yet familiar, accessible and welcoming. The crowds in New York may have earned an unfortunate reputation, as rude and impatient. Perhaps not. This crowd was, instead, fully appreciative of the musical bounty being served, filling themselves as if to honor their server. Ms. Laveaux graciously graciously regaled the crowd with stories between songs, all smiles and warmth, her English spoken without accent. On this first night of the festival, this otherwise unpleasant and uncomfortable night, she'd made the small space with trees growing in it's atrium a most welcome refuge. I'm glad I made it, and more glad I stayed.
I briefly spoke with Ms. Laveaux after her performance, and followed up in correspondence to produce the following interview. It has been edited for length and clarity.
You're currently on a tour, taking you through Canada, Europe, South East Asia, and of course, NYC, where we met. How do you think your music is able to communicate to listeners across these different places? Are they very different, in terms of audience?
I think every culture and country, and even every city has its own particular relationship with music and live performance in general. When I'm in Canada, people can relate to the multi-lingual aspect of my songs and tout a certain pride at my Canadian and Haitian roots ('our girl made it big in Europe' - well, not exactly). When in France, I find that people like the exotic aspect to my music - they have a hard time putting me in a box. There's a real market for world music but also North American folk - and I tend to combine both. South East Asia was very different - I don't know how well I'll fare in New York though... I suppose I'll see.
I've always enjoyed when musicians can perform in multiple languages, as you do. How do you find your melange of cultures (Haitian and Canadian) has influenced your sound?
I like to think of each language offering a different tone or texture to my voice because different languages have different sounds and thus each require a different type of breath. The minute you change the way you breathe, you change the way you sing. Of course, I didn't know that when I first started writing songs. All I could think of was whom I was writing for and whether or not I wanted them to understand what I was singing.
Many musicians today perform with more "devices", production and slickness. How did you find yourself using a style more reminiscent of a troubadour? Whom would you call your influences?
Ha! I like the idea of being a troubadour. I've always been obsessed with storytelling. If I'd had a different career, it still would have somehow involved storytelling - that and healthcare. My songs all have their stories or are based on mythologies, or legends or a scene in a book or a film. However, when I play, usually play as a 5-piece band and we do use slick devices and pre-productions, but I find it a lot harder to tell stories in between songs. So naturally, when I am alone, all I have as a device is trying to get people into the song - because it is highly likely they won't understand what I'm singing.
I especially loved your rendition of the classic Leonard Cohen song, "Hallelujah". Can you name other songs that move you, the same way your version moved the audience that night?
Lots of songs move me. I listen to way too much music - and a lot of it is listened to on loop. Elvis Costello's "I want you" kills me every time I hear it. Like a lot of my favorite songs, I can listen to it on loop for days. I'm currently writing an album around the theme of desire so it was a good place to start. I also love Stina Nordenstam's cover of "People are Strange" (by the Doors) - I think it's the best cover of any song that's ever been made. Nina Simone's songs are some of the most beautiful and heartfelt I've ever heard. I think that these days there are so many codes and queues in musical performance, that it's hard to find a completely authentic and compelling performance - live or recorded. When I find one, and it hits me, listening to it gets pretty addictive.
The night you played the Winter Garden in New York, it was dreary and rainy, yet inside the venue it felt almost "sunny". Do you try to affect moods with your music?
I think I try to affect people period. The funny thing is, I have a grand total of one happy song and the rest are all terribly depressing and sad and most recently very angry - but only in terms of lyrical content. Everyone always thinks the songs are sunny because I like playing guitar percussively. I try to not ruin it too much, but I do spill the beans on the songs' meanings every once in a while, just so that I don't feel as though I'm pulling a fast one on the audience.
You've so far released two EPs and two albums, your latest being, "Dying Is A Wild Night". That's quite an output for a young, independent artist. How have you been so prolific, and what can we look forward to from you next?
Well, I'm not so independent. I'm under contract with an independent French label who gets the discs distributed by a much larger label. I have a manager, publicists and booking agents who all work very hard at getting me on stage. All I have to be concerned with is composing, writing and performing music to the best of my abilities. I'm very very fortunate in this industry to have that much support. But I certainly don't consider myself to be prolific! I actually have a hard time focusing... which is making writing a concept album very tricky... It takes a lot of time and concentration.