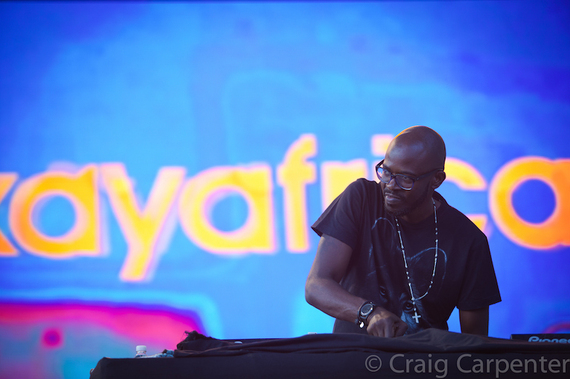 New York -- There are many religious and spiritual practices around the world that utilize rhythms and chants as part of their ritual, with their shamanic leaders surrounded by frenzied adherents. This visual can easily be used to describe dance music culture today, each tribe gathering to their own order. Followers come from miles around to pay homage with their bodies and feet. Such was the case last weekend at Central Park's always anticipated tradition, SummerStage. The religious order of this day came by way of southern Africa, in the corporal vessels of DJ Cortega, Underdog, DJ Spoko, and the headliner known for his international dance-floor hit, "Superman," DJ and super-producer, Black Coffee. Several thousand New Yorkers filed into the venue at Rumsey Playfield, bringing with them the energy and excitement that is normally confined to dark nightclubs. It's a good thing, too; for the 5-hour event was filled to overflow with the familiar sound of New York's long favorite house music, but flavored with African percussion and vocals. It was a melding, perfect for this so-called melting pot that is New York City, and it happened directly at the center of it; the center of the world. People of all nations, shapes sizes and colors danced their troubles away (as the song goes). There is a term used across the African continent; Nganga. The nearest Western equivalent would be "witch doctor," but that suggests almost exactly the opposite meaning, as a witch would cast spells to do harm. A N'ganga is a traditional healer, using all manner of natural and spiritual means to salve their charges. The quartet of DJs, as ngangas, spread their sonic balms to the crowd, and were loved for it. Anyone there, and anyone familiar with that feeling -- the feeling a good DJ gives to the crowd would agree that, at that moment, Central Park was the most beautiful place in the world.
I spoke with DJ Cortega, Electrafrique's curator for the event, and asked his thoughts on music, SummerStage, and the future of this global dance community.
My exposure to Okayafrica and Electrafrique, as most Americans with interest, comes by way of social media and websites. How important was it to bring this event to New York's Central Park SummerStage?
It's been hugely important to us, and such an honor to be able to bring our music to such a prestigious stage. I mean Summerstage is an institution... Almost 30 years and running, and it has seen musical giants from all corners perform, from Curtis Mayfield, to Celia Cruz, Youssou N'Dour, Roy Ayers and Lil Louie Vega. This is definitely an honor and recognition for us, but also a great opportunity to share Afro-futuristic vibes with a large and very diverse New Yorker public.
How do you see the relationship between dance music in originating
cities such as Chicago and New York, and emerging regions, such as
Southern Africa?
Music is a never-ending continuum... a movement that does not stop at the borders, and that draws inspiration where it finds a common soul, a common vibration. It doesn't stop at the borders, such that music from different Continents can have major influences on each other. So yes, if you consider South African house music, the connection with the deep house scenes of Chicago and New York is evident. There is huge respect from Johannesburg to Cape Town for house pioneers like Master At Work, to name just them. This said, it's interesting to see that South Africans started from that base to develop their unique "mzansi" sound in the production of beats, the use of drumming and instrumentation, as well as amazing vocals. And more and more these days, one starts to see collaborations between South African and US artists. Just today for example, the fact that Monique Bingham and Kenny Bobien would join Black Coffee on stage is very telling. In general, though, I do feel like African music today is breathing new energy and new life into the American house scene, and that's very much welcomed...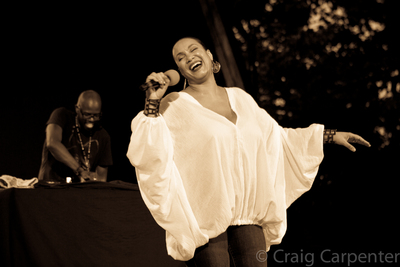 Tell me something about your background, and how you came to be an
ambassador for this music.
I have long had a passion for African music. I can still remember the first time I heard a Fela Kuti song... I was traveling in Madagascar, something like 15 years ago. I felt such an intense connection with it. This sparked my interest into African music as a whole: old, new, traditional, street, dance, all of it. It didn't matter where it came from, I started digging deep into the endless world of African music. And the more I discover, the more I realize it's still just the tip of the iceberg. The Continent has such a rich musical tradition, it's huge. Every country has its traditions, instruments, melodies, dances. It's really an amazing journey to travel Africa through music. But for all this depth and riches I realized that few people outside of Africa knew about its music. For many this was all lumped under a generic "World" music label which frankly doesn't represent anything, except the West's ethnocentricity... As a DJ, I've always considered it my role to bring new flavors, new energy to the dancefloor. So I used djing and curating events such as Electrafrique (in partnership with Okayafrica) as mediums to bring new African sounds to the world. I am really happy to see such beautiful response as the one we saw today at Summerstage!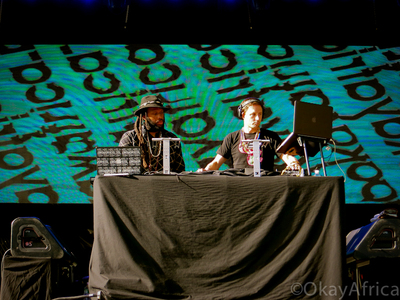 Who were your favorite DJ's coming up, and who/what influenced you
toward this music?
There have been so many influences, that I don't know where to start. In Africa, Boddhi Satva, Black Coffee, the Uhuru crew and Djeff among others, have had a serious influence in my music. But if it wasn't for cats like Green Giant (Switzerland) and Kimozaki (US/Sudan), I likely wouldn't be doing what I am currently doing...
Why is house and other forms of dance music so popular in Southern Africa?
That's an interesting question... Well I don't have a clear answer to this. What I am seeing is that house music is definitely picking up momentum in Africa beyond South Africa. Think of Angola for example, which has a really big house scene. And in Nigeria, the African pop culture powerhouse, I am seeing increasingly collaborations between Naija pop stars and South African producers. There are also emerging movements in Kenya, Tanzania, Senegal and beyond. So it's not just Southern Africa. But beyond this, I feel like most African cultures I have encountered make a lot of space for music and dancing. Two ways of expression which are just very present in most corners of Africa... and that's one reason I love living on the Continent.
How does the larger African community in America respond to these,
more African styles of electronic dance music?
From what I have seen, the response has been really great... and I can only suspect it will continue to be so, as there is a fresh new energy in African music. I also think African music in many ays speaks to the roots of the African diaspora, whether in America or beyond. And so, listening to music from the continent can also be a way to connect with the motherland, to some extent... I think a lot of people with African roots definitely appreciate this connection.
With the global rise in EDM (electronic dance music), what do you see on the horizon for
artists such as yourself, DJ Spoko and Black Coffee.
Wow. That's really hard to say. Certainly, I would not consider myself as playing in the same sandbox as someone like Black Coffee... For him, I think he clearly has the potential to expand his reach globally, and be on of the lead ambassadors of African music. I really wish for him, and for all of us, that it will be the case. Beyond being an extremely gifted musician, he is also such a kind and humble soul. The world would definitely benefit from more role models like him.