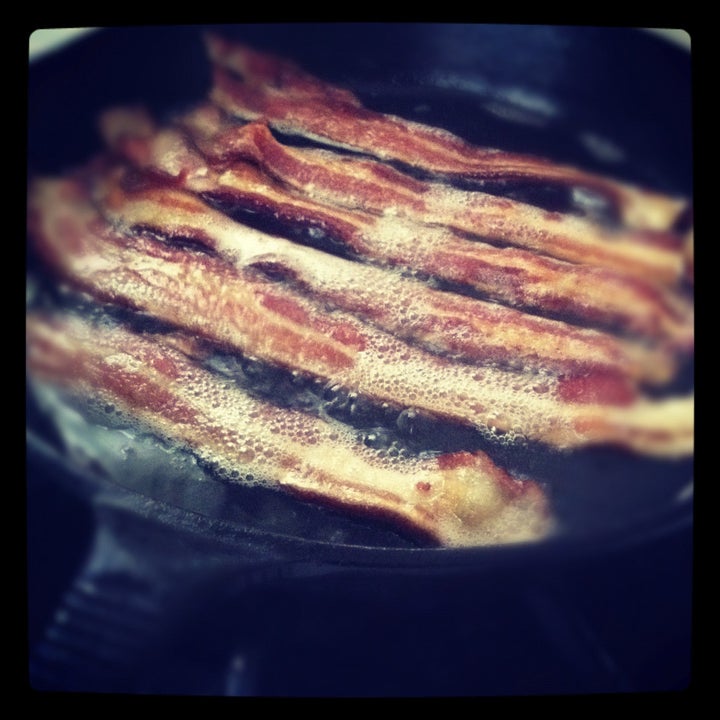 Arrived in Birmingham around 6:30 p.m. and Jennifer Cole, Southern Living writer and my hostess, and I quickly shook up some Old Fashioneds with rhubarb bitters and rye. I sing for my supper when I can and figured some snacks from the Artisan Meat Share would be good payment for her guest room. We paired the drinks with some of my own country bologna and bresaola and the leftover pimento with bacon, chicken liver pate toasts and pulled pork from my lunch at Empire State South. After a couple different types of Old Fashioneds, it was off to bed for a good night's sleep before a big day of eating.
Began the day with some home-cooked bacon and eggs. Jennifer had mentioned the night before she had "a little bit" of Benton's bacon in the fridge and when I looked, it was over five pounds. Needless to say, it quickly went into the pan. Although butter will do, bacon fat really is the best way to fry up some eggs.
I basically went straight from breakfast to a lunch of a pulled pork sandwich with a side of mac and cheese and a Big Daddy's sweet tea at Dreamland BBQ before arriving at Hot and Hot Fish Club around 1:30 p.m. for a kitchen tour. Chewed the fat with the kitchen team for a few hours and around 4 p.m., Chris Hastings (Hot and Hot's executive chef) and I went for a ride around town. First stop was Hop City Craft Beer and Wine which has a fantastic selection of about 70 beers on tap (I got a hoppy Pilsner). We headed back to Hot and Hot and I changed for dinner, cracked open the growler and waited for the cavalry to arrive.
Rob McDaniel, executive chef at SpringHouse in Alexander City, AL, met me, and we set off for Satterfield restaurant where we met Jennifer Cole. I drank a Boulevardier -- a Bulleit bourbon negroni -- and we started with crispy fried rabbit livers with fennel jam, cornbread croutons, parsley, mint and pickled shallot. Next up were pan roasted veal sweetbreads with buttermilk whipped potatoes, turnips, baby carrots and veal jus and then the scallops with lentil and Herbsaint-butternut squash puree. I had a taste of Rabarbaro Zucca Amaro liqueur for the first time and plan to have some in stock next strawberry season. Satterfield was a fantastic start to a marathon night of eating.
Dinner number two was Ollie Irene and I ordered the Shut-Out, a combination of Maker's Mark, B&B, house grenadine and orange peel. We started with a blood orange and shaved fennel salad with Stone Hollow goat cheese, picholine olives and a citrus emulsion. The sweet potato ravioli with fried parsnips, pancetta, parsley and chives was a perfectly balanced fall dish, and we enjoyed the porchetta sandwich, but the highlight was the house pork sausage with sweet potato purᅢᄅe, sautᅢᄅed radicchio and roasted grapes.
Off to Bettola and the antipasti plate with roasted eggplant, coppa, salami and cheeses was a solid start before the Bietola pizza, which had house sausage, Owl's Hollow spinach, fontina, pecorino, mascarpone and a local farm egg. Very good food, but it was the cocktail I'll never forget. Rob asked the bartender for something "Rhone-y" and he mixed bourbon, bitters aged in a bourbon barrel, orange zest and egg whites. It was a new concoction and we were allowed to name it... someone shouted out "Beast of Bourbon" and my new favorite drink had a name.
We then went back to Hot and Hot for our last stop of the night. We had a drink pairing with each course which started with champagne, then a Foggy Ridge cider, the Donny Draper -- Bulleit, sassafras syrup, bitters and lemon -- then a beer infused with honey before finishing with a young Barolo. First course was a snapper collar with butter poached shrimp, which was the best thing I ate all night. The second course was a scallop crudo with preserved lemon puree, fennel, breakfast radish and pickled Thai chiles.
Next was the forager's walk: foraged mushrooms, wild watercress puree, chestnuts, walnut butter, pine needle meringue, persimmons and wildflowers. Fourth course was a Border Springs lamb leg with lentils, J3 organics eggplant, rainbow chard, curry and yogurt before a rabbit "pot pie" which had roasted loin and braised leg of rabbit with Chanterelle mushrooms, 34Snow's Bend Garden root vegetables, rabbit veloute and chive biscuit with Dijon mustard. Persimmons with yellow kiwi, sugared sage and brioche chips were a sweet end to the night.
We were lucky to sit at the chef's table which is directly in front of the open kitchen, and it was perfect. Chris sat with us throughout the meal and talked about the food, which was great.
Had time for one meal on Wednesday before leaving Birmingham and had to visit Bottega for the first time. The seared beef carpaccio with arugula and horseradish sauce was delicious, as was the pizza with chorizo, sausage and peppers and the pumpkin cheesecake, but the star was the Tuscan egg salad with fried oysters, pancetta, farm egg and Jerez vinaigrette.
The whirlwind eating tour of Birmingham was stellar -- I was lucky not to make a bad decision about a restaurant or dish. The snapper collar at Hot and Hot and the Beast of Bourbon at Bettola were the winners. I left Bottega around 1 p.m. to continue West to see what Halloween in New Orleans had in store for me. More from the Big Easy soon...
PHOTO GALLERY
A Chef's Road Trip