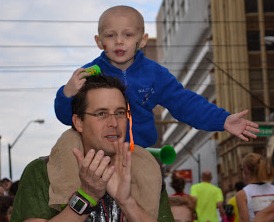 Father's Day has always been a day of thanksgiving for me. I've always been thankful that I have a solid man for a father, a gift that has given my life an unwavering foundation. For 11 years I've been thankful for being a father, a blessing that has given my life meaning. This year is no different, but this year Father's Day means even more.
My first involvement with St. Jude Children's Research Hospital was in 2011 when my wife and I ran in the St. Jude Memphis Marathon Weekend. I've run a lot of races in my life, but this race was different - in a perspective-altering sort of way. We had raised a little bit of money for the hospital as part of the St. Jude Heroes program, which was fun. But the importance of raising that money didn't hit me until we ran through the campus where St. Jude kids, parents, doctors, scientists, and nurses all lined the path cheering us on. I vividly remember seeing a little bald-headed guy, no more than five-years-old, wearing a green breathing mask standing there with his parents holding a sign. "You think running is hard, try chemo." Or the little girl a few yards later holding a sign that said, "Run as is your life depends on it, because mine does." Wow. As a good friend later commented, we ran through that campus as if we had rocket packs on our back. At that moment I realized that this was about something much bigger than my wife and I finishing a half-marathon.
Five months later, my three-year-old son, Ingram, was diagnosed with a rare form of childhood brain cancer called anaplastic ependymoma. Our family has endured plenty of challenges in life, but nothing like this. The emotions that come with hearing that your son has cancer are overwhelming. I thought it was my fault, that my son was being punished for my sins. I wondered if he would ever know the excitement of falling in love. I wondered if he would ever experience the thrill of making a baseball team, the agony of being cut from a team, or the pride of scoring the winning run. I questioned why children's bodies are even allowed to be susceptible to cancer - that perhaps this was a flaw in the creator's design. I wondered how many days I had left to enjoy Ingram's infectious personality and unconditional love. I worried that I wouldn't be a strong enough husband and father to help my family through the road ahead. I was in a very dark place emotionally. But, it was in that darkness that I realized how much being a father really means to me.
And because of that, this Father's Day I was, and continue to be, thankful for something much larger. I am thankful for all of the people who have ever done anything to help my son have a better chance at conquering cancer. I am thankful for St. Jude, the world's greatest collection of men and women fighting this battle against childhood cancer and other deadly diseases. I am thankful for the millions of people who have supported St. Jude financially over the past 50 years. Without that support, the survival rate for childhood cancer would not have increased from 20 percent to 80 percent since St. Jude's founding in 1962. And I'm thankful for the thousands of people who have participated, and will participate, in the St. Jude Memphis Marathon Weekend. Because of these St. Jude Heroes and millions of other generous donors around the world, families never receive a bill from St. Jude. And that's one less thing I have to worry about.
One year later, I'm happy to say that Ingram's latest check-up from St. Jude shows he is clear of cancer. He still has a long road ahead, but with St. Jude's help we have hope. Ingram, his sisters, his mother, and I are looking forward to running again as St. Jude Heroes in this year's St. Jude Memphis Marathon Weekend on December 7. We invite you to join our effort in raising money for St. Jude so kids like Ingram, and fathers like me, can look forward to celebrating Father's Day every day.