Every year, online shopping seems to grow. Every holiday season sets new records. Social networks, which can be powerful for recommendations, are closely watching this trend and yet another one has signed up for a slice of the e-commerce explosion.
Following in the footsteps of Facebook, which launched Facebook Gifts in September, Google+ users can now click "Buy" within Google+ itself, be taken through prompts and easily purchase products. One can only wonder when Twitter introduces a "Buy Now" option.
The Google+ functionality comes through a partnership with The Fancy, which itself just debuted the ability to buy items without leaving its website. Business Insider has more on how that works. The Fancy is one of the first to utilize the new "Sign in with Google" button that Google+ launched this week, and it's playing it up prominently, above Facebook and Twitter sign-in options.
Here's what the integration looks like on Google+ itself (note the "Buy" button). When you share from The Fancy to Google+, it pre-populates your share box like this (again, note the "Buy" button):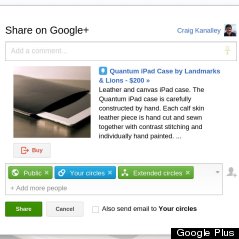 A study in 2012 of 7,400 online shoppers found that Pinterest is more likely to motivate consumers to purchase products than Facebook, something Facebook surely wants to change and Gifts presents it with an opportunity to do that. The Fancy itself is a competitor of Pinterest. Now Google+ is in the game too.
Studies completed in the past few years have shown the promise of social media mixed with e-commerce. One found that consumers are 71 percent more likely to purchase a product recommended by someone on social media. Nielsen has said that satisfied customers are likely to recommend products on social media, and in China for instance, 85 percent of consumers regularly share their experiences with products on social media.