Henrique Oliveira's current exhibition at the Museum of Contemporary Art at the University of São Paulo could not be more be more timely. All eyes are on Brazil this week as we see the first World Cup matches kick off.
While football may be the main event, the World Cup has put a spotlight on other offerings and issues in the country. Many will be aware of the vast socio-economic disparity in Brazil. Urban artist Paulo Ito's latest depiction says it all. In the painting, a young boy is seen crying with hunger with nothing to eat except a soccer ball. The message is simple: who is really benefiting from the World Cup? The question has been asked many times as the country has hurtled towards this week and will undoubted ring in everyone's ears for months to come.
Political art is nothing new in Brazil. The international media's obsession with Brazilian contemporary culture (beyond Samba and Carnival) is a fresh story however. The Brazilian creative community is thriving and the art world is watching intently. Adriana Varejão, Ernesto Neto, Renata Lucas and Vik Muniz are just a small selection of names worth knowing right now.
But back to Oliveira, another Brazilian making waves - or rather, tunnels. His exhibition "Transarquitetônica" is a large-scale project of interwoven tunnels made from found scraps that look unmistakably like the materials used to build housing in Brazil's notorious favelas.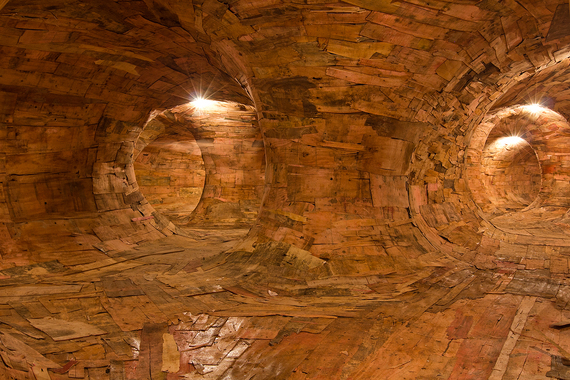 Last summer, Oliveira was applauded for his show "Baitogogo" at Palais de Tokyo in Paris. Now, he's scaled up and of course he's come home to showcase his largest work to date. The winding maze of wood in various forms is a sensory experience, there are sounds, smells and textures to take in throughout the exhibit.
The statement he's making this time is clear: "I was making this connection between the way the society treats the favelas and towns and the way they see [them] as kind of tumours, so it had a symbolic meaning to create structures using the materials these tumours are made out of."
"Transarquitetônica" runs until the end of November 2014.
Text by Fiona Sinclair Scott for Crane.tv
For more cultural news follow Crane.tv on Twitter or find us on Facebook or Instagram