You may not have heard of Kimbra yet. That's going to change, quickly. The New Zealand native first came to our attention earlier this year as the body painted ex-girlfriend in Gotye's smash hit 'Somebody That I Used to Know.' You know, that little song that rocketed to the top of over 20 national charts and racked up nearly 330 million views on YouTube.
But Kimbra is not an overnight success, or a one hit wonder. The 22-year-old has been writing songs since the tender age of 10, winning awards in her homeland since 2007 and, after relocating to Melbourne, spent three and a half years pouring her heart into her debut album, Vows.
"I was set to go to university in Auckland but this opportunity came along to move to Melbourne and start work on a record, which had always been my dream I guess. I spent a lot of time in my bedroom, in a new city, writing the record, so I channelled all of that initial loneliness and frustration directly into the album', she tells Crane.tv. "All of my friends back home are graduating now, but in a way releasing this album feels like my graduation."
Kimbra has been compared to Katy Perry, but if you ask us that's down to the fact that she has a penchant for brightly coloured clothing and has the same hair colour. The comparison ends there. Yes, her music falls in the pop category but Kimbra's not just another manufactured pretty pop singer churning out forgettable songs over samey dance beats (cough, The Saturdays, cough). Influenced by Prince, Stevie Wonder and old school gospel music her sound is rich, full and raw, and to add to her eclecticism she's been working with the producers of The Prodigy and Bjork records -- and even Tim Burton.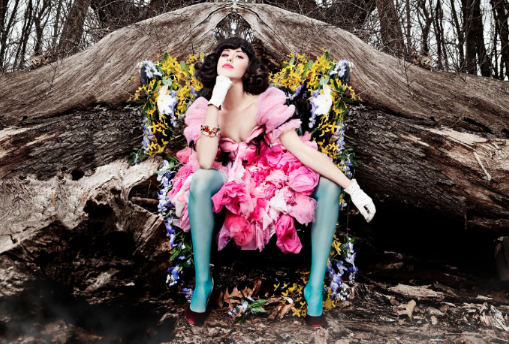 "There was a time when female musicians stayed rather safe and pretty and feminine, but it's cool to dabble in a slightly more provoking territory at times. You need to not be afraid to sound aggressive if that's what the mood of the song deserves."
"I want to continue to be progressive, and continue to push as an artist. If you can write songs that will soundtrack a moment for someone then that's pretty awesome. Fingers crossed!', Kimbra concludes.
Looks like the body paint is a thing of the past then.
Text by Holly Fraser for Crane.tv
Crane.tv App now available for Nokia devices from the OVI Store