Corinne Felgate's unusual artwork is permeated by humor and social commentary, realized in the form of sculpture or installation. Having originally studied linguistics, Felgate has stated that sculpture and the use of objects is a language unto itself, providing an elegant medium with which to express her ideas.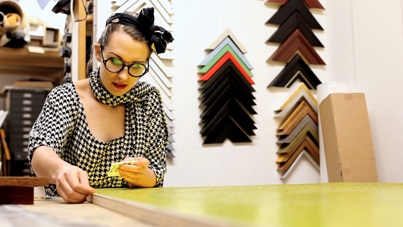 In 2010 she produced a piece called 'Man, I Feel Like A Woman (The Uniform Project),' which entailed giving away all her clothes and replacing them with ten identically cut dresses, in different fabrics. This 'perfect dress,' designed by Felgate herself, is now all she wears. Other past artwork has included 'Big Wig,' a very large top hat; 'Exponential Growth,' a chair made from human hair; 'Bad Boy Boogie Woogie,' glitter replicas of the work of Mondrian and 'Go Getter,' a shoe made out of puppy fur.
Crane.tv met up with Felgate to talk about one of her latest works, 'Über-achiever.' The piece consists of a vortex of 100,000 gold stars framed to look like a doorway. It was commissioned by Arts Admin for Bethnal Green's Town Hall Hotel & Apartments. Arts Admin has worked with Town Hall Hotel since 2009, selecting several emerging, often local, artists each year to produce pieces of art for the hotel's interior. The initiative reflects the burgeoning arts scene in East London and links the luxury hotel to its creative surroundings.
Text by Angelica Pursley for Crane.tv
Crane.tv App now available for Nokia devices from the OVI Store