It could be argued that one cannot be a true English gentleman without a stiff upper lip and a suit from Savile Row. Built between 1731 and 1735 this golden mile of tailoring has dressed some of the most stylish men in history from Winston Churchill, Prince Charles and Fred Astaire to The Beatles, Mick Jagger and Daniel Craig.
This week saw the arrival of the second dedicated men's fashion week to London. On Tuesday Spencer House in St. James provided the grand setting for a showcase of work from bespoke tailors of Savile Row, along with London's best shirt makers, shoemakers and hatters. The presentation took the form of a living exhibition with rooms staged theatrically depicting various settings including a formal dinner, a casual breakfast and cocktail hour. The mixture of models and real men were dressed in each room to suit their surroundings. Styled by Jo Levin, creative fashion director of GQ, there were around forty different outfits shown. References to the Edwardian era were evident and one couldn't help but consider the influence of Downton Abbey.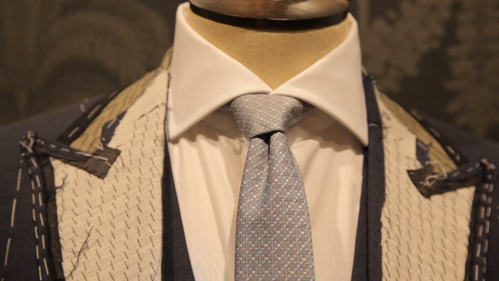 A suit being made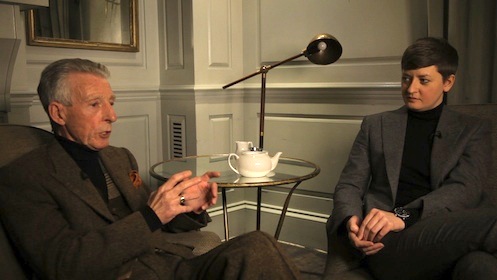 Edward Sexton and Claire Malcolm
In anticipation of London Collections we brought together two very different generations of Savile Row. Claire Malcolm, creative director of Hardy Amies, and master tailor Edward Sexton met to discuss the current state of the sartorial street. Both Sexton and Malcolm represent innovation in their own ways. While Sexton revolutionised Savile Row in the sixties, Malcolm is now at the helm of Hardy Amies, a house that has been on Savile Row since the forties. Their respective credentials made them perfect candidates to discuss the future of the historical street.
Text by Angelica Pursley for Crane.tv
Crane.tv App now available for iPhone and iPad devices from the Apple Store